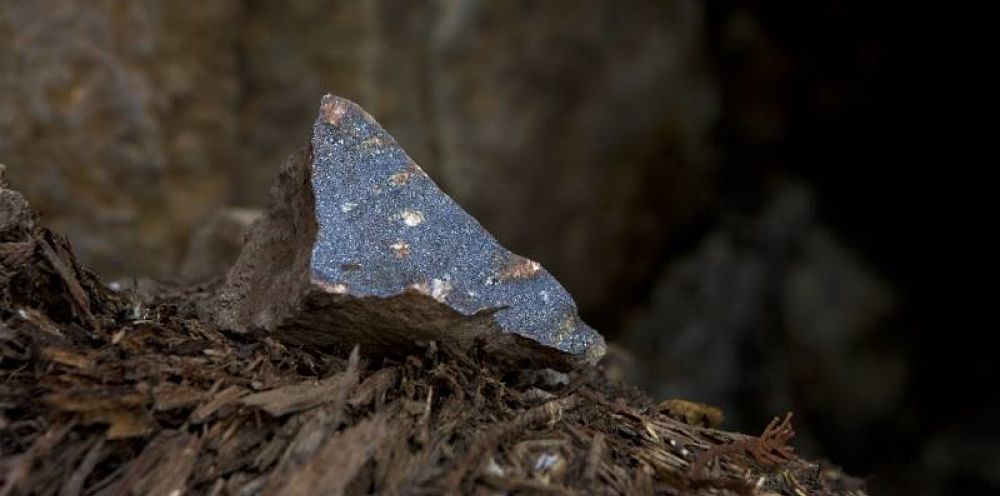 Margaux Resources Ltd. (TSXV: MRL) (OTCQB:MARFF) is pleased to provide highlights of its 2017 exploration activities on its southern British Columbia ("BC") Sheep Creek Gold District and Kootenay Arc Zinc District. A new video which summarizes the 2017 work program is available below and at the following link, (https://youtu.be/Qg2gZF8Z2LE), and is posted on the Company's website, www.margauxresources.com.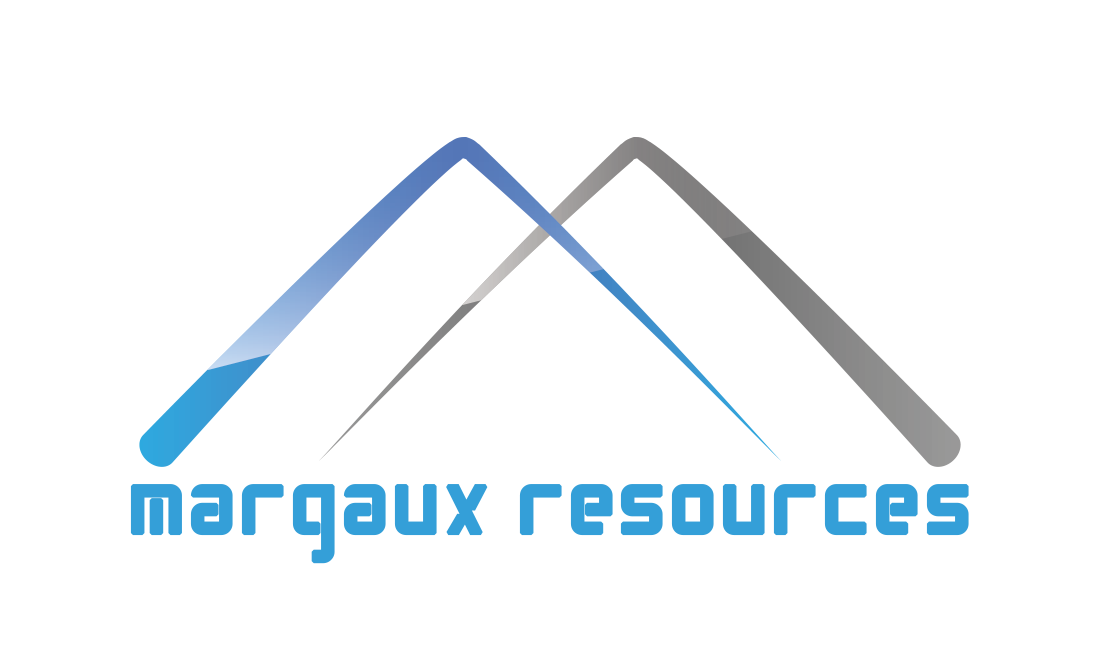 Funding is in place for Margaux's 2018 exploration program, which will focus primarily on the Sheep Creek Gold District. Numerous high priority drill targets have been identified and are permitted for drilling; greater detail of the 2018 drill program will be announced in a subsequent news release.
Overview
The Sheep Creek Gold District and Kootenay Arc Zinc District are adjoining projects which together cover over 24,000 hectares of mineral tenure. For the first time ever, Margaux has consolidated the mineral claims in this area under one ownership, to allow for thorough and systematic exploration. During 2017, Margaux drilled 34 holes (6,552 m) on the Company's claims; final analytical results have now been received for all drill holes, highlights are included in the summary tables below.
Sheep Creek Gold District
A recent Geoscience BC1 study showed that orogenic gold mineralization at the Sheep Creek Gold District is analogous to that in the more widely known Barkerville area. Orogenic gold accounts for almost half of BC's gold production, with Margaux's Sheep Creek Gold District ranking as the 3rd largest past-producing orogenic gold district in BC (after Barkerville and Bralorne). Historic gold production from the Sheep Creek Gold District is 785,000 oz gold, at an average grade of 14.4 g/t gold (0.42 oz/t gold). Unlike Barkerville and Bralorne, the Sheep Creek Gold District has had little exploration since mining ceased in the early 1950's.
Margaux acquired the Sheep Creek Gold District in 2017, through several option agreements and through in-fill staking, to assemble claims covering a 10 km mineralized trend. Historic data was compiled and digitized, a prospecting and rock sampling program was undertaken to locate and assess historic showings, a LiDAR survey was completed and multi-year area-based drill permits were applied for, and received, for 3 separate areas within the district. The Company commissioned an independent NI 43-101 report and undertook a 19 hole (4,039 m) drill program which concluded in mid-December 2017.
The drilling was designed to test a variety of wide spaced, big-picture targets, as opposed to close-spaced definition-type drilling on a single vein. Targets tested in 2017 included: new veins with no previous drilling and no historic production (Maggie Aikens and Kat), the at-depth continuation of veins below the depth of historic mining (Bayonne and Bluestone), and conceptual blind-vein targets in brittle units, at depth in the core of anticlines.
The program was highly successful: at least one promising new vein was discovered which requires further drilling; gold grades were confirmed from two previously undrilled targets; and two veins were also shown to continue to depth, with good gold grade, below the limit of historic mining (Bayonne Main and A vein).
Highlights from 2017 drilling in the Sheep Creek Gold District are summarized in Table 1 below:
Table 1 Sheep Creek Gold District 2017 Drilling Highlights

Kootenay Arc Zinc District
The Kootenay Arc is a regional geological belt that hosts numerous carbonate-hosted lead-zinc deposits. Margaux's Kootenay Arc Zinc District covers a 30 km strike length of the Kootenay Arc in southern BC, including the past-producing Jersey-Emerald lead-zinc mine. In 2017, Margaux drilled 15 holes totaling 2,513 m in the Kootenay Arc Zinc District, this included 6 holes (1,115 m) on the Jersey property to explore for lead-zinc mineralization peripheral to the historic mine, and to test unrelated gold skarn mineralization located nearby.
Margaux added the Jackpot property to its Kootenay Arc Zinc District in late 2016, by way of an option agreement. 2017 was the Company's first year of work at this prospect. Historic data was compiled and digitized, a multi-year area-based drill permit was applied for and received, surface chip sampling was done and a LiDAR survey was flown. In late summer 2017, a 9 hole (1,397 m) drill program was completed on the Jackpot property.
Highlights from 2017 drilling in the Kootenay Arc Zinc District are shown in Tables 2 and 3 below. Both high-grade mineralization, with potential for underground mining, and large tonnage, lower-grade mineralization that is potentially open-pittable, exist on Margaux's Kootenay Arc Zinc District.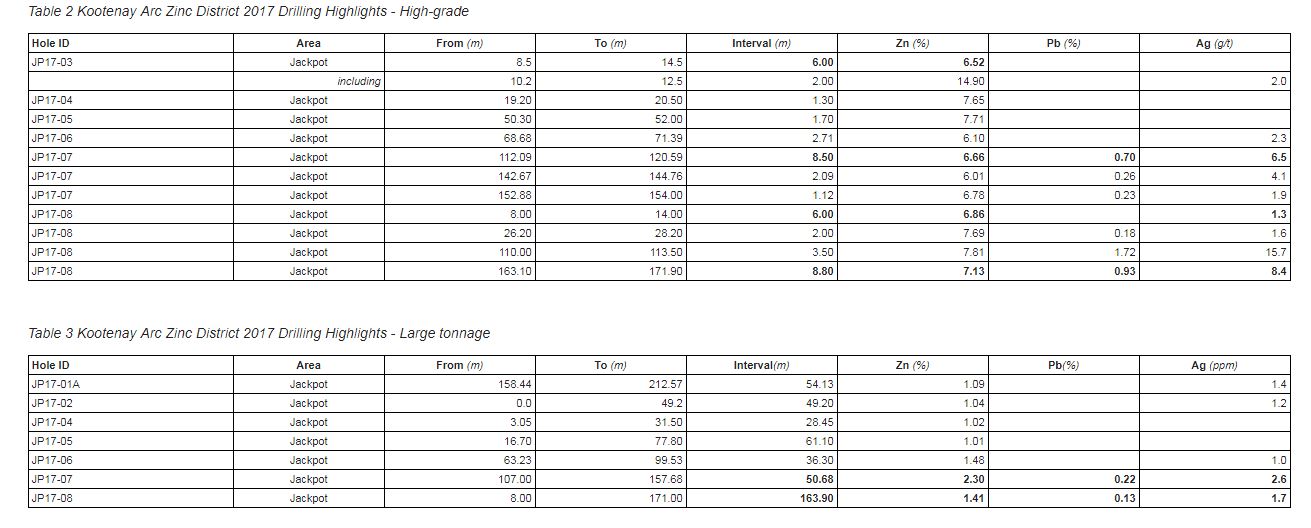 PDAC
Finally, Margaux wishes to announce that the Company will be attending the PDAC conference in Toronto, March 4-7 2018. We invite shareholders and other interested parties to visit us at Booth 2952.
Notes
Results reported in this release are composite, weighted average grades returned from continuous drill core samples across the interval. For gold, all intervals returning > 3 g/t Au are reported. For zinc, all intervals returning >1.5 m grading >6% Zn or >25 m grading >1% Zn are reported. Results for Pb and Ag are included for these intervals if values exceed 0.1% or 1 g/t, respectively. Intervals reported are core intervals. Further drilling is required to understand the relationship between core interval and true width. After logging, intervals marked for sampling were sawn along the core length, with half of the core placed in bags for analysis and the remaining half core piece returned to the box for reference. Samples were shipped to ActLabs' Kamloops, B.C. laboratory for preparation and analysis. Actlabs is an independent laboratory, recognized with expertise in analytical geochemistry and certified with ISO 9001:2008, ISO 17025, CAN-P-1579 certification. At the lab, samples were crushed so that 80% passes through a 10 mesh (2 mm) screen, then a 250 g split of the crushed sample was pulverized to 95% passing 105 microns. All samples were analyzed for gold by FA/AA finish on a 30 g sample of pulverized material, and for a multi-element suite by ICP-MS following aqua regia digestion of a 0.5 g sample. For samples returning >5000 ppm Zn or >5000 ppm Pb, samples were subsequently analyzed using peroxide fusion/ICP-MS techniques, while gold samples returning > 5 g/t Au by FA/AA were subsequently analysed by FA/GRA on a 30 g sample. Industry best-practice QA/QC procedures were implemented during the drilling program, including the insertion of analytical blanks and standards at regular intervals, as well as systematic duplicate sampling. Core size was NQ2 (50.6 mm = 2-inch core diameter).
Qualified Person
Linda Caron, M.Sc., P.Eng, Margaux's Vice President of Exploration, is the Company's Qualified Person as defined by NI 43-101 who has reviewed and approved the technical information contained within this press release.
About Margaux Resources Ltd.
Margaux Resources Ltd. (TSXV: MRL) (OTCQB:MARFF) is a mineral acquisition and exploration Company focused on the development of gold, zinc and tungsten deposits in the Kootenay Arc, in the southeastern region of British Columbia. The Company is directed by a group of highly successful Canadian business executives and is focused on exploration of the Company's Kootenay Arc Zinc District, and Sheep Creek Gold District.
In the interest of full disclosure, we call the reader's attention to the fact that Equities.com, Inc. is compensated by the companies profiled in the Spotlight Companies section. The purpose of these profiles is to provide awareness of these companies to investors in the micro, small-cap and growth equity community and should not in any way be considered as a recommendation to buy, sell or hold these securities. Equities.com is not a registered broker dealer, investment advisor, financial analyst, investment banker or other investment professional. We are a publisher of original and third party news and information. All profiles are based on information that is available to the public. The information contained herein should not be considered to be complete and is not guaranteed by Equities.com to be free from misstatement or errors. The views expressed are our own and not intended to be the basis for any investment decision. Readers are reminded to do their own due diligence when researching any companies mentioned on this website. Always bear in mind that investing in early-stage companies is risky and you are encouraged to only invest an amount that you can afford to lose completely without any change in your lifestyle. Equities has been compensated with cash, common shares and/or warrants for market awareness services provided.