Crude oil's Friday's huge daily decline was not followed by yet another daily slide, but by a profound reversal. The price has surely turned by 180 degrees, but can we say the same thing about the outlook for the following days?
No. The volume doesn't support this outcome and as you've seen in the previous several days, indications and confirmations from volume are very important. In fact, the low volume was one of the key reasons that made us open the short position at $66.78 on Wednesday.
We wrote it many times before and we're going to write it again – a reversal without significant volume does not indicate what it should. It doesn't show a fierce battle that was won by one side on a decisive manner. It shows that there was a pause that looks like a reversal, but really isn't one and definitely doesn't have one's implications.
Let's take a look at yesterday's price move and the corresponding volume level.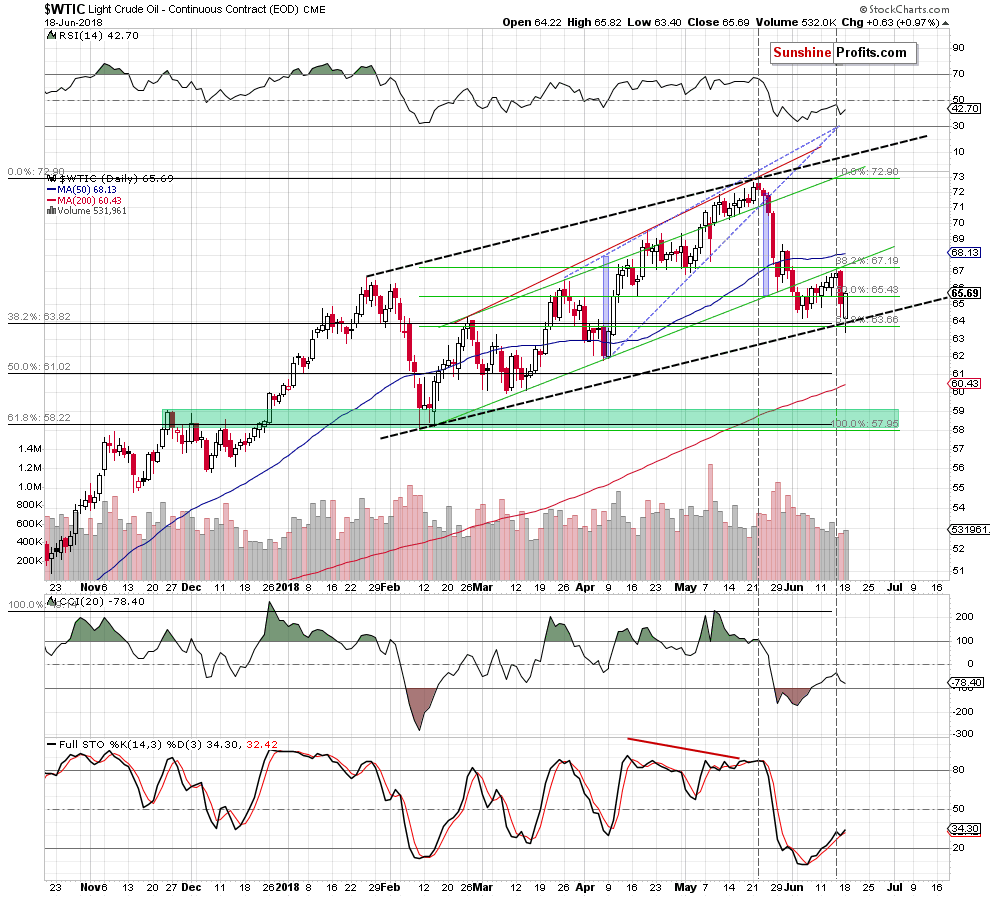 The volume was higher than what we saw during Friday's decline, but it's still low compared to what we saw previously this month. Compared to the last few days, the volume was average and compared to the past month, the volume was low. It was definitely not high. Therefore, there are no bullish implications of yesterday's session, and even if they are, they are very insignificant.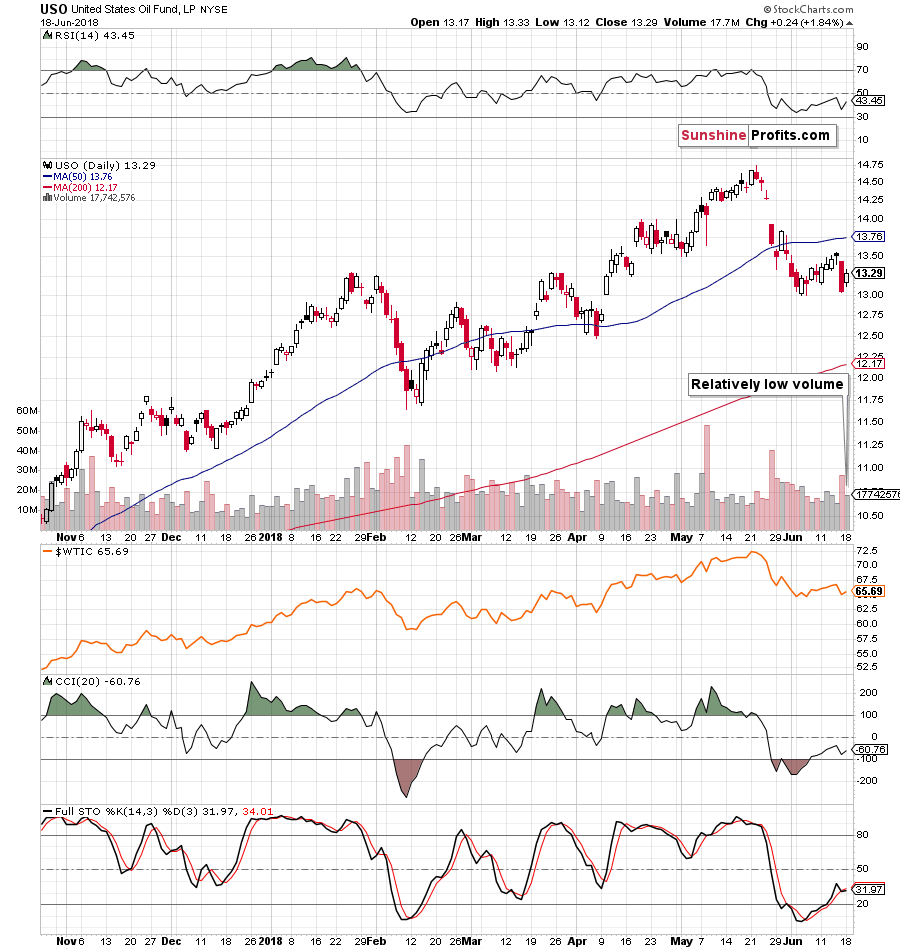 The above chart features the USO ETF, which is a proxy for the price of crude oil. It's also a proxy for its volume readings and the latter is the reason that we are featuring it today. The volume that we saw in USO yesterday was nothing to call home about and thus, there are no bullish implications of the upswing. It seems to be a breather within a decline, not the end thereof.
Moreover, please note that we don't see such signal in case of crude oil, as far as the USO is concerned, we have a sell signal from the Stochastic indicator. This divergence has bearish implications.
Summing up, no market moves up or down in a straight line and periodic corrections are inevitable in all markets and it seems that we have just seen an example of this rule in case of crude oil. At the first sight, yesterday's move may appear to be bullish as it looks like a bullish reversal. However, looking closely at the volume levels reveals that it was actually a pause that only looked like a real reversal and thus implications are not bullish. Consequently, the outlook remains bearish.
Thank you.
Nadia Simmons
Forex & Oil Trading Strategist
Przemyslaw Radomski, CFA
Founder, Editor-in-chief, Gold & Silver Fund Manager

Gold & Silver Trading Alerts
Forex Trading Alerts
Oil Investment Updates
Oil Trading Alerts