Nearly 17,500 people up to the age of 74 are diagnosed with life-threatening diseases each year for which a bone marrow transplant — the replacement of unhealthy bone marrow with healthy bone marrow stem cells — is the best treatment option, according to the Health Resources & Services Administration. Only 30% of these patients have a relative who is suitably matched and able to donate, and significant needs remain for patients living with autoimmune diseases, blood cancers and rare genetic diseases. Bone marrow transplant is a potential cure for many, but its high risks, toxic side effects and complexity prevent many patients from being able to benefit. Complications may be severe, including graft-versus-host disease, stem cell failure, organ damage, infections and even death.
Magenta Therapeutics (Proposed Nasdaq: MGTA) is developing a pipeline of drugs designed to make the entire bone marrow transplant process more effective, safer and easier, thereby expanding the curative potential of the procedure for those living with a wide array of conditions such as multiple sclerosis, scleroderma, acute myeloid leukemia, myelodysplastic syndromes, inherited metabolic diseases and sickle cell disease.
The company filed yesterday for a $100 million initial public offering of its common stock via JP Morgan, Goldman and Cowen. Magenta's clinical programs address key points throughout the bone marrow transplant process, from patient preparation and conditioning, through stem cell harvesting and expansion, to post transplant complications.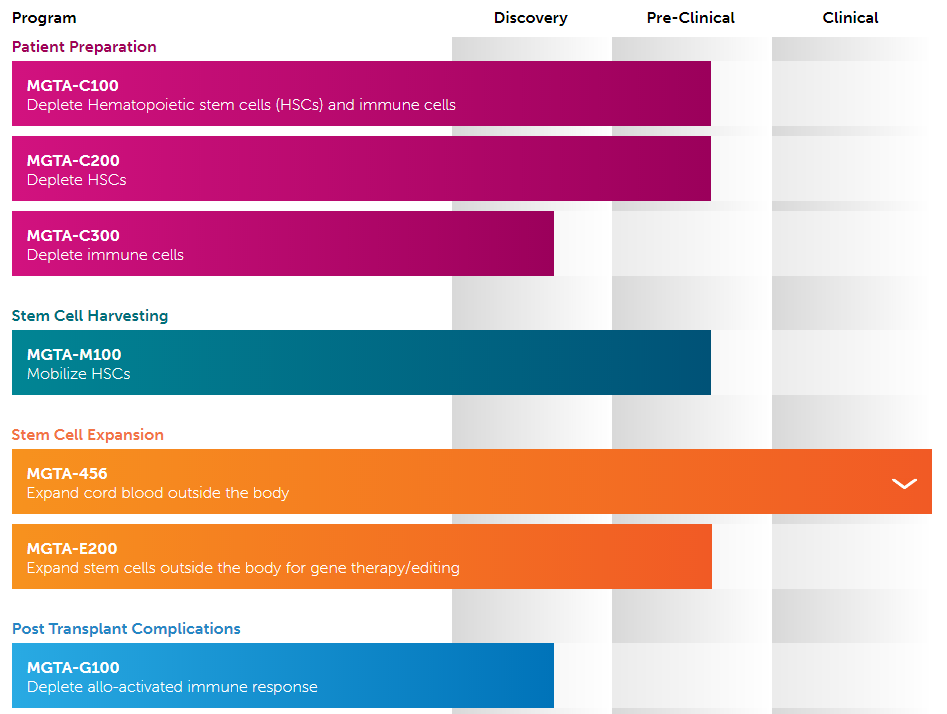 Magenta has been a capital raising success story since its creation in November2015 and formal launch in 2016 with a $48.5 million Series A led by Third Rock Ventures and Atlas Venture. The company's $50 million Series B round in 2017 was led by GV, with participation from existing investors including Atlas, Third Rock, Partners Innovation Fund and Access Industries. Casdin Capital was a new investor, as was Be The Match BioTherapies, a subsidiary of National Marrow Donor Program, the world's leading organization focused on saving lives through bone marrow and umbilical cord blood transplantation. Magenta's $52 million Series C round was just completed in April 2018, led by Casdin with participation from new investors including EcoR1 Capital, Eventide and Watermill. Be the Match BioTherapies and Access Industries also participated.
Jason Gardner, DPhil, CEO of Magenta, joined Atlas Venture as an Entrepreneur-in-Residence to create Magenta with Third Rock Ventures. He has more than 20 years experience in stem cell science and industry leadership roles, including 11 years at GlaxoSmithKline, most recently as Vice President and Head of the R&D Satellite in Boston. He created and led the Regenerative Medicine Unit, established partnerships with The Harvard Stem Cell Institute, and The Telethon Institute for Gene Therapy, from which the first stem cell medicine (Strimvelis) was approved. Prior to that, Mr. Gardner was the Head of the Center of Excellence for External Drug Discovery and was a member of the clinical project team that led the late stage development and NDA approval for Tykerb for breast cancer. Dr. Gardner holds a doctorate from Oxford University, and graduate and undergraduate degrees in Natural Sciences (Biochemistry) from Cambridge University.
Magenta's Chief Scientific Officer, Michael Cooke, PhD, has more than 20 years of experience in biotechnology and large pharma in the discovery and development of autoimmune disease, immune disease and hematopoietic stem cell transplant therapies, including several products that are in clinical development. Mr. Cooke was previously Executive Director of Immunology at Novartis' La Jolla research campus and Director of Functional Genomics at SyStemix, a hematopoietic stem cell company that was acquired by Novartis. He is an author on more than 60 peer-reviewed publications. Dr. Cooke received his PhD in Biochemistry from the University of Washington with Dr. Roger Perlmutter and completed postdoctoral work with Dr. Chris Goodnow at Stanford University.
Magenta's most advanced clinical candidate is MGTA-456, an expanded cord blood stem cell therapy which is in a Phase II trial for inherited metabolic disorders. The compound aims to deliver the optimal number of best matched healthy stem cells to patients who cannot find a suitable matched donor by expanding the number of stem cells contained in cord blood. MGTA-456 has demonstrated clinical proof of concept in patients with blood cancer, significantly expanding a single cord blood unit into higher cell doses, which increases the likelihood and speed of engraftment.
Please email us at [email protected] to see our Case Studies and Testimonials.
Please click here for information on our new trading platform.