According to the National Institutes of Health, nonalcoholic fatty liver disease (NAFLD) is among the most common causes of liver disease in the US, with estimates ranging from 30% up to 40% of adults in the US being affected. Nonalcoholic steatohepatitis (NASH) is a form of NAFLD in which the fatty liver disease is accompanied by hepatitis and liver cell damage. NASH affects between 3% and 12% of the US adult population.
Madrigal MDGL announced positive top-line results from its Phase 2 study of its MGL-3196 compound in patients with biopsy-proven NASH. In the 36-week clinical trial, MGL-3196, an oral liver-directed thyroid hormone receptor (THR) ?-selective agonist, demonstrated a statistically significant ability to reduce liver fat at 36 weeks including key secondary endpoints, confirming interim 12-week results reported in December 2017 of relative reduction of liver fat on magnetic resonance imaging estimated proton density fat fraction (MRI-PDFF).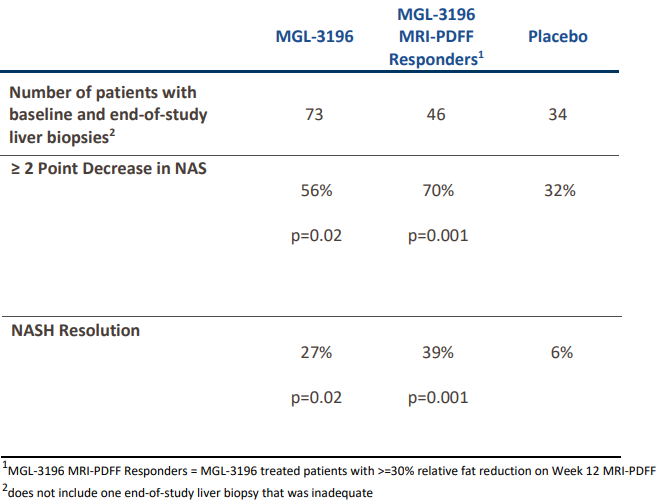 Source: Madrigal Pharmaceuticals
Madrigal said that MGL-3196 treated patients who had shown at least a 30% fat reduction on MRI-PDFF at Week 12 demonstrated a higher percentage of NAS reduction and NASH resolution. Additionally, in MGL-3196 patients with NASH resolution, fibrosis was also resolved in 50% of patients and was decreased statistically significantly relative to all placebo patients.
The degree of NASH resolution, an approvable FDA endpoint, in patients who received MGL-3196 for 9 months we believe suggests a high likelihood of success in a larger trial with a somewhat longer treatment period in a Phase 3 study designed similarly to this Phase 2 study, pending regulatory agreement with such a design. Further, considering what we have learned regarding drug exposure and dosing, we believe there is potential to resolve NASH in as little as 9 months in 30-40% of patients receiving only MGL-3196, a well-tolerated once a day oral therapy.
– Paul Friedman, MD, CEO, Madrigal Pharmaceuticals.
The company raised $144 million in gross proceeds in a December 2017 follow-on offering via Goldman and Evercore at $83 per share, and it has cash and marketable securities of $183 million as of March 2018. The stock has had a remarkable run, both before and after that offering, despite an extremely concentrated clinical pipeline. In its February 2018 report on the global market for NASH drugs, Research and Markets projected growth to $20.7 billion by 2025.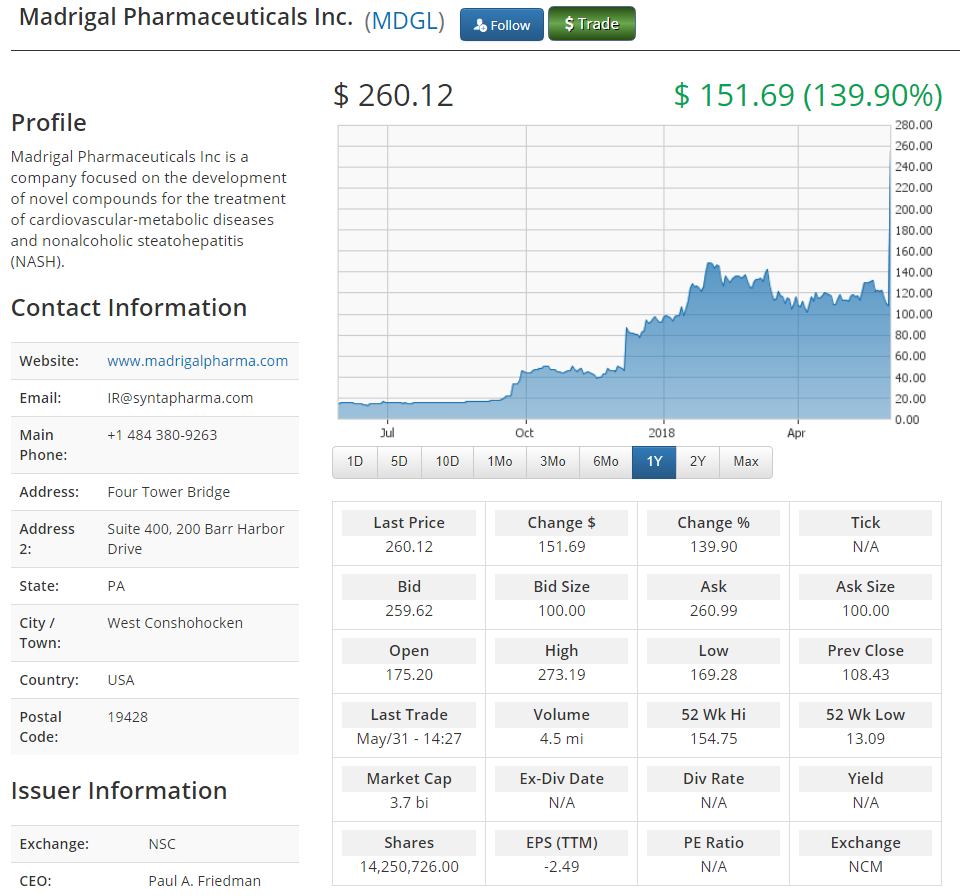 Please email us at [email protected] to see our Case Studies and Testimonials.
Please click here for information on our new trading platform.