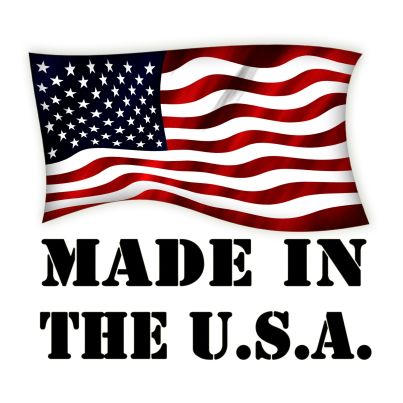 As a boy growing up in Canada, I remember seeing the ubiquitous 'Made in the USA' product label everywhere and on everything. Lionel Trains, established in 1900 in Concord, North Carolina, were my go to rainy weekend toys. My first guitar at twelve was a Fender Stratocaster made in California and my first computer was an Apple made in Cupertino.
Remember Wrigley's Juicy Fruit gum stuck under your desk top at school? It was made in Chicago. What happened to the Made in the USA label on everything we bought and used? I recall camping as an adult in my 'pup tent' jealously wishing I could afford that silver Airstream on the highway. Yep, another American made icon started in 1929 by Wally Byam and built in Ohio.
So what happened? I remember people laughing at products Made in Japan in the 1960s. They became the symbol for cheap labor and cheaper prices. Given the choice people instinctively felt they were inferior and, in most part, I think they were. Made on assembly lines, Japan understood the way to produce products fast and inexpensively.
The American worker had benefited after WWII with advanced labor codes and company benefits that made manufacturing in the U.S. less competitive to the Japanese plants. I don't think there was really a major decline in U.S. exports but the market certainly became 'overrun' by Japanese copies of well-known products, and inexpensive products in general.
Globalization, automation and price changed the supply chain. U.S. manufacturers couldn't afford to make some products mainly because the raw materials were coming from distant shores and the cost of goods couldn't compete in some markets.
The US is still the second largest manufacturer in the world after China but it has been declining since around 1990. One third of manufacturing jobs actually disappeared between 2001- 2009 and never returned.
So when did 'Made in China' make its debut? I can't remember, but suddenly Japan was out and China was everywhere. In the beginning Made in China indicated it was a 'lower quality' than U.S. made products but it soon turned into something else.
Sure we have seen the chintzy dollar store items that could only be made in China when you look at the price, but that's not all.
I was working with the Mexican government almost twenty years ago to replace their streetlights and home light bulbs. We were asked if we could fulfill an order for 500,000 streetlights and 10 million LED light bulbs in a government effort to reduce energy consumption. I figured it was no problem until I tried to source U.S. made products. When I asked for a quote, most laughed at the volume.
It led me to my Chinese connections. Expecting very cheap pricing for both products, I was given pricing very close to that of my U.S. source. I scoffed at the similarity until the Chinese asked me what the delivery specs were from the U.S. The U.S. delivery was promised by 18 months while the Chinese said it would be 30 days. What?!
The Chinese took the issue of price off the table in some industries by installing larger factories with thousands of employees. Their new mantra was to focus on volume instead of price.
So, how has that affected US manufacturing? I guess when the factories began their migration to the 'greener' fields of China to produce their 'made in America' products, they must have assumed that China would forever be the quiet giant offering their cheap labor and huge production volumes.
One would think that U.S. companies must have seen the day when the giant would awaken and create understated 'problems.' The Federal Trade Commission (FTC), like other regulatory bodies, were aware of a misconception to the consumer when all parts of a product were made elsewhere but assembled in the USA. To be labeled 'Made in the USA' all or virtually all of the significant parts of a product must be of US origin.
Look at some more American icons. Levi's jeans, certainly revered as American, are made in China, Italy and other countries. Apple and Cuisinart have no roots in the U.S. anymore except a head office and retail stores.
So, is there a problem outsourcing all manufacturing to another sovereign country larger than the U.S.? You bet! The COVID-19 crisis has shown that when companies outsource or off-shore manufacturing they are at the beck and call of the manufacturing country – in this case, China.
My wife, who is very astute and no slouch when it comes to finance, told me weeks ago she was going to invest in U.S. pharmaceuticals. She looked at where our medicines, antibiotics, and vaccines were being manufactured (China) and she believed that there would be a strong push by US-based firms to reclaim manufacturing onshore.
Drug manufacturing may just be the tip of the iceberg. Many industrial and technological end products that we use every day are made in China. My wife, like many, tried to order scissors to cut my shaggy hair. Delivery expected in late June from China. She called a Canadian 'manufacturer' of hair products to the industry and they told her 6 weeks, again from China. Want a new Apple iPhone? You better get it before they run out because it is proudly made in China.
Some say the U.S. is on a course of nationalism while the world is a global community. Unfortunately, this pandemic is proving that North Americans need to rely on rebuilding our manufacturing in every industry. The alternative is to be at the mercy of China in the supply chain, and with the trade situation ever in flux, it's a near certainty that these issues will recur.
When I see a Canadian or American company offering a product made in our countries I buy it every time. I don't want to see any more industries leave our homeland.
Ironically, Chairman Mao, father of the People's Republic of China, once used a Karl Marx quote, "Workers of the world unite." Those few words can easily be fighting words to take back our countries and once again make products Made in the USA.
Gary Bizzo is CEO of Syphon Nanotech Inc., Bizzo Management Group Inc., and Bizzo Integrated Marketing Corp. in Vancouver. London-based Richtopia placed Bizzo on the Top 100 Global Influencers in the World for 2018. He is an Adjunct Professor of Integrated Marketing & Communications as well as Consumer Behavior at the New York Institute of Technology, MBA School of Management (Vancouver Campus). Gary can be reached at [email protected]
_____
Equities Contributor: Gary Bizzo
Source: Equities News