~ Financing led by Perceptive Advisors to advance ear, nose and throat disease therapies ~
Chronic rhinosinusitis, or sinusitis, is a commonly occurring condition in which the cavities around the nasal passages become inflamed and swollen for at least 12 weeks. According to the CDC, over 26.9 million adults had diagnosed rhinosinusitis in the US based on the 2016 National Health Interview Survey, about 11% of the adult population. Chronic rhinosinusitis can be brought on by infection, nasal polyps or deviated septum, causing a spectrum of symptoms including postnasal or interfered drainage, mucus buildup, breathing difficulty, swelling in the face and reduced sense of smell and taste. The current standard of care consists of corticosteroid sprays, oral steroids and endoscopic surgery. Of the patients on steroids, about half get no relief while enduring significant known side effects, while sinus surgery hasn't been demonstrated to confer additional benefit.
In a broadly cited study by Kristine Anne Smith, MD, of the Division of Otolaryngology, Head and Neck Surgery, at the University of Calgary et al., published in 2015 in The Laryngoscope, the journal of The American Laryngological, Rhinological and Otological Society (aka The Triological Society), entitled "Cost of adult chronic rhinosinusitis: A systematic review," researchers concluded that the range for overall chronic rhinosinusitis-related healthcare costs was $6.9 to $9.9 billion per year, with indirect costs estimated at an additional $13 billion per year.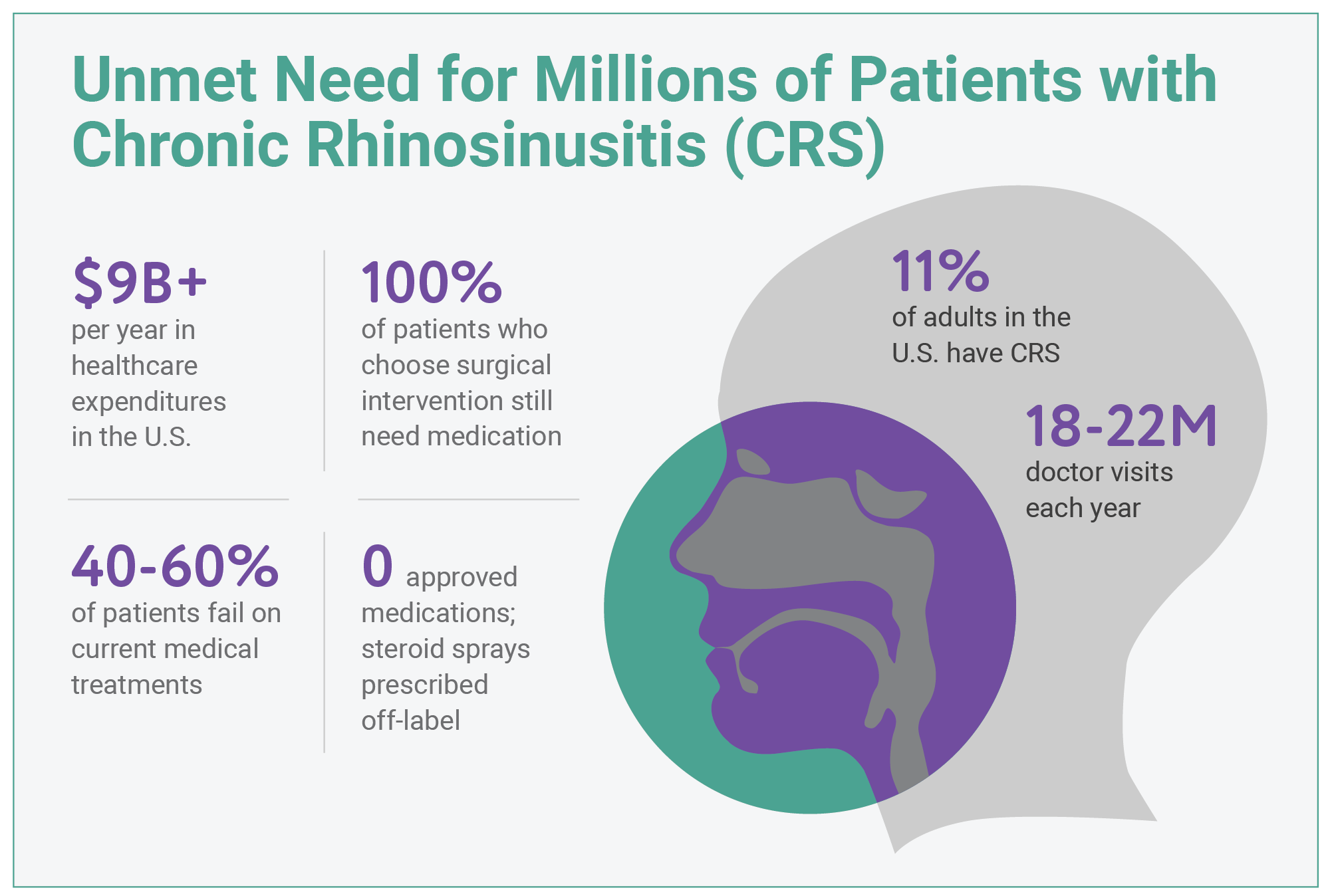 Source: Lyra Therapeutics.
Watertown, Massachusetts, based Lyra Therapeutics (fka 480 Biomedical) has developed a transmucosal therapeutic delivery system comprising a drug administered through a polymeric matrix that is precisely designed to target ear, nose and throat (ENT) diseases. Lyra's product candidates are designed to provide medicine directly to diseased tissues that are not accessible with conventional therapeutic approaches. Lyra announced this morning that it closed a $29.5 million Series B equity financing led by Perceptive Advisors and including new investors RA Capital Management, ArrowMark Partners and Soleus Capital, and existing investors Polaris Venture Partners, North Bridge Venture Partners and Intersouth Partners. Proceeds will be used to advance the company's lead product candidate, LYR-210, into a Phase 2 trial for chronic rhinosinusitis, as well as applying Lyra's proprietary technology to other ENT diseases.
With this funding and the progress of LYR-210 in the clinic, we believe Lyra is well positioned to achieve our goal to transform the ENT treatment paradigm by providing effective front-line solutions for physicians and new treatment options for their patients. We are excited to rapidly move forward with our Phase 2 clinical plans for LYR-210 for chronic rhinosinusitis, a disease for which millions of patients seek new treatment options and alternatives to surgeries.
– Maria Palasis, PhD, President and CEO, Lyra Therapeutics.
According to Lyra Therapeutics, LYR-210 is the only product announced in development to offer six months of drug therapy with a single administration. It is biodegradable and designed to be administered by a physician in a routine office visit. In Phase 1 studies, LYR-210 was shown to be safe and well-tolerated and demonstrated significant improvements in clinical outcomes in patients with chronic rhinosinusitis. LYR-210 was successfully delivered to CRS patients both with and without nasal polyps.
Lyra Therapeutics began life as 480 Biomedical in a 2011 spinout from Arsenal Medical, which was founded noted scientists and entrepreneurs George Whitesides, PhD, the Woodford L. and Ann A. Flowers University Professor at Harvard, and Robert Langer, DSc, the David H. Koch Institute Professor at MIT. Arsenal Medical is in a clinical trial with an in-situ forming polymeric foam designed to control severe, intracavity bleeding. 480 Biomedical was initially focused on developing a bioresorbable scaffold to treat a form of peripheral vascular disease, but pivoted recently to become Lyra Therapeutics with a focus on ENT diseases.
Amber Tong writes in Endpoints News that "none of that previous work is wasted," according to Lyra's CEO Maria Palasis, MD, who cited "the fact that it's miniaturized, the polymers and the biocompatibility of the polymers, the ability to release a drug for six months at a constant daily rate, all of that know-how was leveraged into the product we've developed for chronic rhinosinusitis."
Dr. Palasis led Arsenal Medical as CEO and CTO prior to Lyra Therapeutics. She has raised over $160 million of external and non-dilutive funding and has led the advancement of multiple programs into the clinic. Earlier in her career, she managed a portfolio of external biotech and medical device investments at Boston Scientific BSX and led the development of several combination therapies. She is an inventor on more than 120 issued and pending patents.
Please email us at [email protected] to see our Case Studies and Testimonials.
Please click here for information on our new trading platform.
Please click here to see our daily newsletter.