Lumentum's 3D Laser Technology Leverages Global Telecom Growth
Stephen L Kanaval Follow |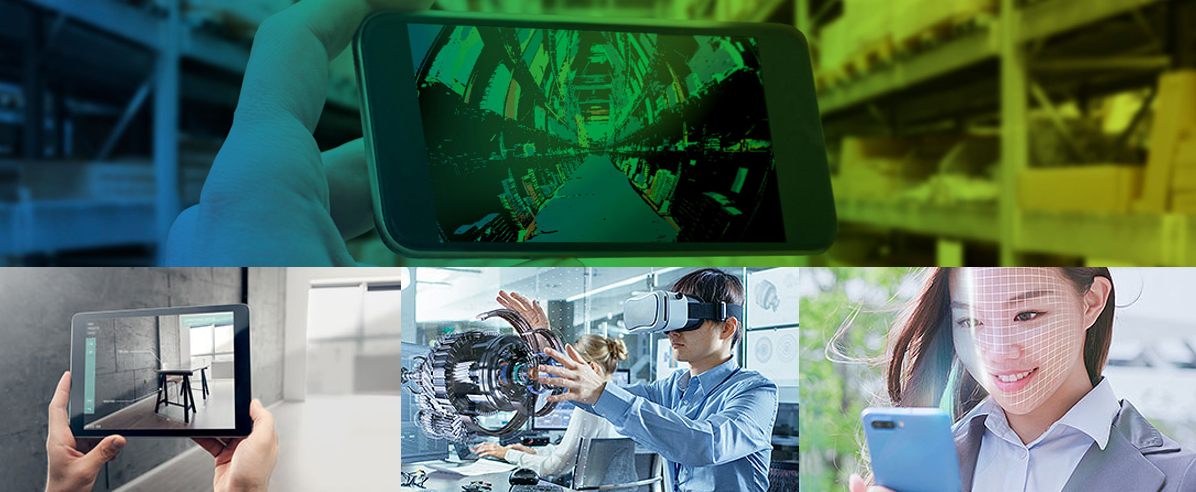 Image source: Lumentum
When Apple first rolled out the Apple iPhone X, its most dramatic new feature struggled under the spotlight. Craig Federighi, Apple's Senior Vice President of Software Engineering, was on stage to show off the company's new facial recognition technology, and, on his first attempt, he could not get it to open. Then, Mr. Federighi tried a back-up phone, looking straight down at the screen, and got right in.
Since this awkward first appearance in the public eye, Apple's FaceID has been welcomed into the fold as a feature users know and love.
The technology works by projecting a grid of 30,000 invisible dots onto a person's face, which creates a 3-D facial topography map. Where other facial recognition software has failed, Apple's FaceID has been a success. A photograph fooled Samsung's Galaxy S8, and Amazon's Rekognition software—licensed out to several police departments—was flagged by the ACLU for misidentifying faces. On the other hand, Apple's FaceID has proven extremely difficult to hack, and one of the reasons for its success is due to Lumentum Holdings, a supplier of photonic and optical networking products.
To many investors, Lumentum is solely known as an Apple supplier. In fact, most investors first learned about Lumentum in November 2018 after the company sliced its quarterly sales forecast because a "lead customer" had reduced its order size. The markets quickly connected the dots and determined this customer was Apple. While the reduction in orders was an obvious hurdle for Lumentum, the company has demonstrated it has a bright future.
First, based on how poorly other face recognition software has performed, the company's 3-D sensing business has a technological advantage, and it is clearly a market leader. Lumentum's vertical-cavity-surface-emitting laser arrays (VCSELs) have cornered the market and proven their ability to perform in the field. Second, face recognition software has only started to expand into products outside of Apple. In an article in Reuters a year ago, Lumentum described that it was further reducing its dependence on Apple's high-end phones by securing contracts with Android phone makers. Since then, Lumentum has a "large customer driving the vast majority" of its Android 3D sensing technology revenue. The company is not disclosing this customer by-name for confidentiality reasons, but CEO Alan Lowe said in the Q2 2020 earnings call:
In the same call, Lowe described the growth of 3D sensing technology across the industry and the vital role he believes Lumentum is set to play.
When Mr. Lowe speaks of "acquisition synergies," he is likely referring to acquisitions like Oclaro, Inc. Lumentum completed the deal for Oclaro in December 2018 for $1.8 billion, broadening the company's component and optical transceiver portfolios. Lumentum's thesis for buying Oclaro was three-fold:
After the Oclaro acquisition, Raymond James analyst Simon Leopold predicted that Lumentum's revenue would shift slightly more toward datacom and telecom, and looking at the most recent earnings report, that prediction has mostly held up.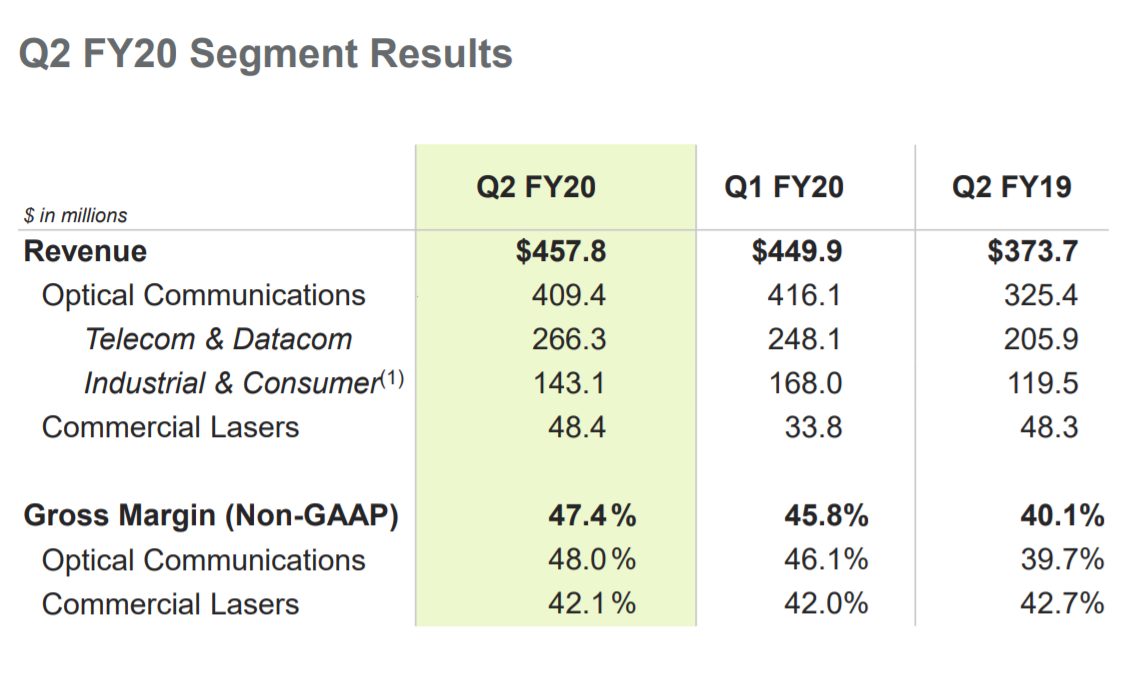 Image source: Fiscal Q2 2020 Earnings Presentation
In fiscal Q2 2020, ended Dec. 28, 2019, Lumentum's telecom & datacom segment revenue increased 29% year-over-year and 7% sequentially. The leadership team expressed optimism about this segment on long-term growth trends and industry dynamics. "Demand over the long run should be strong based on the continued strong growth expected in global networks and datacenter traffic and the optical infrastructure needed to support 5G wireless bandwidth," Mr. Lowe added.
All told, all of the company's segments are experiencing a harmonized growth. Lumentum's industrial and consumer segment revenue rose 19.7% year-over-year, and, as Mr. Lowe said in his comments, we likely have not seen the full growth of 3D sensing technology.
Lawsuits: Twitter Settles Class Action for $809.5 Million Over Providing Misleading Information to Investors
Computing devices and video game consoles are beginning to incorporate 3D sensing systems for enhanced security and user experience. Lumentum's diode lasers could see applications in the automobile market, where they can build a comprehensive 3D map of the environment working to assist the long-range and short-range Light Detection and Ranging (LiDAR) within the vehicle.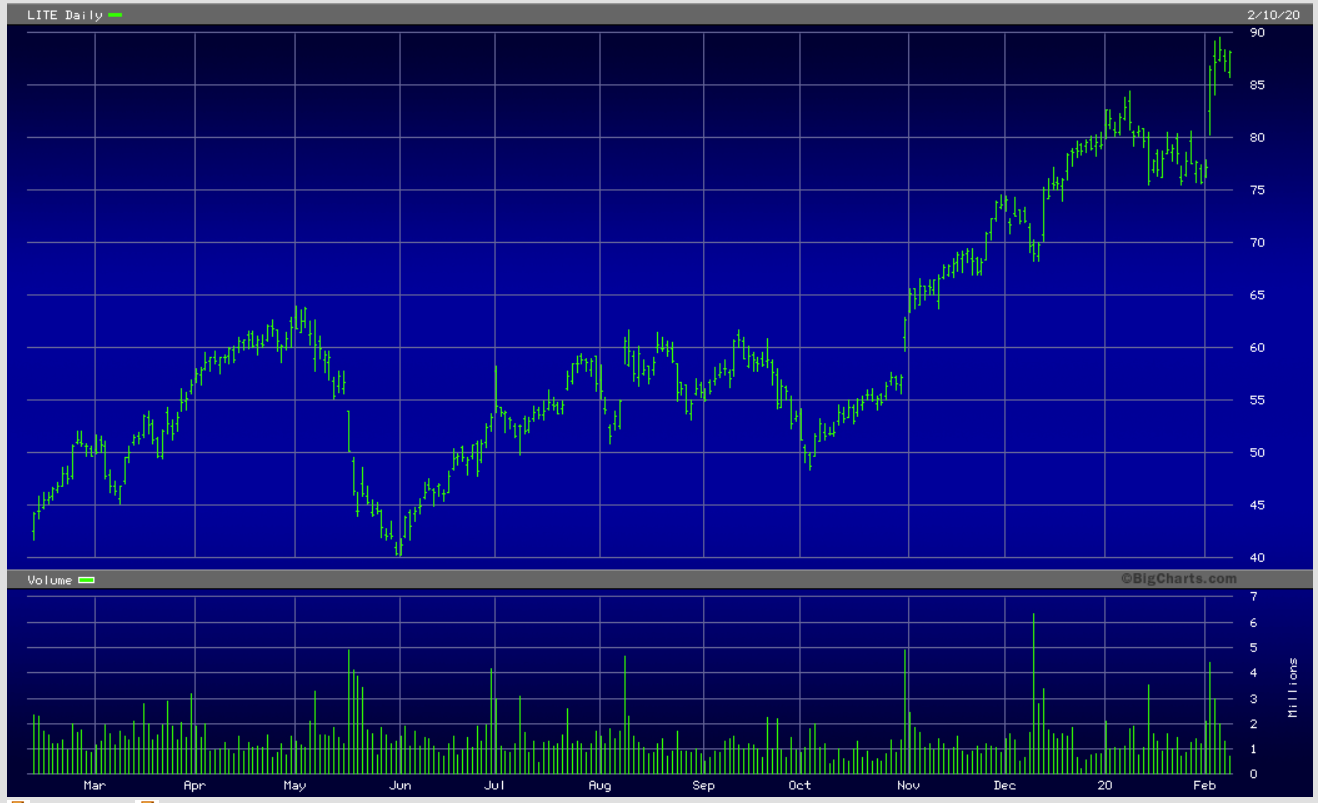 Image source: Big Charts

The company warned of seasonality in fiscal Q3 laser chip revenue. Additionally, leadership noted that the outbreak of the coronavirus was impacting employees at its Shenzhen facility. Lumentum anticipates a $15 million to $20 million reduction in revenue due to the impacts of the virus and issued EPS guidance of $1.00 to $1.17.

These warnings did not dampen investors' opinion on Lumentum as the stock continued its upward ascent after the company's earnings call. The share price has increased by 99.6% over the last year compared to the S&P 500's 23.4%.

_____

Equities Contributor: Stephen L. Kanaval

Source: Equities News

DISCLOSURE: The views and opinions expressed in this article are those of the authors, and do not necessarily represent the views of equities.com. Readers should not consider statements made by the author as formal recommendations and should consult their financial advisor before making any investment decisions. To read our full disclosure, please go to: http://www.equities.com/disclaimer.
Market Movers
Sponsored Financial Content