We have previously highlighted Loxo Oncology (Nasdaq: LOXO) in this space regarding its partnership with Illumina on next generation cancer diagnostics. One of the collaborative efforts involves a diagnostic using LOXO-292, the company's RET inhibitor that is currently in a Phase 1 study in patients with RET-altered cancers. Yesterday after the close, Loxo announced that it will present interim data from this trial at the upcoming American Society of Clinical Oncology (ASCO) Annual Meeting, showing that tumor reduction was achieved in 83% of evaluable patients treated with LOXO-292.
The RET (REarranged during Transfection) kinase is involved in multiple cellular processes, including differentiation, growth, migration and survival. Alterations in RET include fusions and point mutations. RET fusions — when the RET gene abormally binds with another gene — have been shown to drive tumor growth and have been identified in about 2% of non-small cell lung cancer, 10% to 20% of papillary thyroid cancer and a subset of colon and other cancers. RET point mutations account for about 60% of medullary thyroid cancer incidences.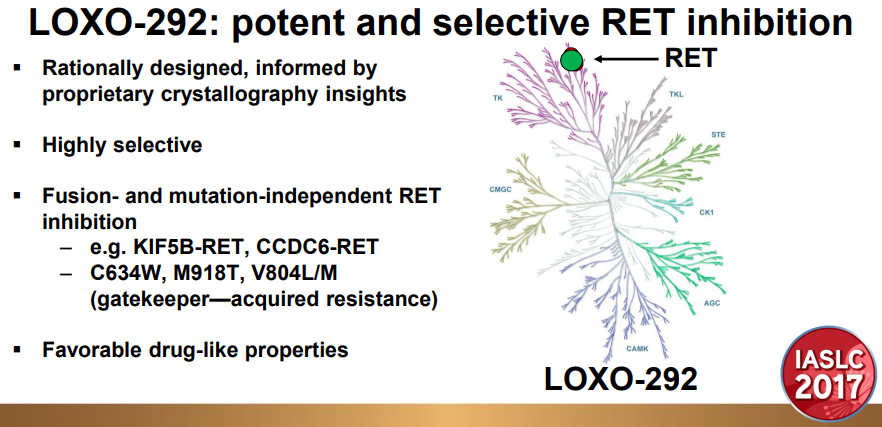 Source: Loxo Oncology presentation at IASLC 18th World Conference on Lung Cancer, October 2017
Loxo's Phase 1 investigators will be presenting the data on LOXO-292 in oral and poster presentations at the ASCO meeting to be held June 1 – 5, 2018, in Chicago. While the submitted abstract, "A phase 1 study of LOXO-292, a potent and highly selective RET inhibitor, in patients with RET-altered cancers," used a January 2018 data cutoff date, the ASCO presentation will use data through April 2018. The company said in its press release, "The efficacy data have improved between the January and April data cut-off dates." Further, Loxo said that the abstract was selected for the Best of ASCO program in Chicago in August 2018.
Of the 46 evaluable patients treated in the study as of January 5, 2018:
84% of patients with RET fusion showed tumor reduction, including non-small cell lung cancer and papillary thyroid cancer patients (27 out of 32).
79% of patients with RET-mutant medullary thyroid cancer showed tumor reduction (11/14).
The abstract's authors concluded:
LOXO-292 was well-tolerated and had marked antitumor activity in patients w/ RET-altered cancers, including those with resistance to prior multikinase inhibitors and brain metastases.
While this is still obviously very early data, and the Phase I trial is ongoing, it is clearly an encouraging sign for the prospects of Loxo's drug candidate.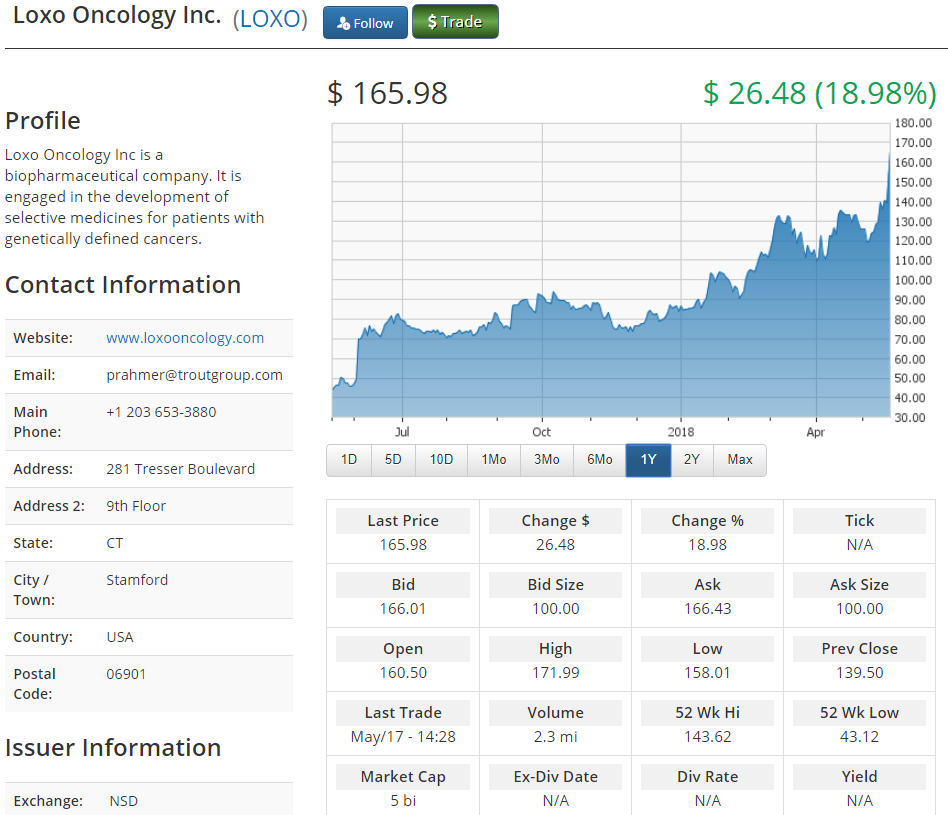 Please email us at [email protected] to see our Case Studies and Testimonials.
Please click here for information on our new trading platform.