Under normal function, the body's neurotrophic receptor tyrosine kinase (NTRK) genes are involved in the growth and development of nervous tissue, initially during embryonic development and subsequently in nerve function related to appetite, proprioception (the ability to sense the orientation of your body relative to your environment), memory formation and pain regulation. When these NTRK genes fuse with other unrelated genes, however, an altered protein is formed called tropomyosin receptor kinase (TRK). This becomes a driver of cancer in a broad range of tumor types across both pediatric and adult patients, and these resulting cancers are known as TRK fusion cancers.
TRK fusion proteins: oncogenic drivers in a variety of tumors across adult and pediatric cancers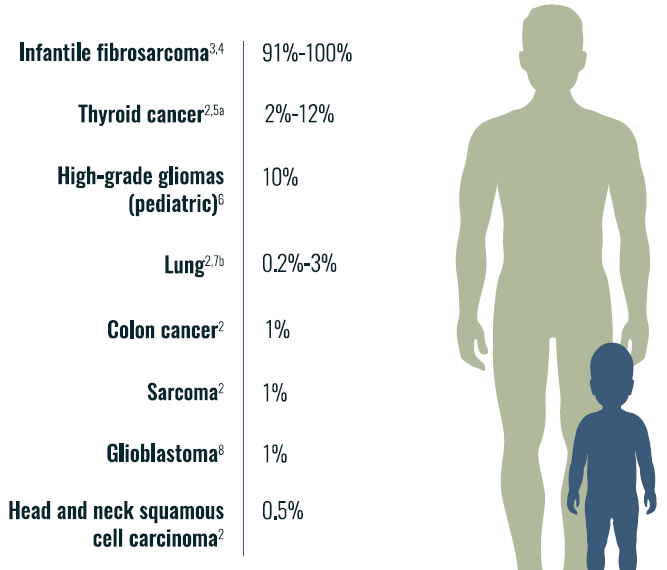 Source: Loxo Oncology and Bayer
Stamford, Connecticut, based Loxo Oncology LOXO is developing therapies for patients with genetically defined cancers. The company is focused on cancers that are uniquely dependent on single gene abnormalities. The FDA is expected to announced its decision on Monday, Nov. 26, 2018, on the company's lead compound, larotrectinib, for the treatment of adult and pediatric patients with locally advanced or metastatic solid tumors harboring an NTRK gene fusion. The FDA had accepted Loxo's submission in May 2018 and had granted Priority Review designation with a target action date of Nov. 26, under the Prescription Drug User Fee Act (PDUFA). The FDA has also granted Breakthrough Therapy, Rare Pediatric Disease and Orphan Drug designations to larotrectinib.
Source: Targeted Oncology
In clinical trials, larotrectinib has demonstrated anti-tumor activity regardless of patient age or tumor type. In an analysis of 55 adults and children with NTRK gene fusions, larotrectinib demonstrated a 75% centrally-assessed confirmed overall response rate (ORR) and an 80% investigator-assessed confirmed ORR, across many different types of solid tumors. In October 2018, Loxo presented a clinical update with 67 newly reported TRK fusion patients exhibiting 81% ORR. Notably, the duration of response has improved with longer term follow-up.
It is exciting to see larotrectinib deliver durable responses to patients in these studies with TRK fusion cancer, regardless of age, tumor site of origin, or CNS involvement. The sixty-seven new patients have nearly the same overall response rate as the first fifty-five, and duration of response has actually improved with longer patient follow-up. It is interesting to note that once again, depth of response, indicated by a complete response or deep partial response, is a good predictor of duration of response. Additionally, we observed a safety profile with larotrectinib that is conducive to such chronic therapy. The larotrectinib experience provides strong clinical evidence supporting the development of single-purpose drugs against oncogenic driver targets, and underscores the importance of tumor genomic profiling capable of identifying NTRK gene fusions alongside other activating alterations.

– Ulrik Lassen, MD, PhD, Department of Oncology, Rigshospitalet, Copenhagen.
In November 2017, Loxo entered into a global collaboration with Bayer BAYRY to develop and commercialize larotrectinib and LOXO-195, Loxo's next generation TRK inhibitor. Bayer paid Loxo $400 million upfront, a significant but reasonable amount given the late stage of development for larotrectinib, and Loxo is eligible to receive up to an additional $1.15 billion in clinical, regulatory and commercial milestone payments.
LOXO stock has traded off its spring/summer highs after a strong performance in the first half of the year. The stock briefly breached the $200 level on positive news from its LOXO-292 candidate in treating RET-altered cancers. The RET (REarranged during Transfection) kinase is involved in multiple cellular processes, including differentiation, growth, migration and survival. Similarly to TRK fusions, RET fusions and point mutations have been shown to drive tumor growth in multiple cancer types, including about 60% of medullary thyroid cancer incidences. While biotechs have traded lower as a group this fall, the pullback in LOXO seems to be overdone given the strength of the larotrectinib data and the breadth of the pipeline targeting other single gene abnormalities. We anticipate good news from the FDA on Monday, and we'll continue to keep Loxo on the radar for additional data readouts on its other programs.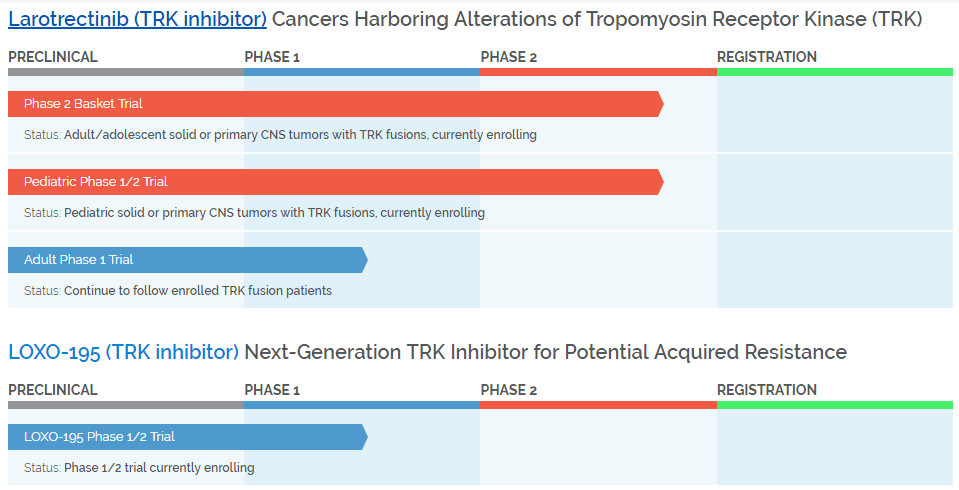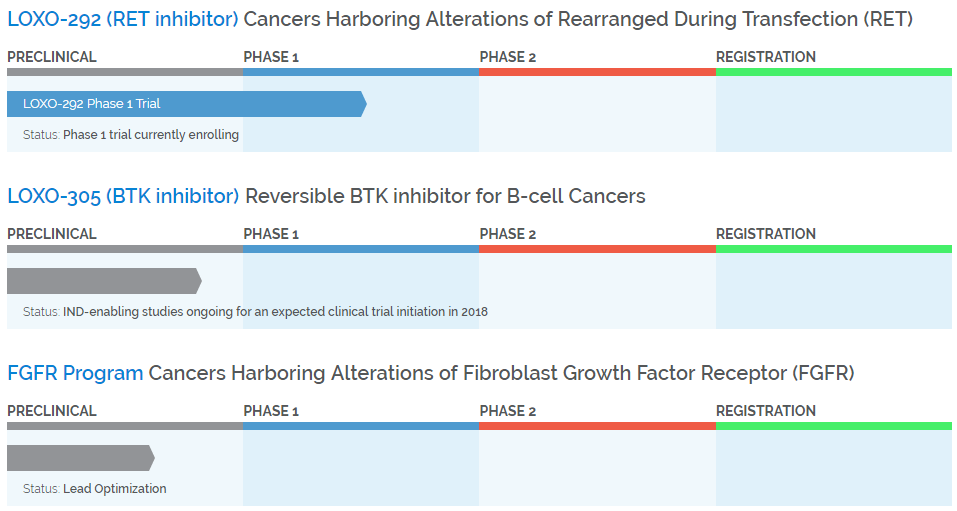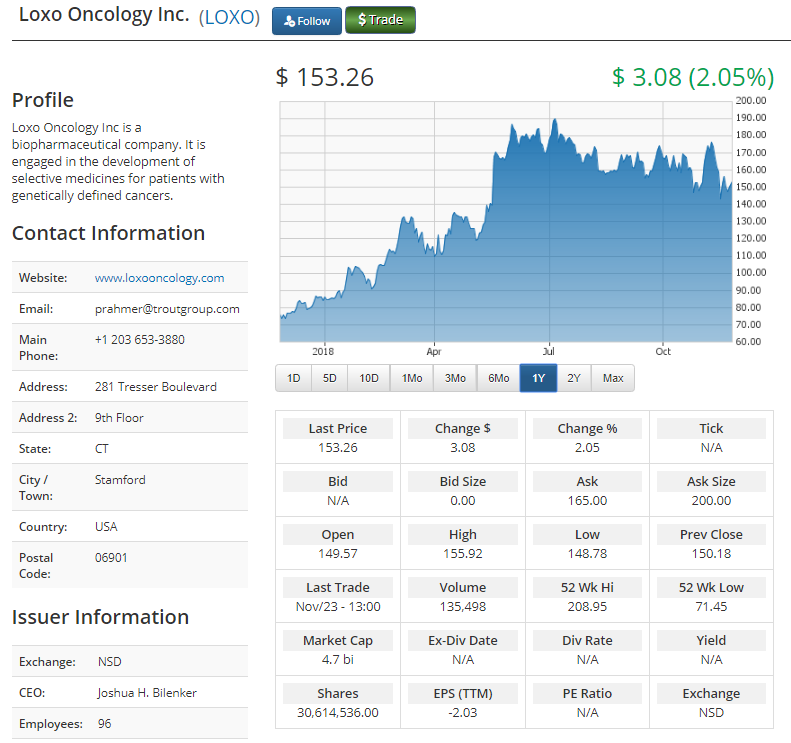 Please email us at [email protected] to see our Case Studies and Testimonials.
Please click here for information on our new trading platform.
Please click here to receive our free daily newsletter.