Loxo Oncology (Nasdaq: LOXO) and Illumina (Nasdaq: ILMN) today announced a global strategic partnership to develop and commercialize a multi-gene panel for broad tumor profiling, resulting in a distributable, next-generation sequencing (NGS) based companion diagnostic (CDx) with a pan-cancer indication. The deal expands Illumina's oncology offerings for its NextSeq 550Dx diagnostic instrument with a companion diagnostic version of its TruSight Tumor 170 test for solid tumors. Loxo Oncology will utilize a companion diagnostic version of Illumina's TruSight Tumor 170 test for larotrectinib, which targets NTRK (neurotropic tropomyosin receptor kinase) gene fusions, and LOXO-292, which targets RET (rearranged during transfection) gene alterations, across a spectrum of tumor types.
TruSight Tumor 170, Illumina's next-generation sequencing assay designed to cover 170 genes associated with common solid tumors, is an enrichment-based targeted panel that simultaneously analyzes DNA and RNA, covering a wide range of genes and variant types. The CDx version of TruSight Tumor 170 will enable local laboratories to provide referring physicians with comprehensive genomic information, so that patients can be matched to the most appropriate therapeutic options.
Source: Illumina
We are leveraging our leadership in next-generation sequencing to deliver in-vitro diagnostic solutions to improve the management of cancer patients in the clinic. To this end, we are partnering with leading biotechnology companies, such as Loxo Oncology, to develop companion diagnostics for best-in-class therapeutics. Distributable diagnostic solutions, such as a CDx version of TruSight Tumor 170, in combination with the NextSeq 550Dx platform, will enable labs to perform precision medicine testing in-house.
– Garret Hampton, Ph.D., Executive Vice President, Clinical Genomics, Illumina.
Source: Loxo Oncology
Under the partnership, the companies will collaborate to validate a CDx version of TruSight Tumor 170 for NTRK fusions and RET fusions/mutations as a Class III FDA-approved diagnostic in conjunction with larotrectinib and LOXO-292, respectively. The companies are also planning to broaden the clinical utility of the full panel by obtaining regulatory approval for the other assay content, to be marketed as a tumor profiling test. Illumina will lead regulatory activities related to the Class III plans for NTRK and RET, the Class II plans for the tumor profiling content, and CE marking.
We are very excited to announce this collaboration with Illumina, the world's leader in NGS technology. We have piloted numerous NGS assays, and the Illumina TruSight Tumor 170 assay has consistently demonstrated robust performance with its assessment of both DNA and RNA, including highly sensitive gene fusion detection. The broad 170-gene assay content has the potential to deliver meaningful insights from a single tumor specimen, identifying patients with NTRK fusions, RET fusions, RET mutations, and many other actionable tumor alterations. Furthermore, we believe that this collaboration will improve patient access to high-quality NGS testing because pathologists will be able to run TruSight Tumor 170 locally and receive reimbursement.
– Jacob Van Naarden, Chief Business Officer, Loxo Oncology.
In November 2017, Bayer paid $400 million to Loxo Oncology as part of a potential $1.55 billion collaboration to develop and commercialize larotrectinib and LOXO-195, Loxo Oncology's next generation next-generation, selective TRK inhibitor. In December 2017, Loxo Oncology initiated submission of a rolling New Drug Application for larotrectinib to the FDA, which was completed in March 2018. Larotrectinib was developed through Loxo Oncology's discovery and development partnership with Array BioPharma.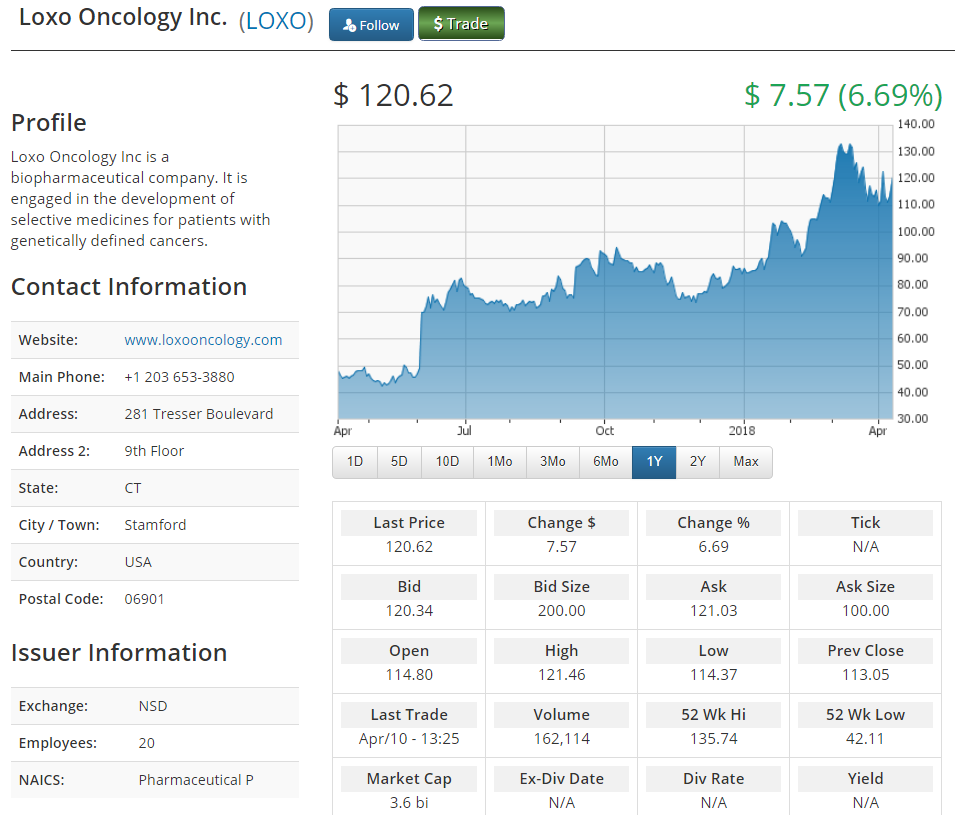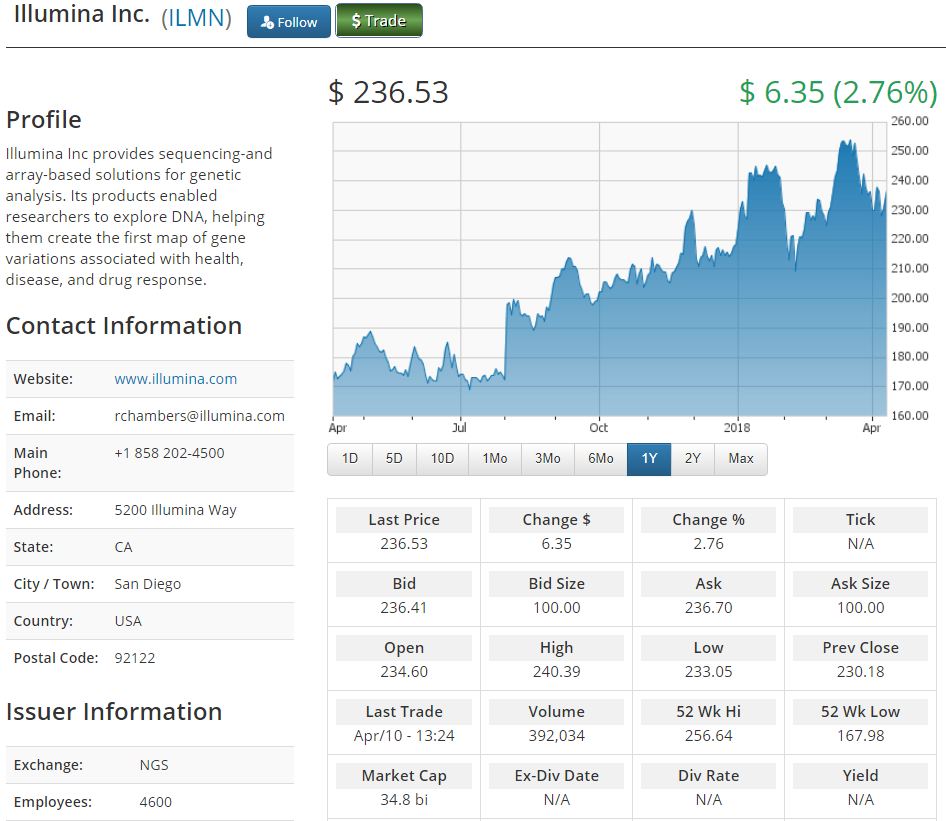 Please email us at [email protected] to see our Case Studies and Testimonials.
Please click here for information on our new trading platform.