Low Volatility in Gold = Interesting Option Strategies
Ilan Levy-Mayer Follow |

2018 saw one of the most volatile years in a while, and 2019 started out this way before fizzling into one of the LOWEST volatility years we have seen so far across many of the financial markets. Gold is one of these markets experiencing historical low levels of volatility. My thoughts are that traders of all shapes and sizes had enough risk after 2018, and that the volatility band stretched out so much that, as the third law of physics suggests, it had to contract for a time period. This is what we are experiencing in many markets right now.

To be honest as a broker/trader I ask myself, "How can I attempt to take advantage of this, and what does this mean for possible trading set ups?" I have some thoughts and ideas I will share later in this article with you, but first, let's take a look at a gold weekly chart below: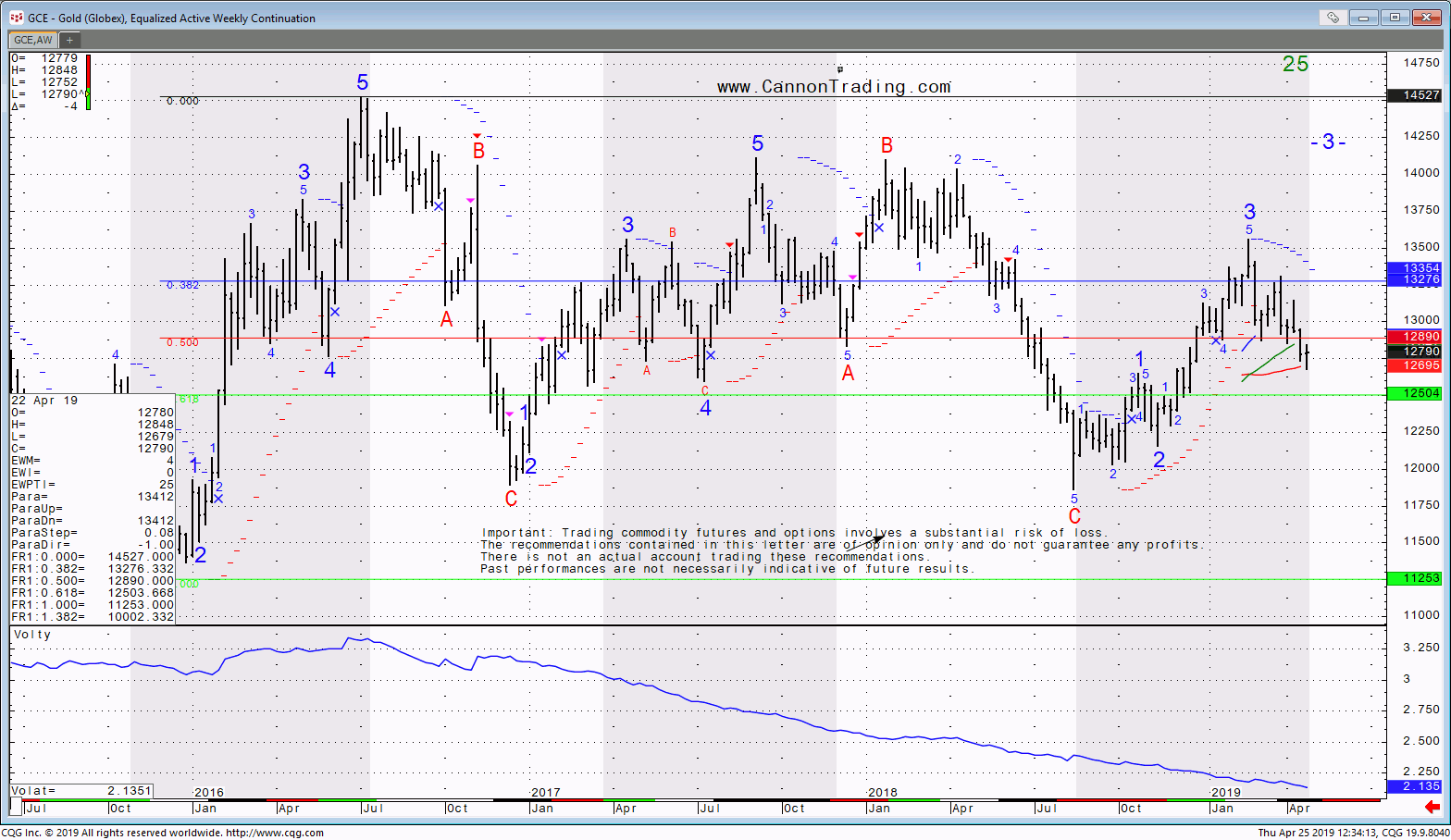 What you see above is a weekly chart of gold futures along with a volatility study that uses 52 weeks as the input. This is the lowest volatility I have seen, using the settings I have used since October 2007.
I think the extremely low volatility may be a sign of a possible recurrence of volatility across the board and not just in the gold markets. This worries me, that the next wave of volatility may be even stronger than the one we witnessed in 2018 BUT the question is when and which direction? The answer to this question is probably a topic for a whole different article but in the case of gold and the current low volatility, my personal opinion is that options may be a vehicle to explore.
Subscribe to get our Daily Fix delivered to your inbox 5 days a week
Some food for thought:
Dec. 2019 1350 calls, 214 days to expiration at the time I am writing this, are going for approximately $2000.
Dec. 2019 1250 puts, 214 days to expiration at the time I am writing this, are going for approximately $1700.
Dec. 2019 reverse 1350 calls -1400 calls ratio spread (selling one 1350, buying 2 1400), 214 days to expiration at the time I am writing this, are going for approximately EVEN money.
Dec. 2019 reverse 1270 puts -1230 ratio spread (selling one 1270, buying 2 1230), 214 days to expiration at the time I am writing this, are going for approximately EVEN money.
Some of the strategies above are more complex and carry larger degrees of risk than others BUT if gold is a market that interests you, the period of low volatility may be a good time to consult with an experienced commodity broker and discuss some of the opportunities and risks presented by the very low volatility.
Many ways to trade any market, many ways to lose money in any market and only very few ways to lock in gains - this one is not different. If you need help creating a trading plan, visit our broker assist services.
Disclaimer - Trading Futures, Options on Futures, and retail off-exchange foreign currency transactions involves substantial risk of loss and is not suitable for all investors.Past performance is not indicative of future results. You should carefully consider whether trading is suitable for you in light of your circumstances, knowledge, and financial resources. You may lose all or more of your initial investment. Opinions, market data, and recommendations are subject to change at any time.
DISCLOSURE: I currently don't hold any positions in gold.

---
The views and opinions expressed in this article are those of the authors, and do not necessarily represent the views of equities.com. Readers should not consider statements made by the author as formal recommendations and should consult their financial advisor before making any investment decisions. To read our full disclosure, please go to: http://www.equities.com/disclaimer.