Header image courtesy of iStockphoto.com/user: ???????? ???????
The large growers and dispensary operators in the cannabis industry get much of the headlines. Canopy Growth Corp. (CGC), Aurora Cannabis (ACB) and Tilray (TLRY) dominate the mainstream cannabis news as their large market caps and growing operations are subject to the most scrutiny, and are largely considered the tails that wag the dog of the industry. However, in harder times, like the one the industry is facing right now – New Cannabis Ventures Canadian Cannabis LP Index has posted 46% losses over the last two quarters and the American Operators Index dropping 18% in September – investors will turn to "pick and shovel" operators to try to find value. But, how are these "pick and shovel" operators really performing? And, the truth is, unfortunately, these companies selling lights, agricultural technology, supplies, point-of-sale software and other services are not offering much alternative value.
One reason might be market saturation. While most would consider ancillary providers a small category, they are the largest dwarfing cultivators and extractors.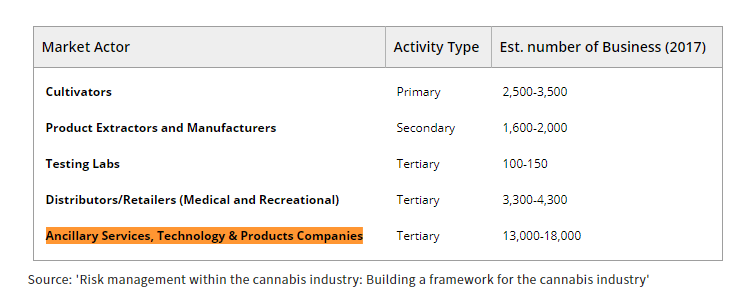 As seen above, there are roughly 13,000 to 18,000 ancillary service providers in the cannabis industry. In 2018, only 9 of the ancillary providers earned more than $10 million in revenues. The chart below comes from the Cannabis Business Executive Ancillary 155 and the largest revenue earners in each subsector can be seen in the far-right column.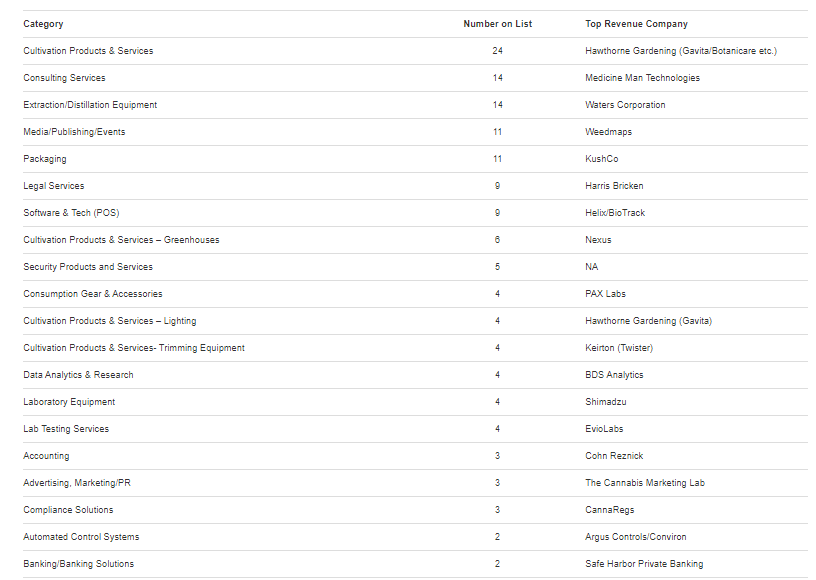 So, what happens when you chart these "pick and shovel" operators next to
other business model in the industry?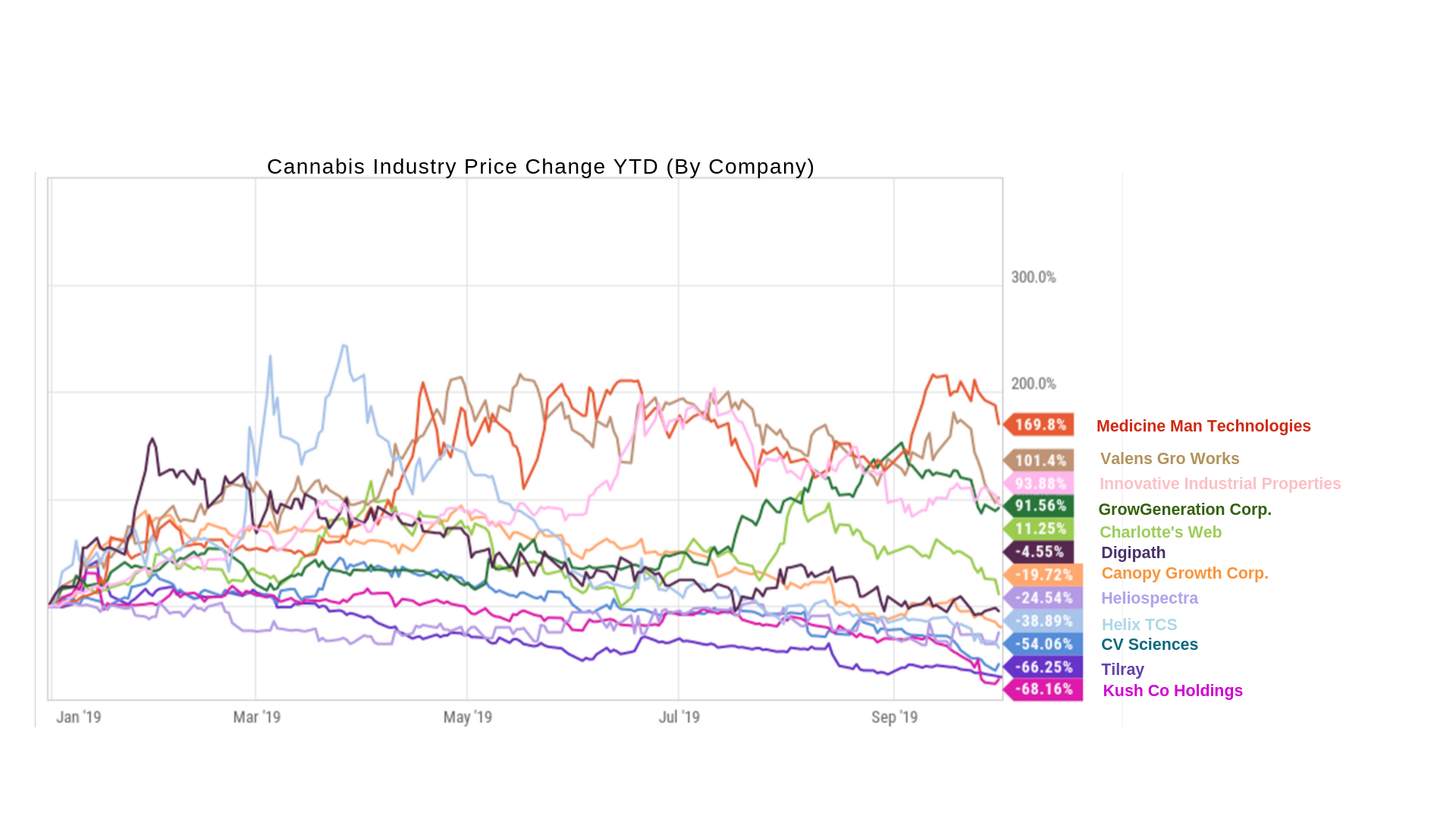 The results are less than encouraging. Kush
Co. Holdings, a cannabis supply company, Helix TCS, a cannabis
security provider, and HelioSpectra, a cannabis grow room lighting
company, has some of the largest losses in the industry – -68.16%, -38.89% and
-24.54%, respectively.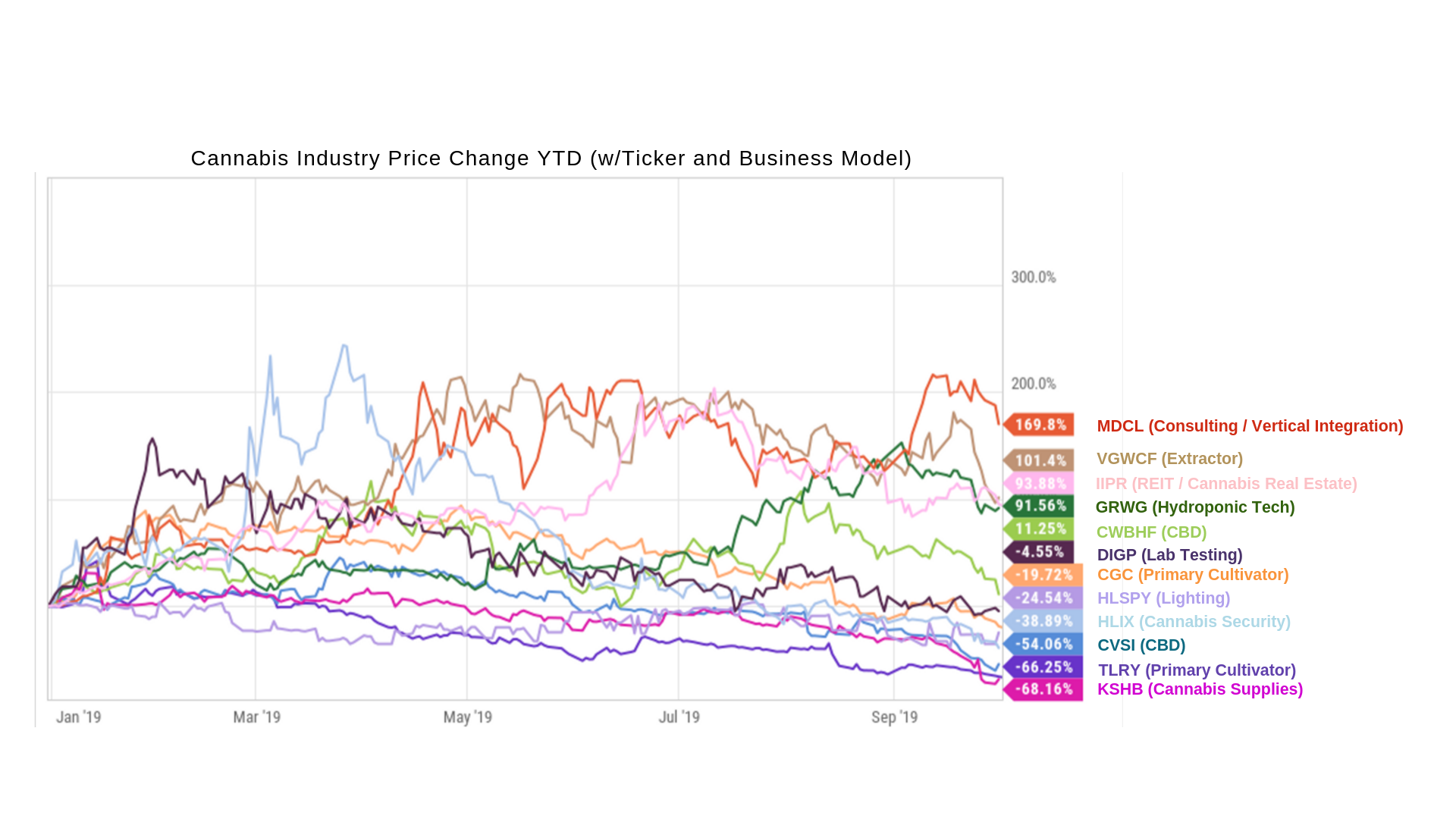 For example, Medicine Man Technologies started out as a consulting company focusing primarily on the Colorado market. MDCL's leadership spent years learning the cannabis landscape of the Centennial State by working with other companies in the space, and then when a law was changed the company shifted into an aggressive M&A phase snatching up businesses they knew could fit together in a constellation of vertical integration.
Next, Innovative Industrial Properties is the only real cannabis REIT of any merit. IIPR has made 25 acquisition and now holds more than 1.9 million square-feet of cultivation space. And as soon long as banking regulations move slowly, IIPR looks like a solid bet because cash-strapped cannabis companies keep coming to the company for funding as evidenced by the recent deal with Cresco Labs.
"When they seek other options, they find that other capital sources want an equity position in return," IIPR's CEO Paul Smith said in an interview with New Frontier Data. "Before you know it, these growers are giving away a big chunk of their company. When they do an analysis, they discover that our program is a much better option for them."
Lastly, Valens GroWorks has essentially created a wide and versatile extraction service that can be tailored to all kinds of operators. The company has supercritical extraction (which is the most common), ethanol extraction, hydrocarbon, solvent-less and terpene extraction. What additionally sets the company apart from its competitors is the Valens Lab and the customization possible for LPs, if needed. Already, the company is the gold standard in cannabis laboratories, where it offers turnkey solutions across the industry and will eventually allow companies a chance to create cannabis strains with preferences on terpenes, sterols and other bioactive compounds inside a strain.
Again, these three companies highlight how unique and diversified business models are making the most gains in the industry.