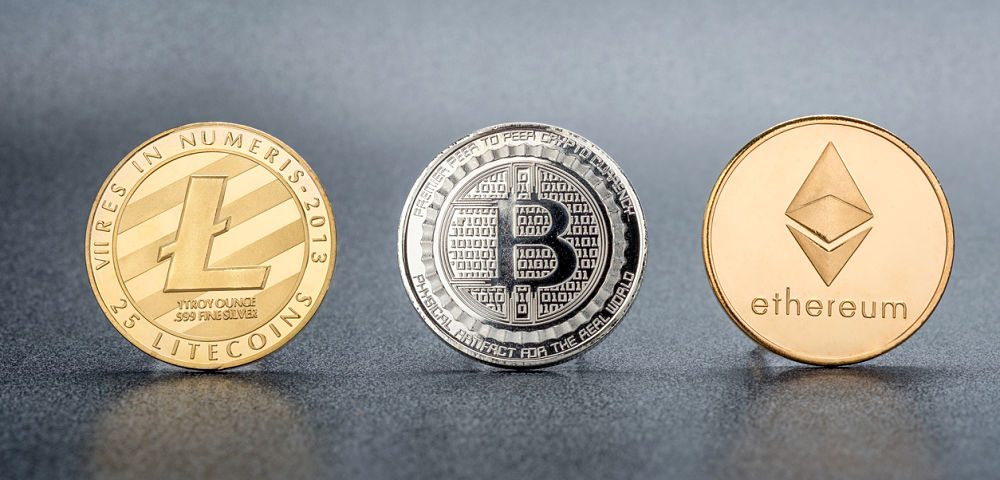 The Greek Myth Surrounding the Titan Promethieus (also Prometheus) was that he stole fire from the Gods and gave it to Humans so that they may create their own fire. This enduring myth was the spark for the idea of Promethieus Cryptocurrency. Lomiko Metals tapped MegaHertz Power Systems to create an ongoing income stream for Lomiko shareholders and it seems now, that move entirely in line with activities on a world-wide scale.
The recent move by the Federal Reserve Economic Data (FRED) database to include digital assets sent a signal across the economic world that cryptocurrency is legitimate. FRED is the most important source of data on the global economy, and now the database will offer daily updates on bitcoin, bitcoin cash, ethereum and litecoin, all of which will be obtained from Coinbase. In addition, Adena Friedman, CEO of Nasdaq, recently offered a vote of confidence in the potential of cryptocurrencies as a new and enduring reality in the financial world.
"I believe that digital currencies will continue to persist…it's just a matter of how long it will take for that space to mature," Friedman said on CBNC in April.
This is all to say that virtual currency is here to stay. However, the electricity it takes to power bitcoin and the cryptocurrency market is anything but virtual, and energy might be one of the most important issues in its maturity.
In a much-publicized report, economist Alex de Vries detailed how digital currency miners require an enormous amount of energy to complete the hash calculations needed to create a new bitcoin. Both the report and the discussion surrounding electricity consumption prompted the creator of ethereum, Vitalik Buterin, to begin an experiment toward finding a more energy-efficient way to create tokens. "I would personally feel very unhappy if my main contribution to the world was adding Cyprus's worth of electricity consumption to global warming," Buterin told The New York Times.
In response to this energy problem, Lomiko Metals Inc. LMR:CA LMRMF, along with Promethieus Cryptocurrency Mining, is working to modernize digital mining equipment with its Golden Goose mining product line. The Golden Goose II, the follow-up to the prototype digital miner, will be configured for lower heat and energy costs, making cryptocurrency mining more efficient and realistic for smaller-scale, hobbyist miners.
"Our approach is from an engineering standpoint – the focus is on creating new designs for cryptocurrency mining – efficiency, cost effectiveness and the longevity of the mining rig units at optimal production is paramount," stated A. Paul Gill, CEO of Lomiko Metals.
Recently, Lomiko and Promethieus announced the start of their European seed financing round, combined with the finalization of the ownership structure as they march toward an IPO on a select European exchange. The final shareholder structure of Promethieus will be three-fold: Lomiko with 20%, Promethieus CEO Sat Samra with 38% and Gill with 42% of common shares. It was further decided by the group to create a dual share structure with preferred shares. As noted in the April press release, this United Kingdom public cash shell is being managed by Isatis Capital Partners, and the group also announced in the most recent press that more shares will be issued as funds are raised.
Looking back, Promethieus' Golden Goose mining rig debuted at CES in January and was mining ethereum live at the World Outlook Conference in Vancouver the next month. Besides ethereum, the Golden Goose will also be able to mine core cryptocurrencies like bitcoin, ripple, monero, litecoin, dash and z-cash or any other digital currency on the rise.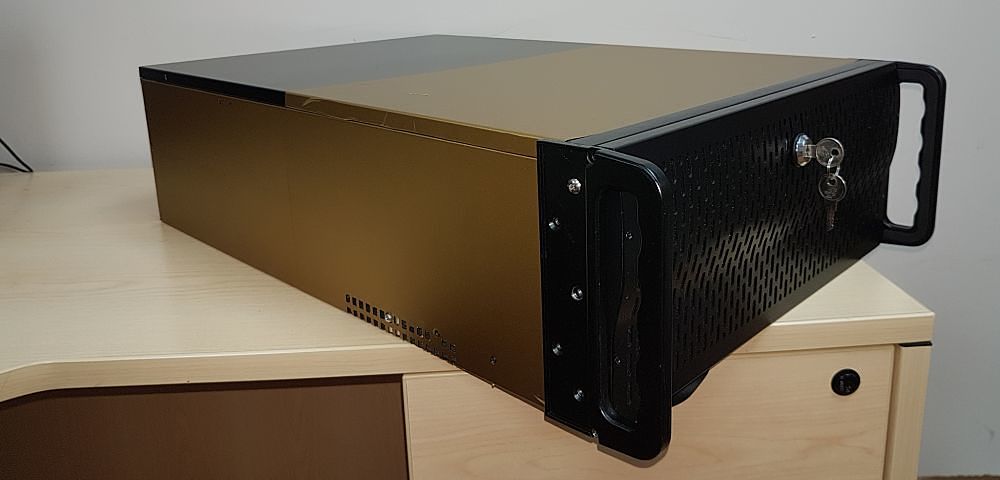 A Portfolio Already Touching IoT and even an Innovative "Supermetal"
For Lomiko, the advancement of the Promethieus IPO and the parallel progress of its flagship digital miner adds to an already diverse and forward-thinking portfolio. Last year, the company, along with partners SHD Smart Homes and MegaHertz Power Systems Ltd., successfully launched the Spider Charger®. This unique device was Lomiko's entrance into the rapidly expanding Smart Home IoT sector, which could reach $53.45 billion in market size by 2022. Currently, Lomiko and SHD Smart Home are in discussions with a U.S.-based distributor, Automated Building Devices, to begin selling the device to builders in the Western states. The charger itself has six USB ports, two AC wall plugs and a multi-dimensional tool allowing it to integrate into existing firmware. Ideally, Lomiko's smart home charger is designed for hotels, condos, offices and new homes.
Owning multiples into two high-growth industries like digital currency and IoT underscores what makes Lomiko stand out from other comparables. Gill and his team are always looking to follow consumer trends in the emerging green economy. As a further example, Lomiko has a hand in the graphene market.
The company has a 40% interest in Graphene ESD, a U.S.-based company established in partnership with Graphene Lab and Stony Brook University. For those who are unfamiliar with this "super metal," graphene is a sheet of carbon atoms arranged in repeating hexagons along a single plane. As a material, it has proven to be light and flexible.
"To put this in perspective, graphene by weight is hundreds of times stronger than steel," said Les Johnson, who, along with Joseph E. Meany, wrote a book on the material. Furthermore, graphene is a superconductor able to store energy at higher capacities and more efficiently than even silver or copper.
The First Step in the Vertical Value Chain: Graphite
Putting aside the potential of graphene and even IoT and digital currency, the real base of Lomiko's portfolio has always been centered around its graphite property, La Loutre, located in Southern Quebec just north of Montreal.
Graphite prices shot up 30-40% during the second half of last year, and as the electric car market continues to grow, the price is expected to remain favorable. BCC Research estimates that the global graphite market will experience 7.7% CAGR from 2016 to reach $18.2 billion in 2021. In addition, plant closures in China are impacting the industry.
"Both the largest markets for natural graphite (refractories) and synthetic graphite (electrodes) rely on the steelmaking industry, which has weakened with China's slowing rate of industrialization," per a report from Roskill.
These factors did not escape Gill or his team at Lomiko, who are strategically preparing their Pre-Economic Assessment ("PEA") by the end of this year, which will dovetail nicely with the continued demand for flake graphite.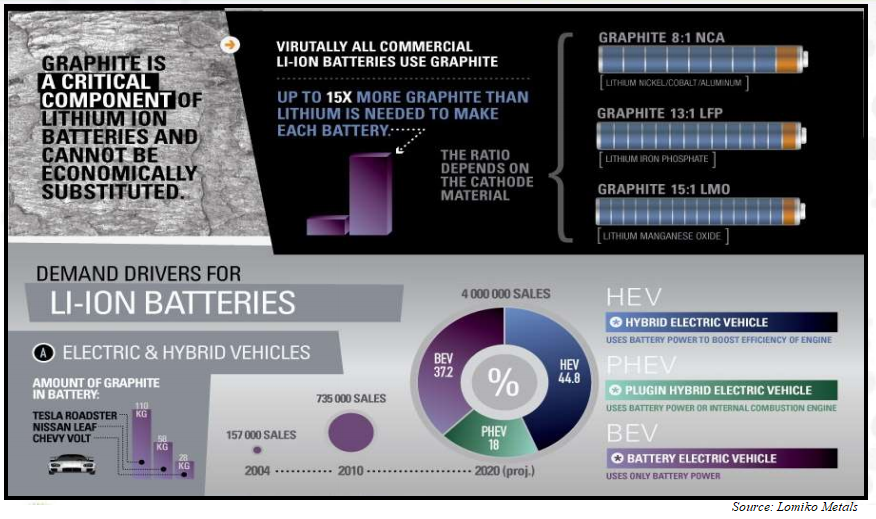 Flake graphite is a key component to the battery industry because of its use in the Tesla 3 Model, which employs the metal in its lithium-ion batteries. However, flake graphite can also be used in fuel cells replacing combustion engines as a means of converting fuel to energy. Also, Pebble-bed nuclear reactors, which use uranium embedded in fist-sized graphite balls, are another example of how crucial graphite is becoming in the energy sector. One 100-GW pebble-bed nuclear reactor requires 300 tonnes of graphite to commence production and an additional 60-100 tonnes per year to maintain continual operation.
"Now that flake graphite prices are increasing, we anticipate it will draw the attention of quick-acting, savvy investors looking for maximum return on investment in the other battery material and graphite," Gill said in an earlier press release.
Lomiko's La Loutre is an expansive project consisting of one contiguous block of 42 mineral claims over 7,084 acres, or 11 square miles. In early 2017, Lomiko released the drill results from La Loutre showing high-grade graphite intercepts as part of a 10-hole, 1,550-meter drill program completed in December 2016 in the Refractory zone. Highlights of the results included Hole LL-16-06 returning values of 7.67% flake graphite (Cg) over 85 meters, including 13.09% graphite over 31.5 meters.
The entire project contains 18.4 million Indicated tonnes grading 31.9% graphite with 16.7 million inferred tonnes grading 3.75% graphite at a 1.5% cut-off rate (not NI 43-101 compliant). In addition, drilling indicates that the mineralization is 200 meters wide at a current strike length of 400 meters trending in a northwest to southeast direction. Importantly, the strike remains open in both directions.
Lastly, in an effort to further explore the refractory zone at La Loutre, Lomiko arranged a financing of $186, 558 in May, adding necessary working capital as the company works toward its PEA and making the resource NI 43-101 compliant.
Bear in mind, Lomiko has consistently stayed current with innovative technologies, finding synergies that mesh with its core business. Thus, as 2018 continues to march onward, investors can expect the company to capitalize on strategic targets ranging from digital currency to IoT and a now-rising graphite market.
---
In the interest of full disclosure, we call the reader's attention to the fact that Equities.com, Inc. is compensated by the companies profiled in the Spotlight Companies section. The purpose of these profiles is to provide awareness of these companies to investors in the micro, small-cap and growth equity community and should not in any way be considered as a recommendation to buy, sell or hold these securities. Equities.com is not a registered broker dealer, investment advisor, financial analyst, investment banker or other investment professional. We are a publisher of original and third party news and information. All profiles are based on information that is available to the public. The information contained herein should not be considered to be complete and is not guaranteed by Equities.com to be free from misstatement or errors. The views expressed are our own and not intended to be the basis for any investment decision. Readers are reminded to do their own due diligence when researching any companies mentioned on this website. Always bear in mind that investing in early-stage companies is risky and you are encouraged to only invest an amount that you can afford to lose completely without any change in your lifestyle. Equities has been compensated with cash, common shares and/or warrants for market awareness services provided.