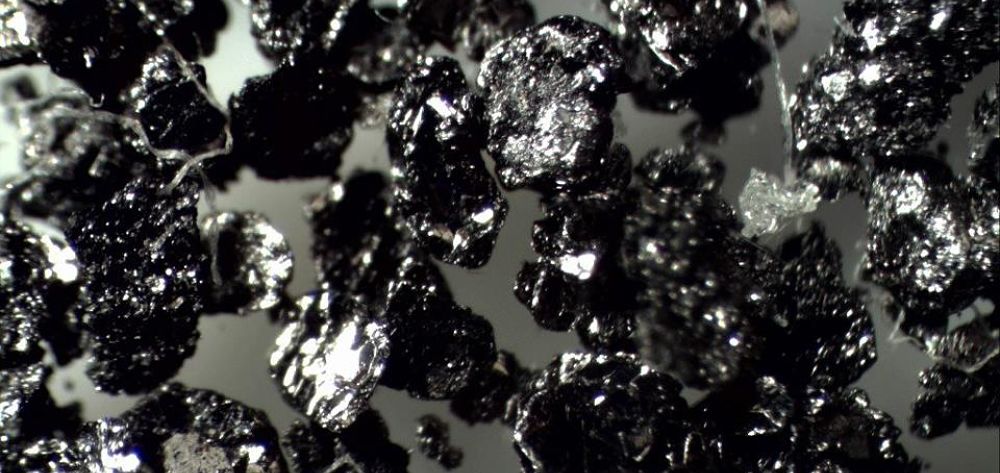 With its truly unique and diverse portfolio, Lomiko Metals Inc. (LMR:CA)(LMRMF) is primed to capitalize on three high-growth industries: electric vehicles, IoT and cryptocurrency. Each of these markets are projected to grow into the hundreds of billions over the next several years. According to Bain, IoT revenues could exceed $470 billion by 2020 with a compounded annual rate of growth of 32.6%, while the electric vehicle market might add anywhere from $30 billion to $97 billion in profits by that time and, the cryptocurrency market could stretch to $1 trillion market capitalization by the end of this year alone. These sectors represent some of the biggest prospects for growth in the global economy going forward, and Lomiko is strategically positioned to tap into all three.
First, and most recently, Lomiko participated in the introduction of the Promethieus Mining Corporation, which Lomiko has an investment of 25% equity, and debuted their prototype mining rig at CES in January. The annual Las Vegas expo was a perfect place to showcase the company's Golden Goose II miner, a mining rig built for individuals and configured to emphasize on efficient, lower-power consumption.
"The approach of most companies in this space has been to rent server farms, build in cold climates, or construct new farms based on currently available parts and products," stated A. Paul Gill, CEO of Lomiko Metals. "Our approach is from an engineering standpoint – the focus is on creating new designs for cryptocurrency mining – efficiency, cost effectiveness and the longevity of the mining rig units at optimal production is paramount."
In fact, the Golden Goose rig was actively mining Ethereum live in front of the attendees at the World Outlook Conference in Vancouver in early February. According to the company, the two seminars at the conference for Promethieus were filled to overflow capacity. Besides Ethereum, the Golden Goose will also mine core cryptocurrencies like Bitcoin, Ripple, Monero, Litecoin, Dash and Z-Cash, but will also evolve to mine other cryptocurrencies that come to prominence.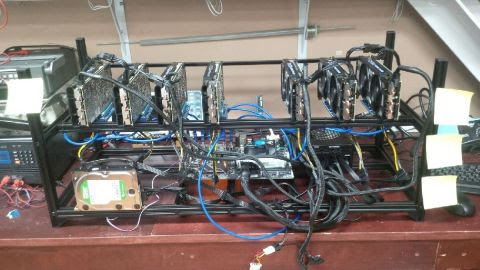 It's important to note that the Golden Goose mining rig was designed by SHD Smart Home Devices, which Lomiko has a 25% ownership stake. The engineering team's touches are discernible on the rig's attention to detail in the areas of heat and power management making it more economical for those looking to mine cryptocurrency from the comfort of their own home. Practicality has been one of the calling cards of SHD Smart Home as evidenced by their other product with Lomiko, the Spider Charger.
Where IoT and Blockchain Converge
Last year, Lomiko and SHD Smart Homes along with MegaHertz Power Systems Ltd. launched the Spider Charger®, an innovative and money-saving smart home device designed for hotels, condos, offices and new homes. With six USB ports and two regular AC wall receptacles, the Spider Charger was built to effortlessly integrate into existing firmware and can even be programmed with open source software.
Moreover, Lomiko's smart home charger was built to be décor friendly, easy to install, similar in appearance to regular AC outlets despite its increased range of function and compatible with pre-existing smart home systems on the market. Furthermore, and most importantly for hotel managers, power consumption and user data is acquired and transmitted to the gateway for energy savings and home automation management.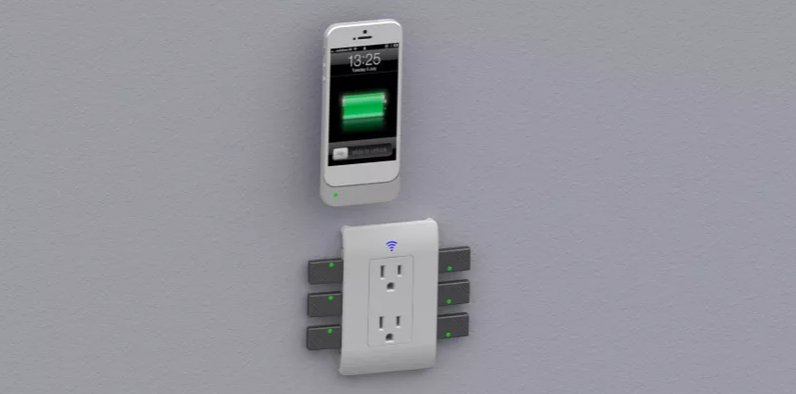 Ideally, the Spider Charger was designed for the hospitality sector or for new homes and condos. In this vein, Lomiko and SHD Smart Home are in discussions with a U.S.-based distributor, Automated Building Devices, to begin selling the device to builders in the Western states.
"The Spidercharger will replace a normal wall plug, it will have connectivity to wireless networks, security protocols that we can program into it, and in addition to that you can reprogram them and have them communicate with mobile devices," said Gill. "So, really this is a multitasking device."
As Gill alludes to above, the SpiderCharger is designed to be a multi-dimensional tool rather than just an outlet. In this vein of thought, Lomiko and SHD SmartHomes see synergistic potential between both the IoT in the SpiderCharger and Promethieus' Golden Goose mining rig through blockchain. Of course, the mining rig will use the blockchain – a public and secure decentralized ledger – for security protocols, but this same technology also has the potential to make IoT devices even more secure. Gill and his team see an important meeting point between these two technologies and are exploring connections now for future collaboration.
Graphite is Going to have its Moment and Lomiko is Ready
Of course, there's Lomiko's La Loutre graphite property in Southern Quebec, which ties all the businesses together. The 42 mineral claims of high-grade flake graphite at La Loutre represents Lomiko's concerted business model that looks to cover technology's expansion from all level of the supply chain.
"The ultimate goal is leaning towards vertical integration," Gill previously told Equities. "We want to create opportunities in which we have a knowledge of where the minerals are extracted, and also an eye on where the minerals are going to be used in the end product. So, we want to be able to cover that entire value chain of the product."
Looking at recent forecasts, BCC Research estimates that the global graphite market will experience 7.7% CAGR from 2016 to reach $18.2 billion in 2021. Similarly, A report by Allied Market Research, forecasts the global graphite market will reach a similar number one year later.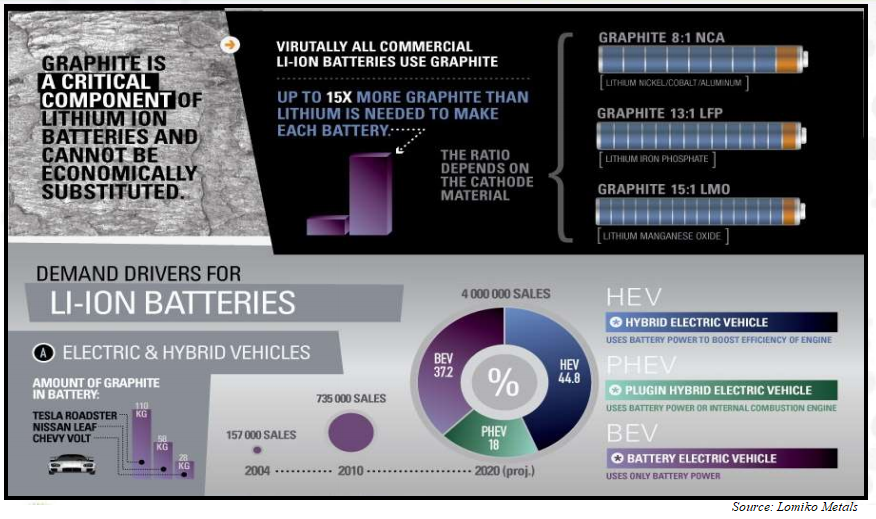 According to AMR analyst Eswara Prasad, "Increase in use of graphite to produce lithium ion battery anodes initiated the use of natural and synthetic graphite especially, as a counterpart to heavy and costly metals. Thus, rise in demand for relatively lighter and inexpensive materials across battery production applications pose lucrative opportunities for significant players in the market." All this expected growth means that new mines and resources will need to be available and Lomiko is certainly ready.
All considered, La Loutre is a large project, consisting of one contiguous block of 42 mineral claims enveloping 2,867 hectares about 53 kilometers east of the Imerys Carbon and Graphite mine. Last year, Lomiko released the drill results from La Loutre showing high grade graphite intercepts as part of a 10-hole, 1,550-meter drill program completed in December 2016 in the Refractory zone at the project. Highlights of the results included Hole LL-16-06 returning values of 7.67% flake graphite (Cg) over 85 meters, including 13.09% graphite over 31.5 meters. Drilling indicates that the mineralization is 200 meters wide at a current strike length of 400 meters trending in a northwest to southeast direction. Importantly, the strike remains open in both directions.
The company intends to publish its Pre-Economic Assessment ("PEA") during a time when electric battery minerals like graphite, lithium and cobalt are all in high demand.
"Lomiko provides an interesting combination of advanced development with an established resource and value, based on our small market of $4 million Cdn," stated Gill in a previous press release.
Lastly, Lomiko also has a 40% interest in Graphene Labs and Stony Book University, where they are developing patents for this "miracle material." Advocates of graphene technology contend that it can create construction fittings and tubes 200 times stronger than steel.
Across the markets, there are very few companies that have a hand in each of these innovative fields. Besides the current portfolio, which is very deep, Gill and his team have proven themselves to be excellent speculators on where the next boom will take place and because of that Lomiko Metals is one company that investors should always be watching.
---
In the interest of full disclosure, we call the reader's attention to the fact that Equities.com, Inc. is compensated by the companies profiled in the Spotlight Companies section. The purpose of these profiles is to provide awareness of these companies to investors in the micro, small-cap and growth equity community and should not in any way be considered as a recommendation to buy, sell or hold these securities. Equities.com is not a registered broker dealer, investment advisor, financial analyst, investment banker or other investment professional. We are a publisher of original and third party news and information. All profiles are based on information that is available to the public. The information contained herein should not be considered to be complete and is not guaranteed by Equities.com to be free from misstatement or errors. The views expressed are our own and not intended to be the basis for any investment decision. Readers are reminded to do their own due diligence when researching any companies mentioned on this website. Always bear in mind that investing in early-stage companies is risky and you are encouraged to only invest an amount that you can afford to lose completely without any change in your lifestyle. Equities has been compensated with cash, common shares and/or warrants for market awareness services provided.