​Lomiko Metals Raises $1.2 Million as Graphite Demand Moves Toward Critical Mass
Spotlight Companies Follow |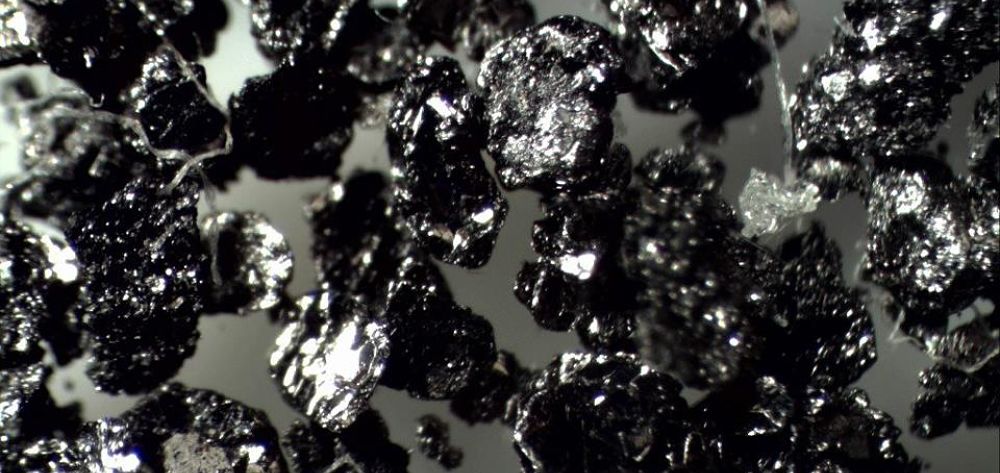 With global stocks experiencing heavy selling in recent months, investors are wondering where to look now. The answer may be graphite, a strategic material used in pencils, lubricants, steel, brakes and more that is seeing growing demand for use in electric vehicle (EV) batteries. The market segment is particularly attractive when considering that there is only one graphite-producing mine operating in North America. Most of the flake graphite suitable for car batteries comes from China, and because a lot more graphite goes into a rechargeable lithium-ion battery than lithium or cobalt—two metals being made famous because of the emergence of EVs.
Most people are not aware of the significant demand for graphite, but the market as it relates to EV batteries is much larger for graphite than for either of the other two critical metals. Up to 70 percent of high-grade flake graphite used in EVs is sourced from China, which emphasizes why graphite was listed as one of 35 metals vital to national security in the U.S. under an executive order of President Donald Trump tasking the country to reduce its reliance on imports.
This market opportunity is in the sights of Lomiko Metals (LMR:CA/LMRMF), which has pointed out that a Li-ion battery can require up to 15 times more graphite than lithium, depending on the cathode. For instance, a Tesla Roadster requires a whopping 110 kilograms (242 pounds) of graphite. Even if it is a smaller amounts (a Nissan Leaf uses 58 kilograms [127 pounds]), EV batteries have developed new demand for graphite that simply did not exist a few years ago.
The International Energy Administration forecasts that the number of EVs worldwide will reach 125 million by 2030 from 3.1 million in 2017, so the glaring need for more graphite becomes crystal clear, as global demand for flake graphite will outstrip supply this year.
"Leading analyst Industrial Minerals has indicated that Chinese suppliers of graphite to the electric vehicle market are 'sold out' of material indicating possible stockpiling of the material is occurring," commented A. Paul Gill, CEO of Lomiko, in a news release raising questions about growing trade tensions between the U.S. and China. Gill has a long history of building resource companies, including his involvement in the growth stage of Norsemont Mining, which was ultimately acquired by HudBay Minerals HBM:CA in 2011 in a $512 million deal.
The Timcal Mine in Quebec of European mining giant Imerys Graphite & Carbon IMYSF is the only producing graphite mine in Canada. While in the early 20th century the U.S. was a prolific graphite producer, today the country has zero graphite mines in operation. Against this backdrop, a domestic supply shortfall looms on the horizon. China, which notoriously hoards commodities for its own needs, is the world's top graphite producer at 780,000 metric tonnes in 2017. India is a distant second at 150,000 MT, followed by Brazil at 95,000 MT and Canada at 30,000 MT. Twenty-six battery cell plants are being commissioned or expanded by 2021 worldwide, which Benchmark Minerals Intelligence says will more than triple lithium ion cell demand to 344.5 gigawatts per hour from 100 GWh in 2017.
To that end, China will flip to net graphite importer, and even conservative EV uptake estimates emphasize the need for more graphite. Crunch time is coming, make no mistake about it.
There will be more than one winner in the graphite mining space, and Lomiko Metals has positioned itself to be one of the beneficiaries of the surging global graphite demand. The company is diversified into FutureTech and Internet of Things, but its roots are deeply seeded in the graphite space with its Quatre Milles project and its 80%-owned La Loutre graphite property to the southeast of Imerys' Timcal Mine.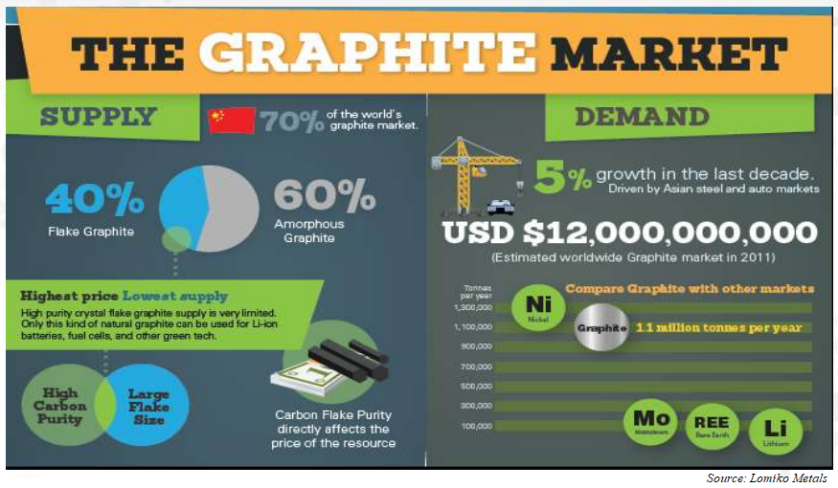 The 2,867-acre La Loutre property is characterized by near-surface mineralization, making it a prime candidate for an open pit, large-scale mine similar to the Imerys mine, which has a 20-year life and 5.2 million tonnes at an average grade of 7.42% Cg (carbon in graphite form). In fact, even though only two of 10 identified anomalies at La Loutre have been drilled to date, the top line resource (Indicated and Inferred) at the project is strikingly similar to Imerys, showing 4.1 million tonnes at 6.5% Cg.
More recent drilling by Lomiko showed a new discovery of 110 meters grading 14.56% Cg that is yet to be included in the 43-101 resource report. The company intends to focus its efforts on additional graphite metallurgy, purity and characterization tests to further validate the value of the property in addition to updating the 43-101 report.
To advance La Loutre and meet these goals, Lomiko at the end of October closed a private placement that raised gross proceeds of $1.17 million. The proceeds are earmarked for working capital and to complete additional exploratory work in the Refractory Zone at La Loutre to define a current resource in compliance with NI standards.
The timing for Lomiko couldn't be better as Li-ion battery manufacturers will soon start jockeying to secure graphite supply agreements if they intend to meet their production projections in the coming years.
Subscribe to get our Daily Fix delivered to your inbox 5 days a week
In the interest of full disclosure, we call the reader's attention to the fact that Equities.com, Inc. is compensated by the companies profiled in the Spotlight Companies section. The purpose of these profiles is to provide awareness of these companies to investors in the micro, small-cap and growth equity community and should not in any way be considered as a recommendation to buy, sell or hold these securities. Equities.com is not a registered broker dealer, investment advisor, financial analyst, investment banker or other investment professional. We are a publisher of original and third party news and information. All profiles are based on information that is available to the public. The information contained herein should not be considered to be complete and is not guaranteed by Equities.com to be free from misstatement or errors. The views expressed are our own and not intended to be the basis for any investment decision. Readers are reminded to do their own due diligence when researching any companies mentioned on this website. Always bear in mind that investing in early-stage companies is risky and you are encouraged to only invest an amount that you can afford to lose completely without any change in your lifestyle. Equities has been compensated with cash, common shares and/or warrants for market awareness services provided.

DISCLOSURE: The views and opinions expressed in this article are those of the authors, and do not necessarily represent the views of equities.com. Readers should not consider statements made by the author as formal recommendations and should consult their financial advisor before making any investment decisions. To read our full disclosure, please go to: http://www.equities.com/disclaimer.
Market Movers
Sponsored Financial Content