~ Genome editing technology, Initially targeting rare liver disorders in pediatric patients ~
Methylmalonic acidemia (MMA) is a rare inherited disorder in which the body is unable to process certain proteins and fats properly due to a genetic mutation. Symptoms usually appear in early infancy, according to the Genetic and Rare Diseases Information Center of the NIH, and vary from mild to life-threatening conditions. Infants can experience a spectrum of poor outcomes including vomiting and dehydration, weak muscle tone, developmental delay, lethargy, enlarged liver and failure to thrive. Long-term complications can include feeding problems, intellectual disability, chronic kidney and liver disease and pancreatitis. A 2014 study published in the Orphanet Journal of Rare Diseases by Matthias R Baumgartner, Division of Metabolism and Children's Research Centre, University Children's Hospital Zurich, et al. estimates the incidence of MMA to be one out of every 50,000 people. MMA has no cure, and the current standard of care involves strict low-protein, high-calorie diets, certain drugs that provide some symptom relief and, in some cases, organ transplants.
Cambridge, Massachusetts, based Logic Therapeutics (pending Nasdaq: LOGC) is developing therapies based on genome editing technology to treat rare diseases. GeneRide, the company's proprietary platform, is designed to precisely integrate corrective genes into a patient's damaged genome. LogicBio has demonstrated proof of concept in animal models for a number of diseases and is focusing on development of its lead product candidate, LB-001, for the treatment of MMA. The company intends to initiate human clinical trials by the end of next year.
The company is offering 5,770,000 shares at $12 to $14 via Jefferies, Barclays and William Blair. At the midpoint of the filing range, it would be a $75 million transaction that gives LogicBio a post-IPO market capitalization of $269 million. The company has raised about $50 million in venture capital financing. OrbiMed is the largest holder with 35.33% of the common stock (25.48% post-IPO), followed by Arix Bioscience, publicly traded in London, with 15.26% (11.01%).
LogicBio believes that GeneRide has durability, precision and safety advantages over traditional gene editing technologies: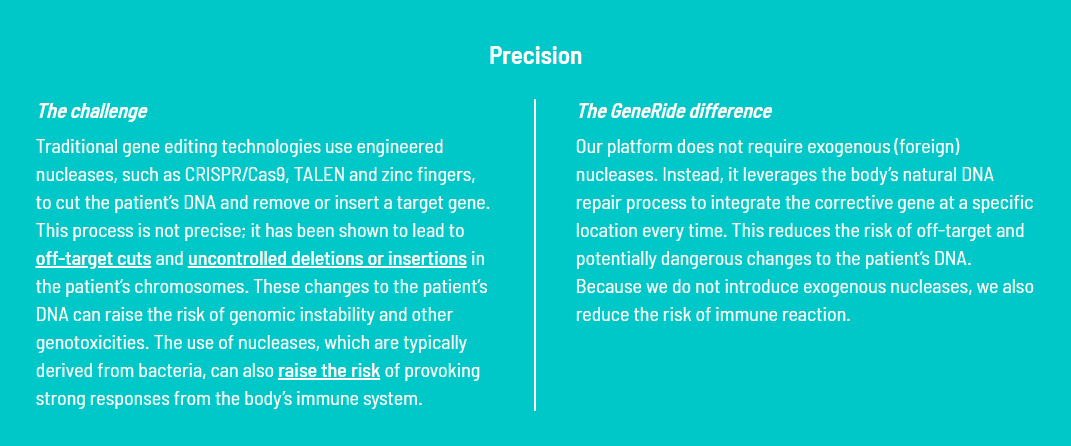 Source: LogicBio Therapeutics
LogicBio's goal is to intervene early enough during the progression of these rare genetic diseases in order to restore the function of aberrant genes before the patients experience irreversible declines in function. The company's initial focus is on liver diseases, protein deficiency diseases and infectious diseases. LogicBio intends to pursue central nervous system and muscle disorders next.

Source: LogicBio Therapeutics
We have a keen interest in the next generation of gene therapy companies like LogicBio Therapeutics, and anyone who ignores OrbiMed's track record of success as a discerning early stage investor, doesn't like money. We'll be keeping close watch on LogicBio to see if it fulfills its pre-clinical progress.
Please email us at [email protected] to see our Case Studies and Testimonials.
Please click here for information on our new trading platform.
Please click here to receive our free daily newsletter.
DISCLOSURE: