Linoleic Acid Market Current Trends, Industry Analysis & Future Opportunities by 2024
Fractovia Follow |

Linoleic acid market has, in the last couple of decades, gained considerable significance on account of the surging importance of omega 6 fatty acids that contribute toward increased nutritional value. Of late, the masses have undergone a tremendous change in their food consumption habits, having considered the benefits of eating healthy. Given that linoleic acid provides substantial benefits for numerous problems – right from skin care to hair loss, many of the giants in linoleic acid industry have been continuously involved in R&D activities to develop various medicinal formulations. The vast expanse of linoleic acid market is evident from the fact that even cosmetic manufacturers have included the product as the main ingredient in numerous skin care creams.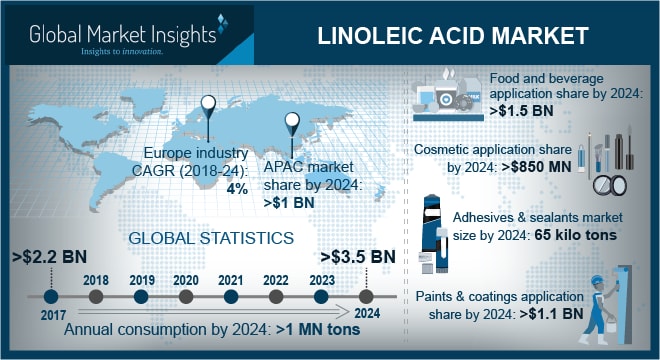 In the last few years, players in linoleic acid market have been experiencing a supportive scenario for their business across several geographies. The commercialization of raw material production required for developing linoleic acid has been one the major reasons behind the increasing number of strategic opportunities for these companies. Validating the aforementioned fact, recently, Australian regulators gave the nod of approval to GO Resources Pty Ltd to cultivate genetically modified safflower commercially across Australia. As of now, they intended to use the oil extracted from safflower for industrial applications. The growing cultivation of primary raw material aided by a supportive regulatory frame of reference is poised to boost linoleic acid industry trends over the years ahead. In Australia alone, many pharma and cosmetic companies have expanded their product development facilities in last few years, solely due to the favorable regulatory support.

Recently, the cosmetic industry has been experiencing a massive shift of sorts, driven by a slew of new product developments and technology interventions, which ironically, are proving to be rather opportunistic for the giants in linoleic acid market. Merely a few months ago, a renowned manufacturer of skin care products, Cosmetic Solutions launched a unique skin-brightening and super-hydrating serum, specially formulated to lighten the skin tone. In yet another instance, an AI company, Insilico developed high-performance computer simulations with the help of which pharmaceutical companies can develop a precise formula for anti-aging pathways. The innovative combination of deep learning technology and pioneering anti-aging research is thus slated to fuel linoleic acid industry outlook over the years ahead.

In the last few decades, the commercialization of linoleic acid has been increasing mainly across U.S. The surging use of linoleic acid in dietary supplements and cosmetic formulations have been instrumental in impelling the expansion of the regional linoleic acid industry. Indeed, the product has found its place in dietary supplements, now consumed by patients suffering from chronic disorders and several other vitamin deficiencies. For the record, as per a survey carried out in U.S. in 2017, 76% adults use dietary supplements. Meanwhile, the FDA has also granted approval for the use of several dietary supplements as a disease-modifying treatment for various chronic diseases. It has been observed that even clinicians are educating patients about the benefits of using supplements, which is turning out to be opportunistic for the players in linoleic acid market.

Considering the anti-diabetic and anticancer properties of a combination of geometric and positional isomers of linoleic acid, the scientific community has suggested using them as poultry nutrients. The dietary inclusion of linoleic acid in poultry diet would provide numerous health benefits to the consumers since it contains low fat and cholesterol. The growing consumption of poultry meat and other meat products across the globe will thus eventually have a significant influence on linoleic acid industry share over the coming years.

It would be rather imperative to mention that the ongoing technological innovations in the healthcare and pharmaceutical sectors to provide nutritious products to consumers are poised to expedite linoleic acid market size. The shifting focus toward the consumption of multifunctional and nutrient rich products will thus have a positive impact on the product demand. The highly ambitious and strategic research approach adopted by bio-pharma and biotechnology companies toward the modification of raw material required for linoleic acid will also have a remarkable influence on product consumption trends across the globe. For the record, by the end of 2024, linoleic acid market will surpass a revenue collection of USD 3.5 billion.
Source: https://www.fractovia.org/news/industry-research-r...
DISCLOSURE: Fractovia

---
The views and opinions expressed in this article are those of the authors, and do not represent the views of equities.com. Readers should not consider statements made by the author as formal recommendations and should consult their financial advisor before making any investment decisions. To read our full disclosure, please go to: http://www.equities.com/disclaimer