Eli Lilly (NYSE: LLY) and ARMO BioSciences (Nasdaq: ARMO) announced today a definitive agreement for Lilly to acquire ARMO for $50 per share, or approximately $1.6 billion, in an all-cash tender transaction. ARMO is a late-stage immuno-oncology company that is developing a pipeline of novel, proprietary products that activate the immune system of cancer patients to recognize and eradicate tumors. ARMO's lead product candidat, AM0010 (pegilodecakin) is in a Phase 3 trial for pancreatic cancer, as well as earlier-Phase trials in lung and renal cell cancer, melanoma and other solid tumor types.
Pancreatic cancer is the deadliest of all cancers, with a 91% mortality rate. About 55,440 people (29,200 men and 26,240 women) will be diagnosed with pancreatic cancer this year, according to the American Cancer Society, and there will be about 44,330 deaths (23,020 men and 21,310 women).
ARMO is currently conducting a Phase 3 clinical trial with AM0010 for the treatment of pancreatic ductal adenocarcinoma. In its Phase 1/1b trial in 350 cancer patients across more than 14 different types of cancer, AM0010 demonstrated the ability to increase the number of activated CD8+ T cells in the blood and tumors of patients. Objective tumor responses, including partial and complete responses, were achieved in patients treated with AM0010 as a single agent or in combination with chemotherapeutic drugs or anti-PD-1 checkpoint inhibitors.
ARMO has only been publicly traded since January 25, 2018, when it raised $147 million in gross proceeds at $17 per share — a post-IPO valuation of $517 million. Early investors in ARMO include Kleiner Perkins, OrbiMed, DAG, NanoDimension, GV and Decheng Capital.
ARMO BioSciences Pipeline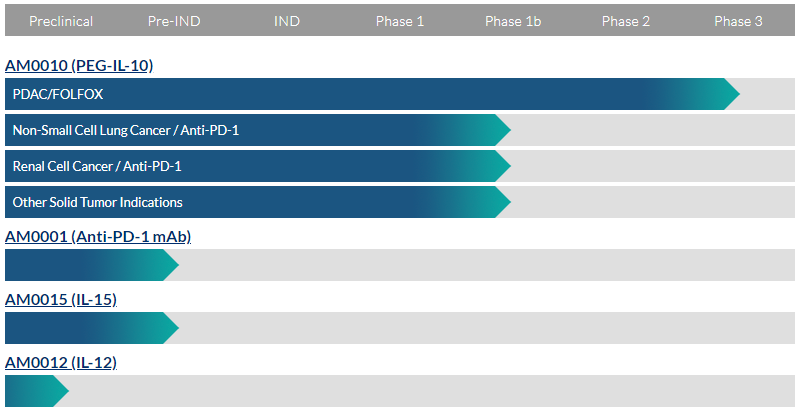 At Lilly Oncology, we are dedicated to developing cancer medicines that will make a meaningful difference for patients. The acquisition of ARMO BioSciences adds a promising next generation clinical immunotherapy asset to Lilly's portfolio of innovative oncology medicines.

– Sue Mahony, PhD, Lilly senior vice president and president of Lilly Oncology.
We believe that pegilodecakin has a unique immunologic mechanism of action that could eventually allow physicians to offer new hope for many cancer patients.
– Levi Garraway, MD, PhD, senior vice president, global development and medical affairs, Lilly Oncology.
The transaction is expected to close by the end of the second quarter of 2018. Very shortly after the closing of the tender offer, Lilly will acquire any shares of ARMO that are not tendered through a second-step merger at the tender offer price.
Please email us at [email protected] to see our Case Studies and Testimonials.
Please click here for information on our new trading platform.