Let's take a look around the world. We know the US is doing great; how's everyone else doing?
The Americas
Argentina: Thanks to a weak currency, the Argentinian market has done well over the years. But this year, despite an even weaker currency, the country is down almost 30%.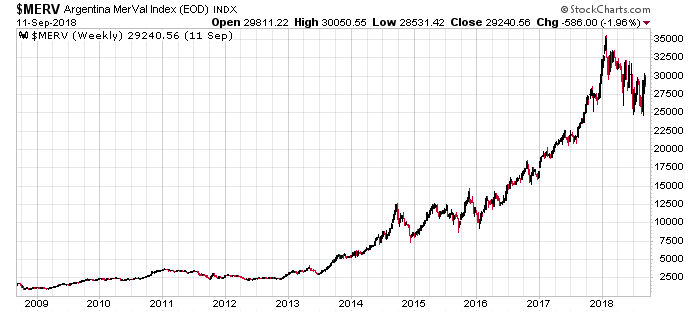 Brazil: For a while it looked like Brazil would benefit from hosting the Olympics, but the country fell more than 20% off its high before bouncing. An optimist would say this is a big consolidation pattern above an even bigger multiyear base. I'll buy that, but this doesn't mean buying a Brazil ETF is wise.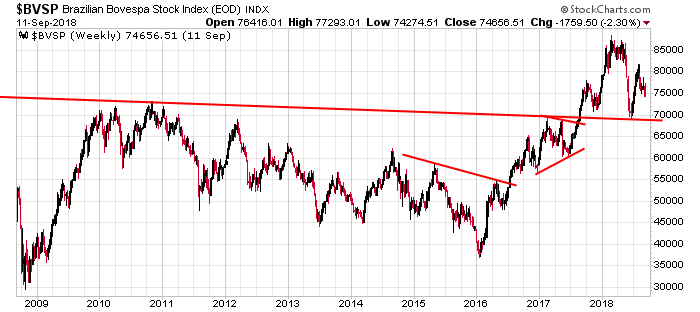 Mexico: Grind grind grind. Mexico has maintained a steady uptrend, but is completely uninteresting from a trading standpoint.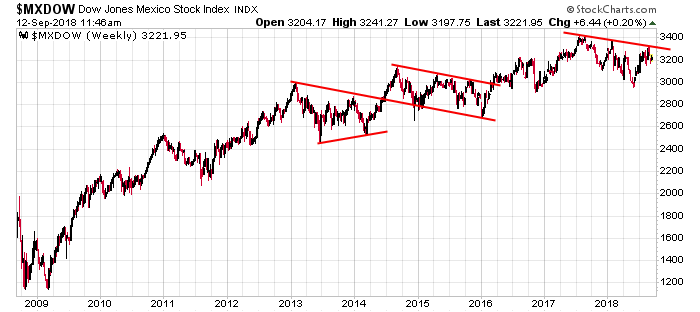 Canada: Resource rich Canada has absorbed lower gold prices and embraced higher oil prices in route to printing a new high recently.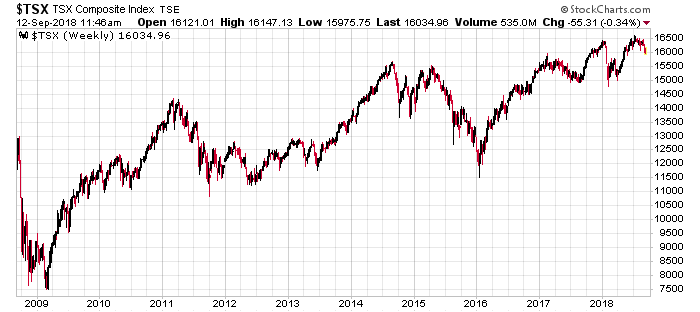 United States: The US has been the world's strongest market for a long time. Yeah it fell off its January high and chopped around, but it's nearly at an all-time high and far from a long-term moving average and the uptrend line drawn.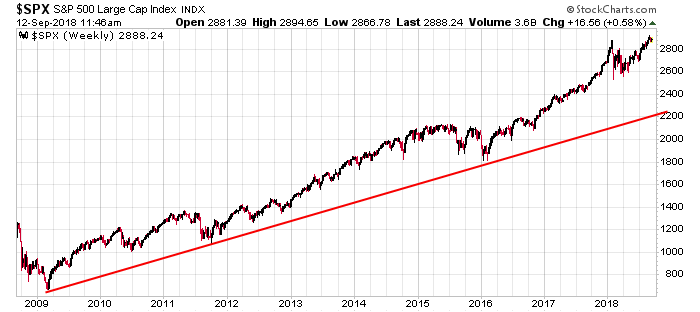 Europe
Belgium: Belgium has gone nowhere and done nothing for almost four years.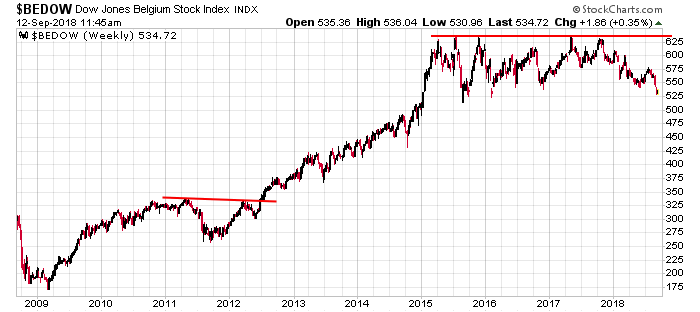 France: France hit a new high to start the year, and then after dipping, it rallied to another new high. Since then the country has not kept up with the US…but it's still doing well overall.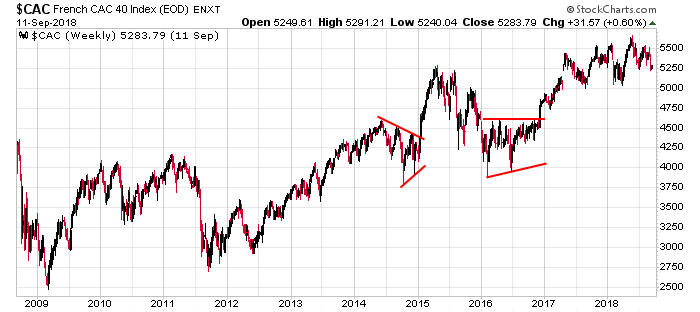 Germany: Germany broke out in 2013…retested the former resistance level in 2014 and 2016 and then rallied hard to a new high in 2018. Since then a consolidation period has been under way. Call it a rest within an uptrend.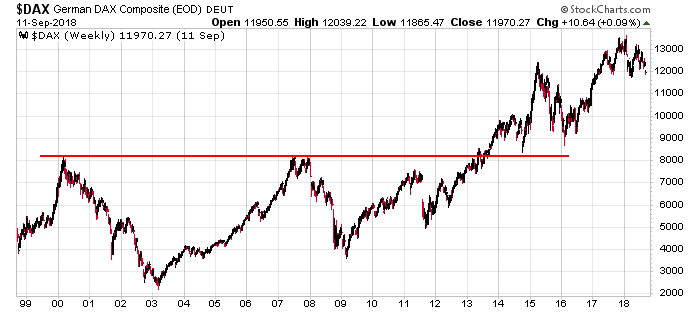 Italy: Twice Italy got close to a multiyear high but got rejected both times. At what point do we stop calling it a victory they didn't collapse during the Financial Crisis and demand the country join the leaders in Europe?
Spain: Like Italy, Spain has been dead money for years. Also like Italy, when should we look for growth instead of just survival?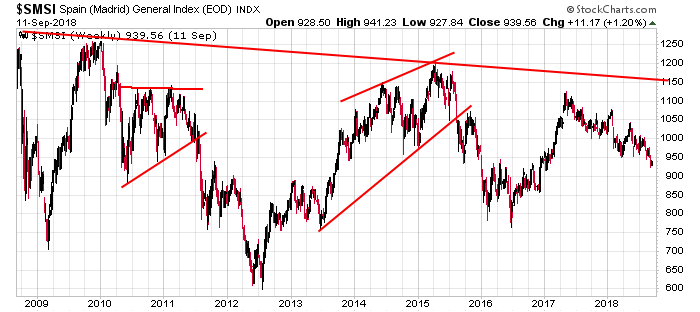 The UK: Very rarely does the UK go on extended trends. Three steps forward, two steps back. The country matched the US's high in the middle of this year but has since fallen off.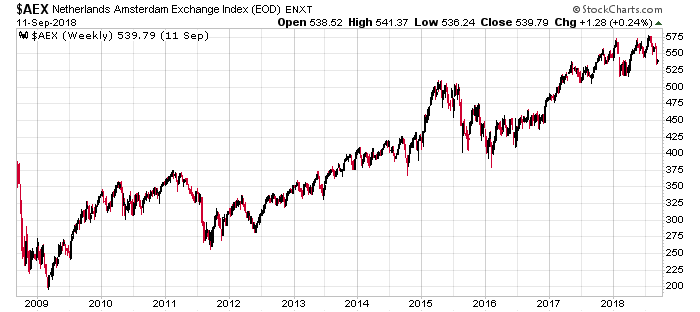 Netherlands: By virtue of hitting a new high recently, the Netherlands is one of the strongest European countries. Other than a 9-12 month dip in 2015 and early 2016, the country has steadily improved for 7 years.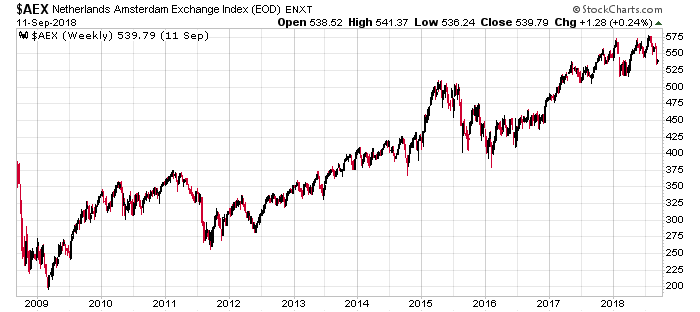 Norway: Norway broke out in 2017 and has mostly trended up since. A new high was hit recently, something that can't be said about most of its European peers.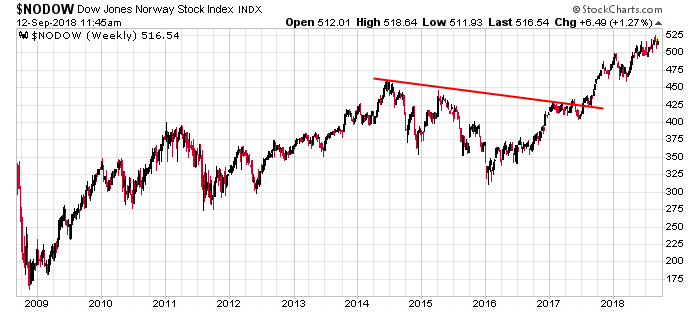 Switzerland: Switzerland moved to a new high in 2017, but the country has been mostly range bound since. The high and low this year provide boundaries. Now the country sits in the middle, in good shape overall but lacking energy.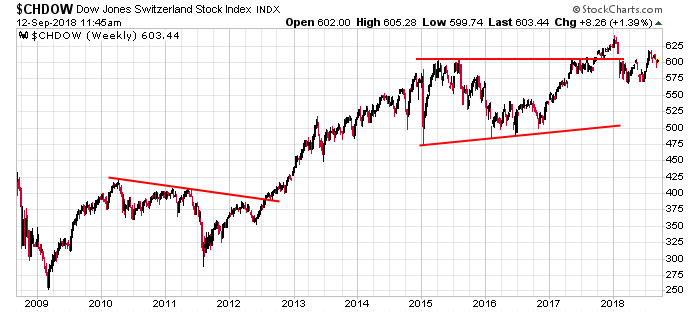 Turkey: Turkey broke out in 2017 and rallied better than 30%, but the country has given everything back. This is a big enough to drop to disrupt the uptrend. Best case scenario going forward is likely range bound movement. It's got to hold the former resistance level.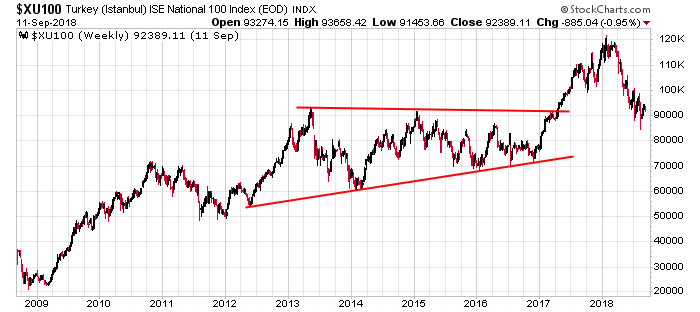 Asia/Pacific
Australia: Australia has trended up for most of the last seven years. It's a grinder that takes three steps forward and two steps back and eventually gets where it needs to go. A new high was recently hit.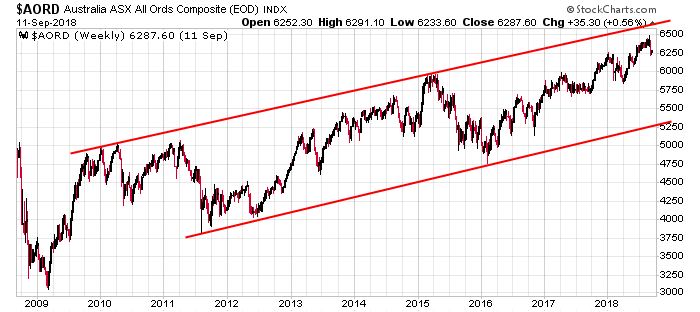 New Zealand: New Zealand is incredibly strong. It's the only chart here that can rival the US chart.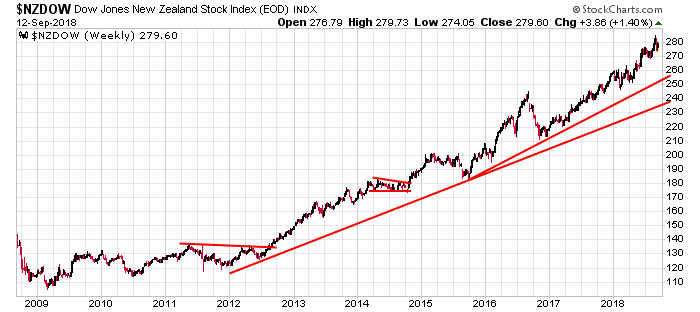 China: China hit a 2-year high earlier this year, but it's been all downhill since. With this 25% drop, the country has gone from possibly hitting another one of those vertical surges to being very neutral and back in its range.
Hong Kong: Since trending up with force in 2017 and spiking to a new high in early 2018, Hong Kong has dropped about 20%. After doubling off the 2016 low, perhaps an extended churning period is upon us.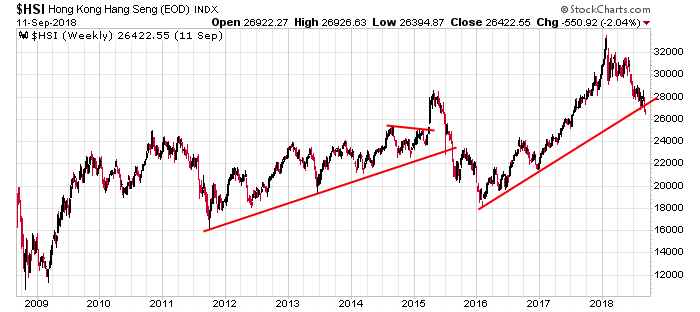 India: India has done incredibly well. It dipped off the January high but then regained its footing and steadily trended up to a new high. India is the strongest Asia country.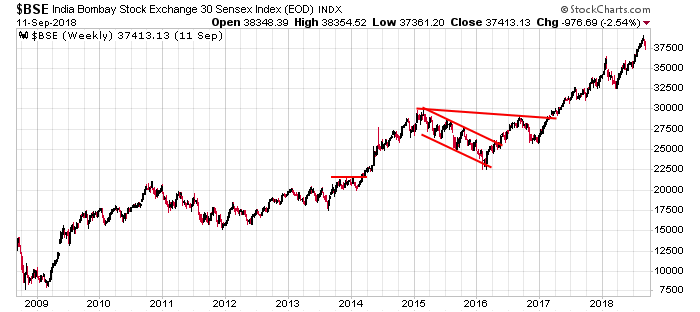 Indonesia: Indonesia grinded its way to a new high in 2017 and then surged to start this year, but that was it. The country has slipped back into its range and needs to right itself and move up or else it'll be back to its neutral ways.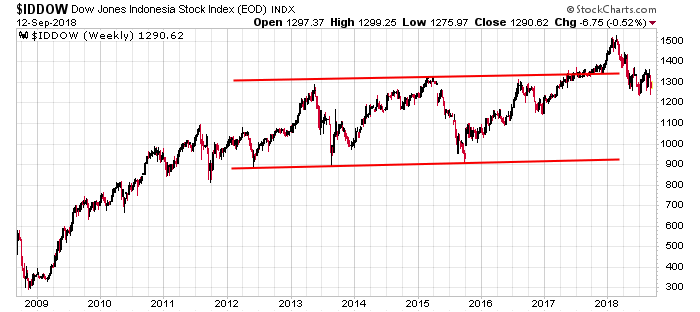 Japan: Japan broke out to a new high in 2017 and after surging to a new high earlier this year, it's been in consolidation mode since. Long term there's nothing wrong with this. The country is rebuilding its strength, after moving to a 20+ year high.
Malaysia: Malaysia has been dead money for five years. It's not strong or weak – just rolling up and down in a 20% range.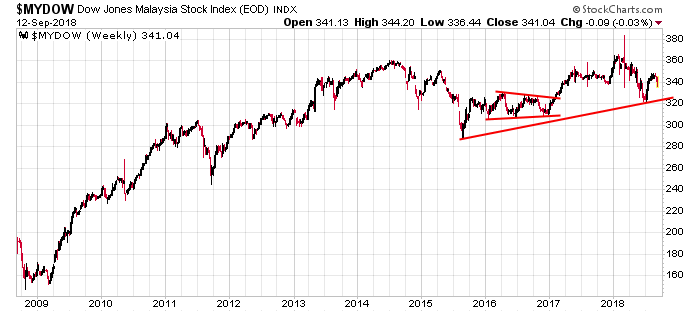 Singapore: Singapore has a slight upward slant to it, but it's unchanged since late-2010.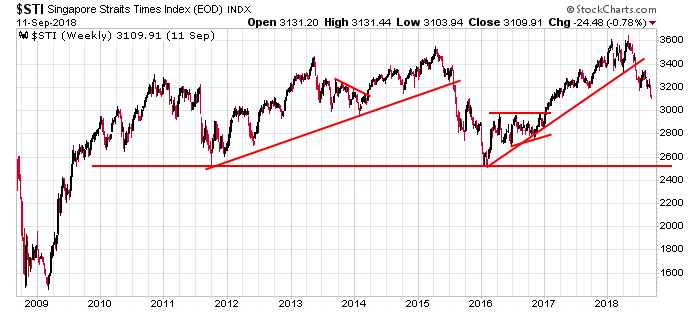 South Korea: South Korea broke out in 2017 and rallied about 20% before topping earlier this year. Since then the country has legged down twice, separated by churning period that lasted a few months. Long term the chart looks good, but the bulls don't want to see the index back in its range.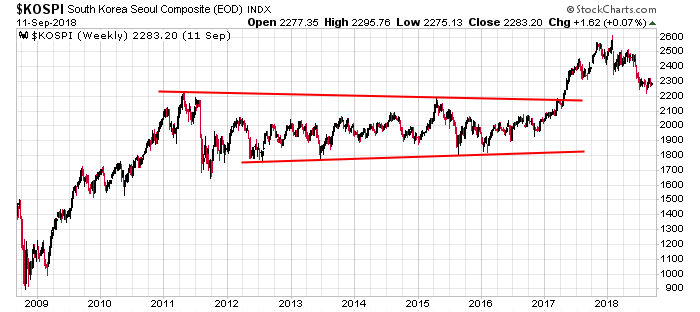 Other
Russia: Russia has such great potential but fails to find its place in the world. The country hit a 3+ year high in January but is now at a 52-week low. Overall it's unchanged going back a decade.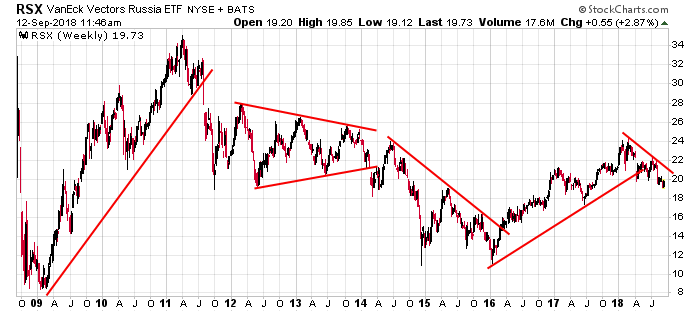 South Africa: Since topping in January, South Africa has been trending down. There was one recent rally attempt, but that's been squashed this week. The overall picture it positive, but an inability to match the movement of the US is obvious.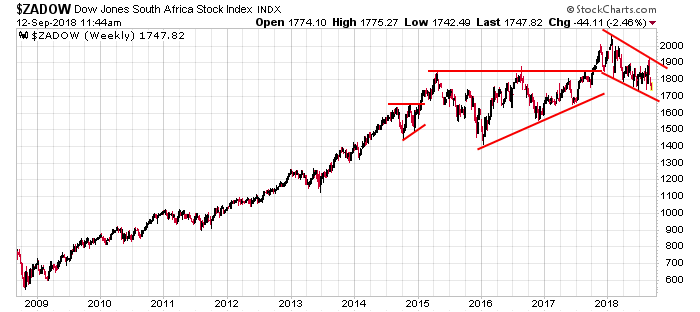 The picture isn't as rosy as it was at the beginning of the year. Eight months ago there were many new highs. Since then most of the world took a hit and very few have recovered. The US and a couple countries in each region are back above their highs, but many more have been in consolidation ranges all year and still others have been drifting down.
People say the US market is top-heavy – it's not, but that's what they say – so these same people will say the world is top-heavy too, with some doing well, others doing okay and many others doing poorly short term.
Is anything urgent here? Probably not. But it's worth noting so many countries topped in January and have not eclipsed those highs.