In mid-January, the Treasury Department's Financial Crimes Enforcement Network (FinCEN) announced a new policy: a "geographic targeting order" aimed at international money laundering.
In our coverage of Chinese President Xi Jinping's anti-corruption efforts, we've often pointed out to readers that foreign real estate markets have been popular destinations for ill-gotten Chinese gains: particularly markets in North America such as Vancouver, Los Angeles, New York, and Miami. Of course, it's not just Chinese money; investigations have tied high-end real estate purchases to shady buyers from all over the world, including Russia, South America, and other Asian countries besides China. A strong U.S. Dollar, and the stability of the U.S., are obvious reasons.
Another reason has been the ease of effectively anonymous transactions. Although the PATRIOT Act gave the Federal government extensive powers to peer into financial transactions, the Feds have until now been loath to apply those powers to real estate transactions. Foreign buyers wishing to conceal their identity have been able to purchase high-end properties by using shell corporations.
In 2012, for example, the Wall Street Journal ran a report on the most expensive single-family house ever sold in Miami-Dade County:
"A Florida home has sold for $47 million, a record for a single-family house in Miami-Dade County, as the high-end real-estate market shows signs of a resurgence. The home was originally listed for $60 million and had been on the market since early 2011, when construction was still being completed. The asking price for the Indian Creek Village home was reduced to $52 million this year. The identity of the buyer, a Russian who bought the home in the name of a U.S.-based limited-liability company, couldn't be learned."
How is it, that in the post-9/11 scrutiny on financial transactions, it has remained so easy for foreign buyers to use LLCs and shell corporations to hide their identity and put assets into U.S. real estate? In no small part, due to the efforts of industry lobbyists who understandably would prefer for the revenue stream not to be reduced. The National Association of Realtors has this to say in its official position paper on money laundering:
"Any risk-based assessment would likely find very little risk of money laundering involving real estate agents or brokers. Regulations that would require real estate agents and brokers to adopt anti-money laundering programs may prove to be burdensome and unnecessary given the existing… regulations that already apply to United States financial institutions."
Now, however, FinCEN has taken a new direction. On January 13, it announced that title insurance companies will need to identify the natural persons, that is, the true "beneficial owners," behind the companies used to make these all-cash transactions in two jurisdictions: Manhattan and Miami-Dade County. Reporting will be required for houses that sell for over $3 million in Manhattan, and over $1 million in Miami-Dade. Those data will then be incorporated into a database and made available to law enforcement.
Patrick Fallon, chief of the FBI's financial crimes section, said that although the policy is limited geographically, and slated to expire in August, "We fully intend to encourage expansion of [the program]… not only to different geographic areas but as far as the time frame as well… We think it'll prove its worth."
The new rules will affect billions in sales: in the second half of 2015, residential sales of homes costing more than $3 million totaled about $6.5 billion in Manhattan alone.
We were curious about the timing of this new program, since the problem has been apparent to observers for many years. One possible explanation was a bit of influential muckraking: The New York Times ran a series of articles depicting the abuse of LLCs and other opaque structures in 2015, concluding that nearly half of homes nationwide that sold for $5 million or more were purchased using shell corporations -- even higher in Manhattan and Los Angeles.
International politics may also be at work: a quiet extension of the official sanctions against Vladimir Putin's circle, for example -- which seems distinctly possible, since an undersecretary at the Treasury Department, Adam Szubin, has recently been vocal in his direct criticism of Putin's corruption.
According to the New York Times, 77 Percent of Condos At Manhattan's One57 High-rise Were Bought By Shell Corporations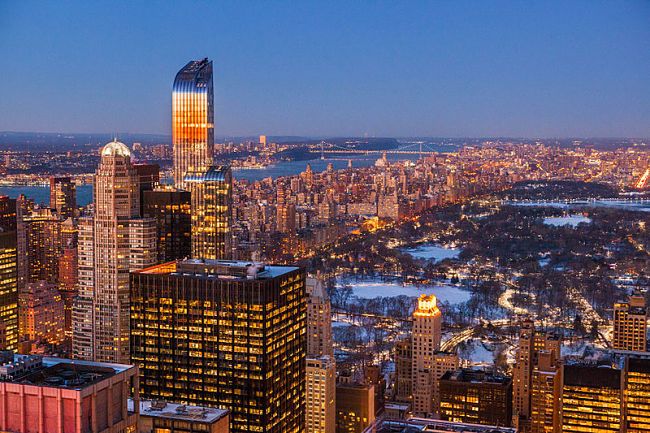 Source: Wikipedia
In any event, the effect will be a chill on a significant and influential part of the U.S. real estate market. Other crosscurrents are present for U.S. real estate markets -- a regulatory change that made it through in the recent omnibus spending bill will also make it easier and more tax efficient for foreign pension funds to buy U.S. real estate. That move was lauded by the National Association of Realtors. We'll wait and see if that positive will outweigh Uncle Sam's new scrutiny on their high-end clients.
Investment implications: The Treasury Department just announced new measures to ferret out money laundering in U.S. real estate transactions -- requiring the identification of the real people behind shell corporation purchases of many high-end properties in Manhattan and Miami-Dade County. Officials say it's likely that the measure will eventually be rolled out nationwide. Such purchases have helped drive real estate markets in some U.S. cities, and prices may be hurt if that stream dries up.
DISCLOSURE: The views and opinions expressed in this article are those of the authors, and do not represent the views of equities.com. Readers should not consider statements made by the author as formal recommendations and should consult their financial advisor before making any investment decisions. To read our full disclosure, please go to: http://www.equities.com/disclaimer