This weekend update is dedicated to all the wonderful mothers, motherly figures, grandmothers, and caretakers.
The world would cease to exist without your love and empathy.
Let's begin.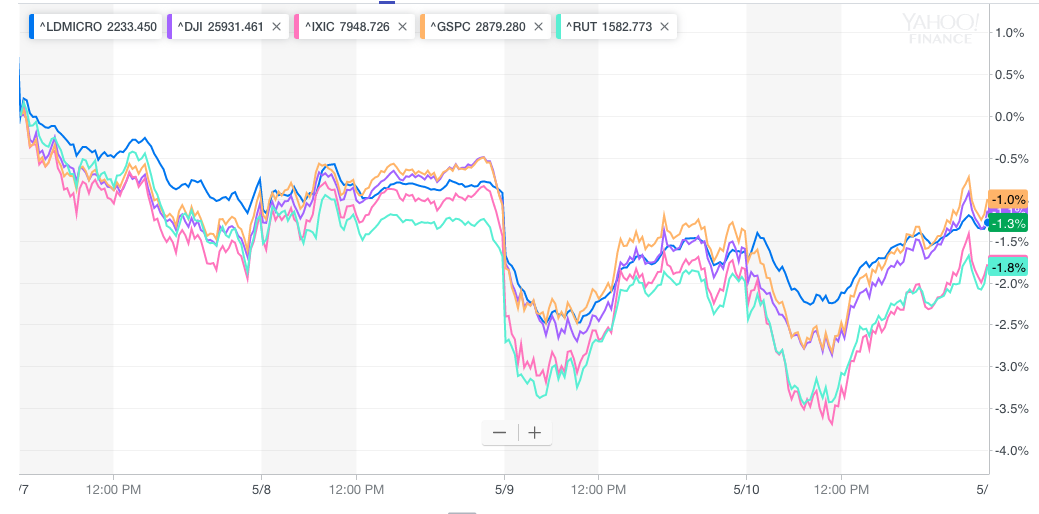 The indices all tracked fairly close to one another for the entirety of last week. The Nasdaq and the Russell 2000 were the "laggards," though they barely fared worse than the rest of the herd.
The index was down, but only slightly. Given the news of the tariffs, a few light earnings reports, and a big IPO's lackluster debut, I'd say we did not fare too badly.
Two names got acquired this week.
Digital storage giant, Marvell (MRVL) MRVL acquired Aquantia (AQ) AQ for $13.25 per share (all cash). Aquantia was led by Mr. Faraj Aalaei, who was known in many micro-cap circles as the former CEO of Centillium Communications.
Centillium did not fare well, as it was bought by TranSwitch (TXCC) back in the summer of 2008 for merely a song.
TranSwitch then filed for bankruptcy five years later and may have been one of the worst personal investments I have made in my career.
Faraj was smart to sell given that he missed Q4, and the company was not making any money.
The other buyout was one of the most popular names on our event circuit last year, Intermolecular (IMI) IMI. The company was taken out by a wholly owned subsidiary of Merck for a $1.20 per share (all cash). I was surprised at the buyout price, given the company's groundbreaking technology, and the fact that it came public nine years ago for almost $10 per share.
In any event, we wish the IMI team the best moving forward.
Being one of the leaders in the micro-cap space has many perks. None greater than our friendships with some of the most astute investors in the world. Last year, we discussed an idea from Mr. Shawn Kravetz, Principal at Esplanade Capital.
Since then, I've been getting quite a few requests to feature more fund managers and their top ideas. At the Main Event back in December, we had ten managers give us their picks for the new year. In three weeks time, the Invitational will feature five more managers discussing names that they believe are "undervalued."
One of those managers is Mr. Joseph Boskovich Jr., a Partner and Founding Principle at Old West Investment Management.
Joe and I have spent a lot of time over the years discussing both ideas that have worked brilliantly and failed miserably. Sadly, I have spent more time discussing the latter.
As punishment for picking up the last lunch tab (I'm a fast draw when it comes to picking up the check, but Joe played college football), I decided to feature two names in the micro-cap space that Old West has involvement in. In Joe's own words….
———————–
IDT Corporation (IDT) and Zedge (ZDGE)
A little background first on the Founder, Mr. Howard Jonas.
Howard Jonas founded IDT Corporation IDT in 1990 as a provider of a call re-origination service. He took his company public in 1996 and built it to the point where today it generates $1.5 billion in revenue per year from the sale of communications and payment services.
IDT has also been incredibly successful at creating value for its shareholders through spinoffs and divestitures. In the past decade, IDT has spun-off 5 public companies and sold a 6th after which it provided a special dividend to shareholders. CTM Media, now IDW Media, spun-off in 2009, Genie Energy spun-off in 2011, Straight Path Communications spun-off in 2013, Fabrix was sold to Ericson in 2014, Zedge ZDGE was spun-off in 2016, and most recently, Rafael Holdings was spun-off in 2018. Had you invested in IDT Corporation at the time of its first 2010 spinoff, IDT + SpinCo's have produced 46.3% annualized returns vs. 10.8% for the S&P 500.
As evidenced, IDT has masterfully used its prodigious cash flows from the legacy international long-distance business to fund a wide array of investment initiatives, and we believe that Howard Jonas' best days of value creation are ahead of him.
Zedge (ZDGE), which was spun off from IDT in 2016, is an early stage tech company focused on mobile device personalization and the distribution and monetization of digital content. The app has been overwhelmingly popular and has a massive and engaged user base with 367.9 million installs and 36.7 million monthly active users ("MAU"). This represents meaningful traction that is extremely difficult to replicate on a popular platform with numerous potential levers to increase value.
The company generates positive EBITDA, has sufficient cash on its balance sheet, has no debt, has a clear path forward for increased MAU and revenue per MAU, and is heavily owned by insiders. Howard Jonas, his son Michael, CEO Tom Arnoy, and CFO/COO Jonathan Reich, own over 30% of the outstanding shares.
What first got us really excited and made us load up on Zedge was the November 2017 acquisition of Freeform Development and the subsequent early 2018 launch of Zedge Premium, an exciting virtual marketplace for professional and amateur artists to monetize their content, and for Zedge to monetize its existing user base beyond traditional advertising. Today, there are about 450 artists on the platform, which include musicians, photographers, painters, graphic designers, illustrators, brands, etc.
Zedge Premium had more than 5.7 million monetizable platform transactions last quarter, and top content creators have been earning more than $2,000 per month.
Several big-name artists are on the platform, but we believe the platform provides the best value for the millions of amateur and semi-professional artists throughout the world. Now that Zedge has moved beyond invite only and has launched its self-serve artist portal, thousands of creators can launch and manage virtual storefronts of their digital content where they can share, market and sell exclusive content to Zedge's 36 million MAU universe.
Zedge currently trades at just a small fraction of revenue, EBITDA, and valuation per MAU when compared to similar acquired mobile apps, which suggests that Zedge could trade many multiples higher. For example, Microsoft bought LinkedIn in June 2016 at $60.51 per MAU, Facebook bought Instagram in 2012 at $33.33 per MAU, Google bought YouTube in 2006 for $33 per MAU, and Bytedance bought Musical.ly in November 2017 for an estimated $17 per MAU. Zedge has a sizable and engaged user base and the company currently trades at $0.67 per MAU. We see significant upside in Zedge as either an M&A target or as a standalone company.
IDT Corporation (IDT)
Telecom and payment services are IDT's legacy business and include both a retail and wholesale component. This business is comprised of its BOSS Revolution calling service, Mobile Top-Up, and a Wholesale Carrier business. These businesses have consistently generated between $1.4 and $1.5 billion in revenue and $40-$50 million in cash flow, and although there has been an overall decline in the international minutes business and IDT has been challenged by free VOIP providers such as WhatsApp and Skype, management has done a masterful job at managing its cost structure in order to maximize cash flows from this business and buy itself a basket of effective options on the future.
Today, several of those "options on the future" have yet to be spun-off and remain within the IDT ecosystem. These businesses include Net2phone (UCaaS offering), National Retail Solutions' (point-of-sale network), and BOSS Revolution money transfer (international remittance). IDT is currently available for purchase at a 3x EV/EBITDA multiple, carries no long-term debt, has $60 million in cash, has available NOL's in excess of $100 million, insiders have been buying stock, and the company is buying back stock. Howard Jonas purchased 2.5 million newly issued shares from the company in April 2018 at $5.89 per share, which was a 10% premium to the trading price at that time, increasing his IDT ownership by 50%. IDT repurchased 729k shares during its Q1 2019 quarter for $3.9 million, and 1.1 million shares for $5.8 million during its Q4 2018. These two buybacks represented roughly 7% of its outstanding shares. At current prices, we believe that IDT's core business is reasonably valued if not undervalued, which means that no value is being assigned to any of its breakout businesses, which we believe have significant value.
The most exciting breakout businesses are Net2Phone, IDT's growth initiative in the UCaaS (Unified Communications as a Services) industry, which has quickly grown to 75k seats at these early stages. Growth subscription revenue has grown 73% YoY and accounts have grown 96% YoY for the past three years. In Fiscal Year 2016, net2phone did under $5 million in subscription revenues on under 2k accounts, and it expects to have $23 million in subscription revenue on 110k accounts in fiscal 2019. IDT management believes that Net2phone will continue to grow its top line at a compounded annual growth rate of 70% + for the next several years and expects to reach over 500k seats with subscription revenue of $123 million by the end of the fiscal year, 2022. On average, these desks bring in more than $20 per desk at a net margin of $15 per desk, so margins are substantially higher in Net2phone than in IDT's low margin core businesses.
Considering the valuation of public UCaaS companies as well as recent valuations for UCaaS acquisitions and financings, Net2phone could easily be assigned a 4x's subscription revenue multiple. The most richly valued UCaaS player, Ring Central, which has grown at 28.6% per year over the past 3 years, trades at 8.9x 2019E subscription revenue. The least valued UCaaS player, Ooma, has grown 12.4% per year over the past 3 years and trades at 2.2x 2019E subscription revenue. Considering Net2phone's 70% + compounded annual growth rates and proprietary technology platform, a 4x's subscription revenue multiple, which would be conservative, would value Net2phone's business at $92 million today.
Management expects that the Net2phone business will double every year for the next 3-4 years, and by the end of these 3-4 years, IDT which is now sitting in a healthy cash position and earning in excess of 50 million per year, will still be earning this much, but the new business will be earning more. So, IDT is a growth cash engine without considering the significant upside of its other breakout businesses which I am happy to discuss with anyone interested. At IDT's January 2019 Investor Day, management presented a very convincing case that 3-4 years out, just Net2phone could be worth 4-5x what IDT is trading at today.
———————
For full disclosure purposes, Old West owns all of the aforementioned Jonas related investments, and Zedge (ZDGE) has paid to attend LD Micro events in previous years.
We are working hard to ensure that both companies present at our upcoming Invitational in three weeks.
As for next week, I will be discussing a long-term holding that I feel has been wrongfully overlooked, what the heck I typically do all day, and some of the notable names that are set to present shortly.
We hit our 200th confirmed name on Thursday. Will be locking the last 50 momentarily.
Sincerely,
Chris Lahiji
---
Impact.
Highlighting Anomalies Amongst the Week's Biggest Gainers, Losers, & Volume Leaders.
by Christian Galatti (Phase 4 Research)
The Valuation History of SpaceX.
When the Obama administration enacted the sequester in order to reign in the military, Congressional cuts spared Space. Their budgets went untouched. But, the damage done to the sector took down Space names anyway (ORB, ATK, BA, LMT, etc.) Employees at SpaceX began to ask for an IPO, as their futures were being marked down quickly by the equity markets. Some started to sell their private shares through SharesPost. By the time Elon said no IPO, there was already a flood as employees wanted to cash in on a $3B valuation before it was gone (please see first SpaceX research report issued 2013.)
From: Elon Musk
Date: June 7, 2013, 12:43:06 AM PDT
To: All <[email protected]>
Subject: Going Public
Per my recent comments, I am increasingly concerned about SpaceX going public before the Mars transport system is in place. Creating the technology needed to establish life on Mars is and always has been the fundamental goal of SpaceX. If being a public company diminishes that likelihood, then we should not do so until Mars is secure. This is something that I am open to reconsidering, but, given my experiences with Tesla and SolarCity, I am hesitant to foist being public on SpaceX, especially given the long term nature of our mission.
Some at SpaceX who have not been through a public company experience may think that being public is desirable. This is not so…
At the beginning of 2013 Shareposts published research on SpaceX in order to help investors understand the valuation. They came up with $3B. Elon was pushing for higher. In five years they would be off by a factor of 10x. SpaceX tripled right after employees sold, being valued at $10B by 2015. For Google and Fidelity needed something to do with their cash.
JANUARY 20, 2015 / SpaceX raises $1 billion in funding from Google, Fidelity
Today SpaceX confirmed a new $1 billion funding round led by Google and Fidelity. Collectively, SpaceX said, Google and Fidelity will own "just under 10% of the company. The deal values SpaceX at over $10 billion, confirming earlier reports.
SpaceX raising $500 million, pushing valuation to $30.5 billion: Report
By the end of 2018 SpaceX was worth $30B. Everybody hears about unicorns. But, even the employees have no clue what the future brings. A valuation history of SpaceX that just got equaled by ZOOM ZM, with UiPath on the way.
---
ACQUISITION: Marvell ($MRVL) to Acquire Aquantia ($AQ) – Accelerating Ethernet Technology Leadership
ACQUISITION: Intermolecular ($IMI) to be acquired by Merck KGaA, Darmstadt, Germany for $1.20 per share in an all cash transaction
ADW Capital Issues Significant Update on Select Interior Concepts' ($SIC) Board of Directors and Management Team's Intransigence / Failure to Create Shareholder Value
Zoom Telephonics (ZMTP) Closes $5 Million Strategic Investment
Liolios Announces Corporate Rebranding and Changes Name to Gateway Investor Relations
VIQ Solutions Inc. ($VQS.V) Announces Record Q1 Earnings with 112 Percent Year-over-Year Revenue Growth – VIQ also closed $6.9M oversubscribed US financing round
Carmanah ($CMH.TO) Announces Receipt of Non-Binding Proposal to Purchase Outstanding Shares
GM in Discussions with Cincinnati-Based Workhorse Group ($WKHS) to Sell its Lordstown, Ohio, Complex
OTC Markets Group ($OTCM) Reports First Quarter 2019 Results
Park City Group ($PCYG) Announces $4 Million Share Repurchase Program