LD Micro: Two SPACs About To Transform
Chris Lahiji Follow |
Impact.
Highlighting Anomalies Amongst the Week's Biggest Gainers, Losers & Volume Leaders.
by Christian Galatti (Phase 4 Research)
Two SPACs About to Transform…
Chardan Healthcare Acquisition Corp (CHAC)...74x Average Volume.
Monocle Acquisition Corp. (MNCL)...79x Average Volume,
Introduction.
Microcaps are misunderstood for a thousand reasons. It's impossible to keep on top of a sector that has everything from niche biotech to one-product startups. That's not including companies that dropped out of small cap, or names that have no coverage. Then there's a completely different category of misunderstood within microcap, the SPACs. Money pools looking for acquisition targets, the new reverse shell. (Almost 50 of them issued just last year.) Two this week may have found targets to merge as each made the volume leader list.
Story.
Chapter 1. Chardan Healthcare Acquisition Corp. ( (CHAC))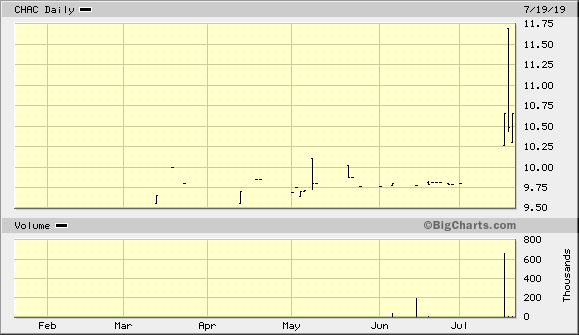 Most SPACs have difficulty getting above the typical unit price of $10. When Chardan Health announced their target it shot up to $11.70 on a year's worth of volume. The target, an Israeli biotech that had its B round in February. An SEC filing describes the first price discovery.
BiomX is a preclinical stage microbiome company developing both natural and engineered phage cocktails designed to target and destroy bacteria that affect the appearance of skin, as well as harmful bacteria in chronic diseases, such as IBD, PSC, and cancer. BiomX discovers and validates proprietary bacterial targets and customizes phage compositions against these targets.
The instant anomaly is the next disclosure. Claiming in an SEC filing that the SPAC is already worth $254M. Creating an instant misunderstanding that has just begun to unfold.
Assuming no redemption of CHAC shareholders, the combined company will have an initial market capitalization of approximately $254 million. Upon closing of the transaction, it is expected that CHAC will be renamed BiomX and remain on the NYSE American Stock Exchange, listed under a new ticker symbol.
Chapter 2. Monocle Acquisition Corp. ( (MNCL))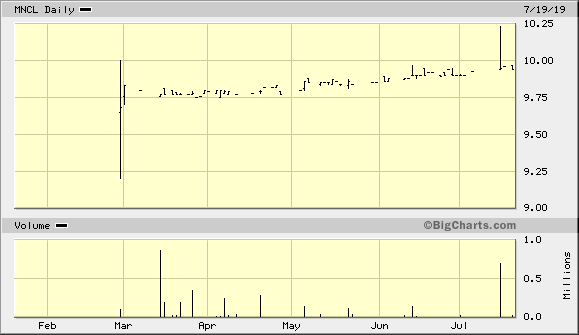 Monocle was the other SPAC that had its volume spike. Unlike Chardan, there was no announcement. But, it may be easy to figure out what the target may be. For Monocle could be a remake of Loral as both of the main executives come directly from the former Space Science company. A volume spike with no news may mean that MNCL is looking to be the next pure Space play, with an announcement underway even though they have until late next year to merge.
Given our extensive background, experience and network of relationships in the aerospace and defense ("A&D") sectors, we are confident in our ability to find an attractive target within A&D or adjoining sectors such as satellite communications and infrastructure.
Eric J. Zahler, our President, Chief Executive Officer and Director, has 35 years of senior leadership, strategy, operations, management, and governance experience related to our target markets and target industries. Mr. Zahler was President and Chief Operating Officer of Loral Space & Communications Inc. (NASDAQ: LORL) ("Loral") for eight years and also served on Loral's Board of Directors. As COO, Mr. Zahler was responsible for overseeing all aspects of Loral's business strategy and operations with company-wide profit and loss responsibility. As a senior member of the management of Loral since 1992, he was integrally involved in identifying, evaluating, negotiating, and integrating Loral's acquisition growth strategy in the aerospace and defense and satellite services industries, actively leading over $16 billion of acquisitions and divestitures.
Mr. Townsend was the Executive Vice President and Chief Financial Officer of Loral from 1998 to 2007, where he was responsible for all financial aspects of the business, including financial assessment and implementation of corporate strategy; performance measurement and assessment of all operating management teams, focusing on capturing profit improvement as well as internal and external growth opportunities; SEC reporting requirements; treasury operations; external communications. (LInk.)
Analyst Disclosure: None (no ownership or relationship with either Company.)
---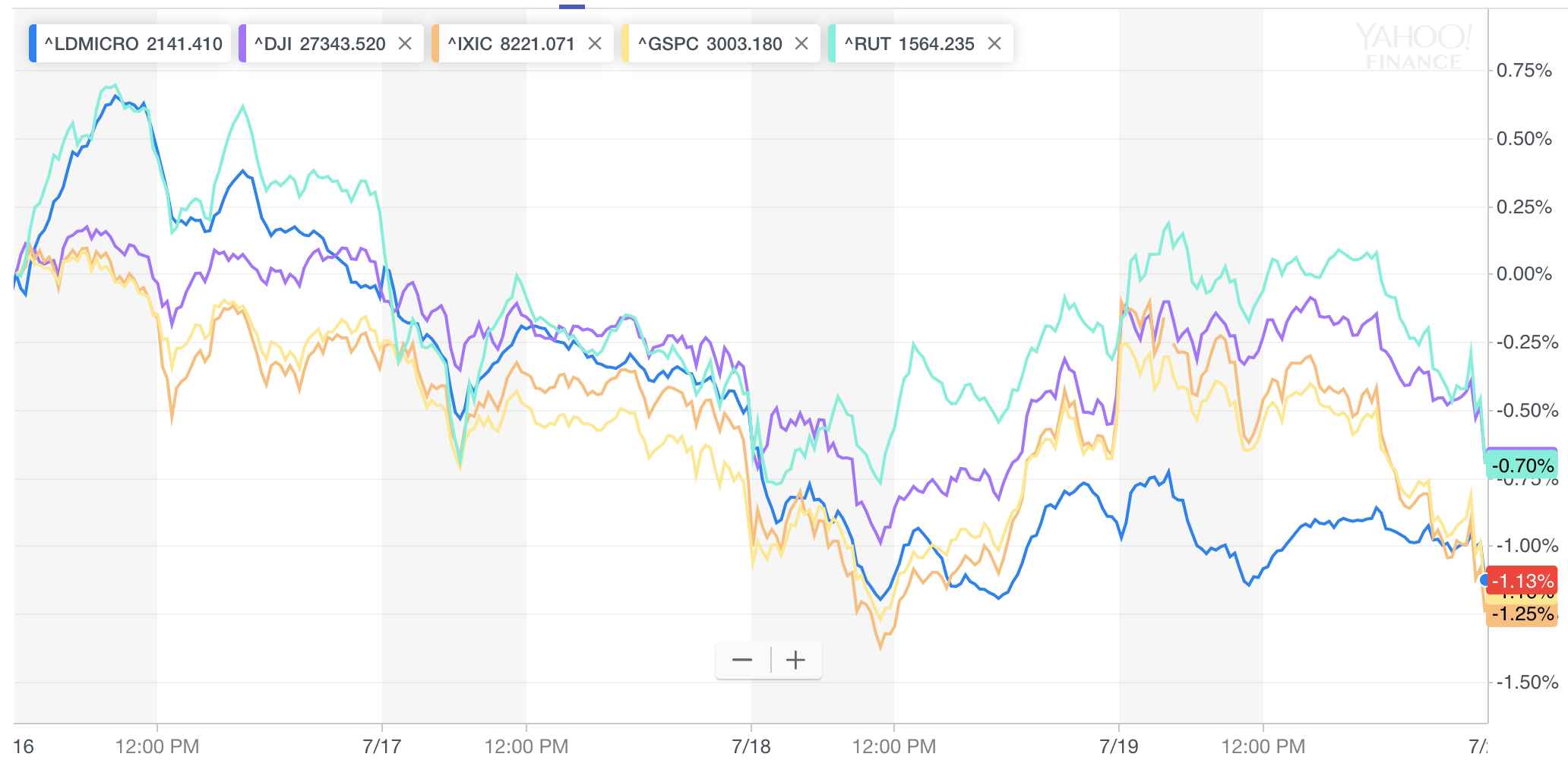 All indices suffered losses last week, with the Russell and DJIA declining the least.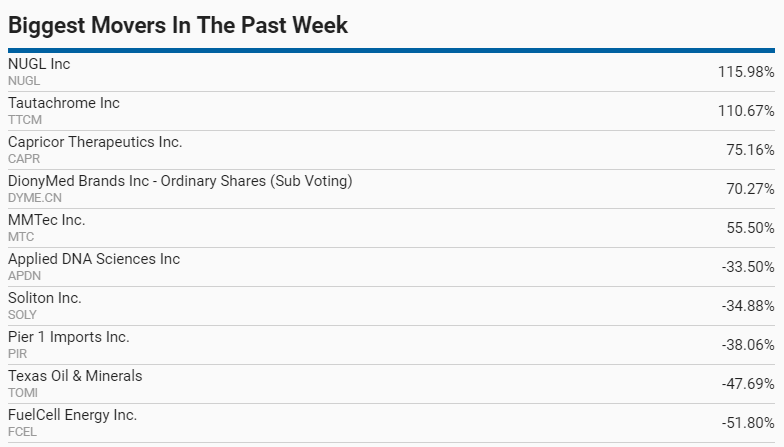 Equities Contributor: Chris Lahiji
Source: Equities News
DISCLOSURE: The views and opinions expressed in this article are those of the authors, and do not represent the views of equities.com. Readers should not consider statements made by the author as formal recommendations and should consult their financial advisor before making any investment decisions. To read our full disclosure, please go to: http://www.equities.com/disclaimer
Companies