LD Micro: Stranger Things — The Week in Review
Chris Lahiji Follow |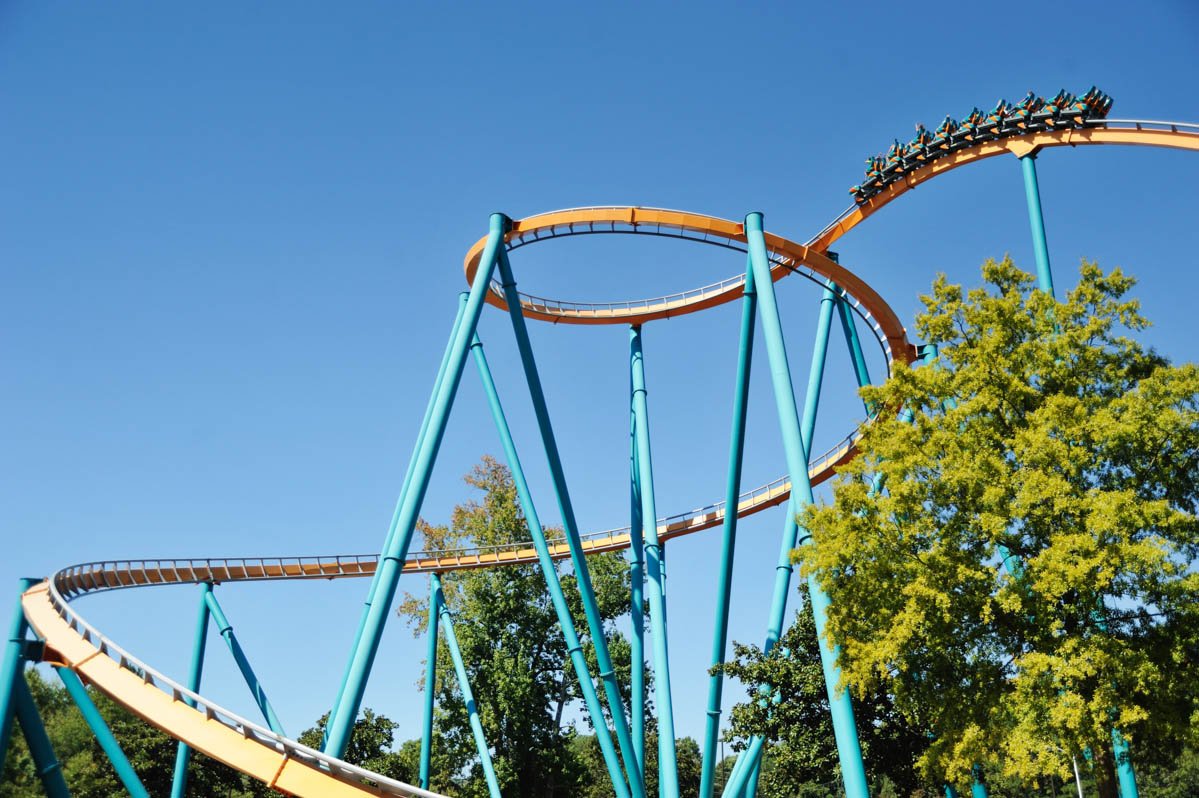 Image: Six Flags
The LD Micro Index closed down slightly after a topsy-turvy week that reminded me more of a ride at Six Flags than anything else. Goliath comes to mind.

Where do you begin?!

Well, let's start with what we know we can control.

The LD Micro Index was reconstituted at the beginning of the month. 984 companies have the distinction of being part of our "universe," roughly in line with past refreshes.

Here is the press release for all those who were too busy during the week hanging on to their pants.

Thank you for all those who use the Index as a compass and barometer for what the hell is REALLY going on in micro-cap.

While the Russell uses its algorithms and mathematical calculations to essentially cover every publicly traded company left (patience, Lingerie Fighting Championships, you shall be next), I'm proud that one person in our organization has continually stood up for keeping our "parameters of qualification" the same.

This person has always shown courage under fire, sacrifices short term profits for long term gains, and has a great knack for finding delicious coffee.

This person is not me.

If it was for me, I run away anytime I hear a loud noise, love short term profits (tomorrow is not promised, YOLO), will partner with anyone (still waiting for JT Marlin to ping us), and cannot tell you the difference between regular and decaf, Coke or Pepsi.

The only discernible talent I have is that I know BS when I see it.

Hell, I still think Ken Lay is on some remote island off the coast of the Bahamas. An island that has no internet access whatsoever, but does have access to clean water and coconuts the size of basketballs.

Maybe this is why I don't have more friends. :-)

One can only hope that all the atrocities that took place do not die alongside Jeff Epstein, and that the people who committed these crimes are held accountable, regardless of their prodigious wealth and power.

Don't hold your breath.

On the company side, Vitamin Shoppe agreed to be acquired by Liberty Tax for $6.50 per share in cash, representing a 43% premium to where the stock closed the prior day.

43% is a great return for those lucky enough to scoop it over the spring, but the "long term" picture was not nearly as bright.

Since going public almost ten years ago, and hitting a hit of $64 per share back in 2013, the company has struggled. While the shops are clean, bountifully stocked with items (most that probably don't work as advertised), and a place one can always find parking, GNC's big brother decided, in the end, to be sold to a tax preparation company.

Liberty Tax's slogan is "You do life. We do taxes."

Apparently, they do vitamins now as well.

CL
Impact.
Highlighting Anomalies Amongst the Week's Biggest Gainers, Losers & Volume Leaders.
by Christian Galatti (Phase 4 Research)
Owens & Minor...+61.8%.
A Fortune 500 Company That Will Make Almost $10B, and it's a Microcap.
A Story of Price Discovery.
Story.
There are people that think that the stock market is rational. Most of these people haven't figured out how to value stocks. They leave out biotech saying that the entire sector is too hard. They said that Amazon is overvalued...in 2011, 2012, 2013, 2014, 2015, 2016, 2017, and in 2018. They say that SHOP is an anomaly, but they said that about Service Now (NOW), and NFLX too. People forget that the stock market was trading long before fundamental metrics even existed. That's why price discovery is so hard for fundamental analysts. They don't know that it's not rational, it's all perception, and for Owens & Minor, the perception is that it would go bankrupt.
Owens & Minor is a Fortune 500 Company. It is estimated that OMI will make $10 billion next year. They employ almost 18,000 people. Until last year it paid over a $1 in dividends alone. But it's the only microcap in the Fortune 500 now. A stock down over 90% in three years just made the biggest gainer list last week.
Founded in 1882, incorporated in 1926, Owens & Minor didn't anticipate change. Losing a big Kaiser contract in 2016 started the slide. But, it was the fear of Amazon entering the market that dropped the stock to $2.
February 13, 2018...Amazon.com Inc. is pushing to turn its nascent medical-products business into a major supplier to U.S. hospitals and outpatient clinics that could compete with distributors of items ranging from gauze to hip implants.
Subscribe to get our Daily Fix delivered to your inbox 5 days a week
It took their second CEO change to take hold, and stop the bleeding. This quarter showing operational improvement allowing the company to put in it's first big move up in years. Owens & Minor trades at 0.03x its revenue, a figure that's decimalized. If the company can continue to overcome its problems, it has exponential potential.
"Overall, I'm pleased that our financial results showed sequential quarterly revenue growth, operating income growth, and improvement in cash flow and working capital as compared to the first quarter. We continued to improve our service levels in the second quarter and are meeting or exceeding most customer expectations. Finally, we continue to focus on productivity and efficiency initiatives to drive operating improvement," said Edward A. Pesicka, President & Chief Executive Officer of Owens & Minor. "After my first full quarter, we are making progress, but we cannot underestimate the significant amount of work ahead. We have no intention of letting up on our renewed customer focus."
Ownes & Minor, a microcap Fortune 500 Company with 18,000 employees and $10 billion in revenue. A true anomaly.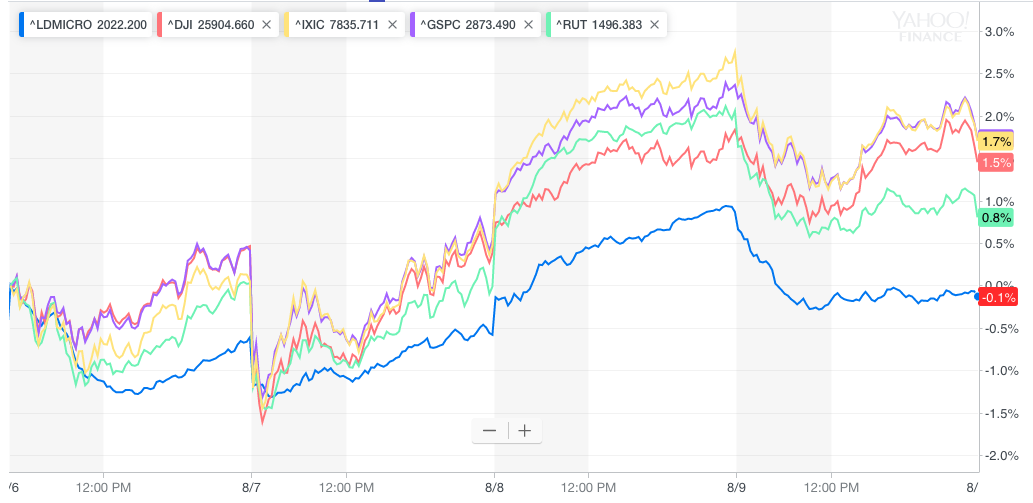 The LD Micro Index lagged all other indices last week, falling behind almost out of the gate.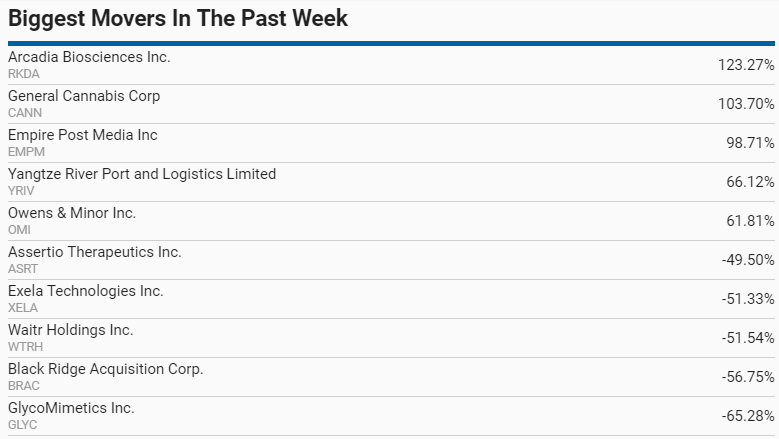 Equities Contributor: Chris Lahiji
Source: Equities News
DISCLOSURE: The views and opinions expressed in this article are those of the authors, and do not necessarily represent the views of equities.com. Readers should not consider statements made by the author as formal recommendations and should consult their financial advisor before making any investment decisions. To read our full disclosure, please go to: http://www.equities.com/disclaimer.
Market Movers
Sponsored Financial Content