Smith Micro Software Does It Again
Chris Lahiji Follow |

Impact.
Highlighting Anomalies Amongst the Week's Biggest Gainers, Losers, & Volume Leaders.
by Christian Galatti (Phase 4 Research)
Smith Micro Software ( (SMSI))...+78% for the week.
SMSI Does It Again.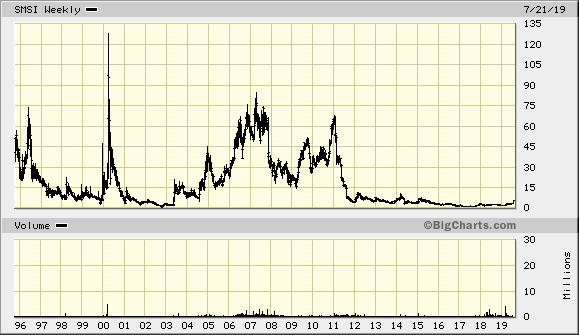 SMSI.
The reason for the max chart above is to show that SMSI has had nine lives already. An original H&Q deal that has always had the ability to remake itself may have just done so again. Their 66% move this week doesn't even show up on the chart when compared to where it's been historically. The story actually started at the end of last year when it became misunderstood when they signaled an intent to sell up to 6M shares (which was completed in Q2.) The stock dropped under $2 going into Christmas as investors fled the overhang.
This prospectus relates to the resale or other disposition from time to time of up to 6,479,570 shares of common stock of Smith

Micro

Software, Inc. by the selling stockholders identified herein, including 3,239,785 shares of our common stock and 3,239,785 shares of common stock issuable upon exercise of outstanding warrants, in each case, which were issued to the selling stockholders in private placement transactions.
We will not receive any of the proceeds from the sale of common stock by the selling stockholders. We will pay the expenses of registering these shares. We will, however, receive the net proceeds of any warrants exercised for cash.
Q1. The Start of the Turnaround.
Mr. Smith concluded, "We enter 2019 with strong momentum, focused on maintaining our technology leadership position, adding new customers, and accelerating growth."
The proposed stock sale obscured the fact that the market place was starting to accept Smith Micro's latest iteration, and Q1 became an instant validation of their new direction. GAAP profitability off of extreme software margins, and a forecast for better things to come, took SMSI immediately off the bottom (link.) The Company was telegraphing that the turnaround was real, because the product adoption was real with large TAMs to penetrate into.
Q2. The Turnaround Accelerates: SMSI Sells Non Core Asset & Adds Boost Mobile.
In Q2 SMSI got rid of a non core asset and signed up another provider. Moves that accelerated the turnaround. Selling their graphics product Poser would allow the Company to achieve 90% margins, and adding Boost created top line growth.
"We continue to focus the company on building upon the success of our three core wireless solutions, SafePath®, CommSuite® and ViewSpot™, where we see maximum growth opportunities," said William W. Smith Jr., President and CEO of Smith

Micro

. "Poser animation software has had a long history with Smith

Micro

and I am pleased to see it going to a long-term partner in Renderosity."
Company Achieves Growth and Profitability During the Quarter.
"We enter 2019 with strong momentum, focused on maintaining our technology leadership position, adding new customers, and accelerating growth."
Conclusion.
The 6M shares were eventually sold in Q2, and the share count was raised to 35M. With the dilution behind it, SMSI was still able to do another $0.10 in GAAP EPS. Meaning that the turnaround is now complete, and the question now is how far can it go with a product that really could take hold.
Analyst Disclosures: None (no ownership or relationship with Company.)
The Russell 2000 led the indices last week, picking up nearly 2%, while the DJIA lost 30 basis points.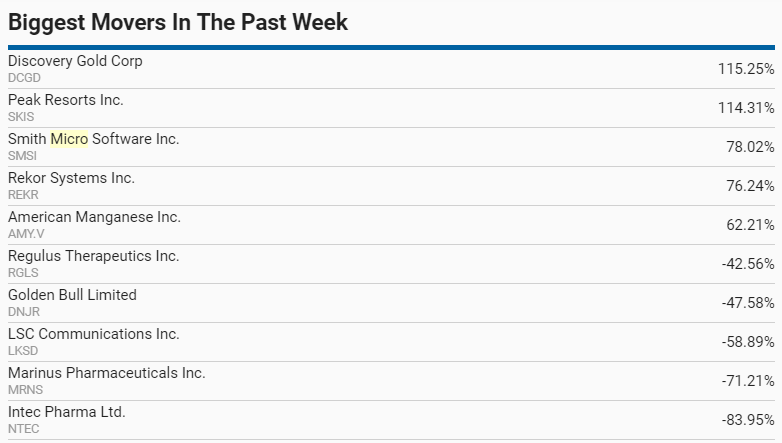 Equities Contributor: Chris Lahiji
Source: Equities News
DISCLOSURE: The views and opinions expressed in this article are those of the authors, and do not represent the views of equities.com. Readers should not consider statements made by the author as formal recommendations and should consult their financial advisor before making any investment decisions. To read our full disclosure, please go to: http://www.equities.com/disclaimer
I, or a firm that employs me, am a holder of the following securities securities mentioned in this article : none