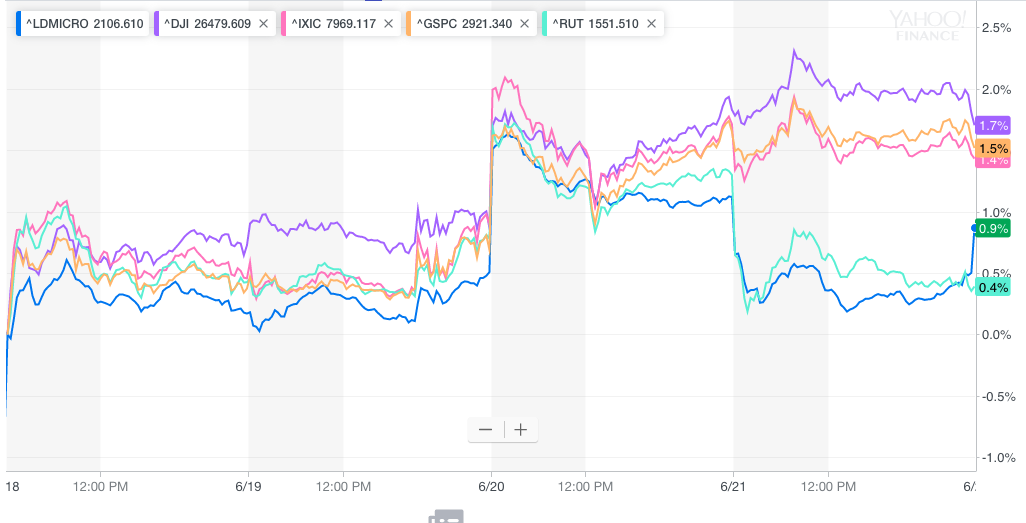 Small and micro-cap took it on the chin mid-week, and recovered a bit before the weekend. Meanwhile, the major indices all ended up 1.4-1.7% better for the week.
The LD Micro Index was up slightly for the week. As a total composite, June has been a good month for micro-cap names.
For me personally, it was the second week in a row where a "core" investment has been clipped. Hard.
Last week, it was VBI Vaccines VBIV. This week, it was Digital Ally DGLY.
Maybe I can go three in a row, and have something else implode.
For full disclosure, I still own shares in both companies.
We are trying to think "long term" even though you don't have any near term catalysts for "capital appreciation."
Next week, I am going to write extensively on "value," and how it has been out of favor for what seems like the past two decades!
Several very high profile investors have opened up to us over the past 12 months, and written articles about how "cheap" certain stocks appear to be.
On the opposite side of the column, you have the "growth" trade which has done quite well recently.
If you ask me, I don't remember a time that people were paying such outrageous premiums for revenue growth and "future multiples".
Oh yeah, 1999.
Can't remember what happened in the following year.
Let me phone a friend.
CL
Weekend reading: The NBA's Unlikely Real Estate Mogul: Inside Luol Deng's Towering $125 Million Portfolio
---
Impact.
Highlighting Anomalies Amongst the Week's Biggest Gainers, Losers, & Volume Leaders.
by Christian Galatti (Phase 4 Research)
Moneygram International (MGI)…+68%.
How Ripple Saved MGI to Save Itself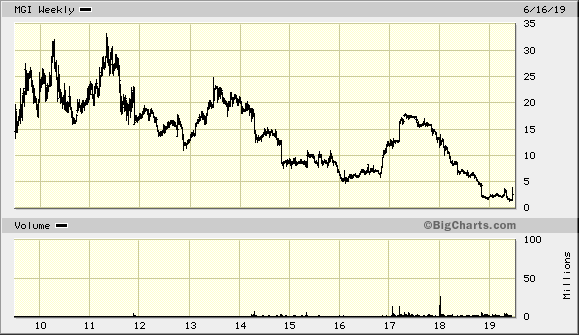 MoneyGram Announces Strategic Partnership with Ripple
Includes $30 million equity investment in MoneyGram and commercial partnership leveraging blockchain-based technology
Provides Update on Refinancing
"This is a huge milestone in helping to transform cross-border payments. MoneyGram is one of the largest money transfer companies in the world and the partnership will continue to further the reach of Ripple's network. I look forward to a long-term, very strategic partnership between our companies," said Brad Garlinghouse, CEO of Ripple.
"We are very pleased with the terms of the Ripple investment which supports the Company with permanent capital and additional liquidity," said Larry Angelilli, Chief Financial Officer of MoneyGram. "This partnership also provides MoneyGram with the opportunity to improve operating efficiencies and increase earnings and free cash flow."
Separately, MoneyGram is providing the update that it continues to make progress toward closing the refinancing of its existing first lien term and revolving facilities and expects to announce the closing of that transaction next week.
*Under the terms of the deal, Ripple will pay $4.10 cents a share to acquire an 8% to 10% stake in MoneyGram. This translates into a $30 million investment, and also gives MoneyGram the option for another $20 million cash infusion in the next two years (link.)
Story.
Chapter 1. Moneygram Needs Ripple.
Moneygram International has roots that go back to 1940. A corporate history that includes being passed through American Express and First Data. Ripple was given angel funding from Google in 2013 (link.) The first is based on paper, the second is based on infinite reaching neural networks. Moneygram has been going down since PayPal came out; not able to modernize fast enough. But, by partnering with Ripple, MGI becomes instantly relevant again.
"Ripple will change the way money moves, removing many of the costs and delays we accept as
normal today," said OpenCoin CEO Chris Larsen. "With Ripple, sending money to anyone, anywhere in the world will be as easy as sending an email."
Ripple works by building direct pathways between parties for faster transactions with no added fees. As a distributed multi-currency exchange, Ripple pathways allow users to pay in one currency and receive payment in another, including dollars, yen, euros or even bitcoins. The Ripple payment system can be used for a wide range of applications, including merchant payments, money transfers, or remittances.
Chapter 2. Ripple Needs Moneygram.
But, the real reason that Moneygram could have found bottom is because Ripple needs them just as badly, for Western Union abandoned their recent trial, and it was reported that none of the bank pilots worked out either. The bad press for Ripple has continued into this year (The End Of Ripple?).
While Moneygram needs cash, Ripple needs a market. That's why Ripple paid $4.10, tripling the stock. They have to make sure this works.
Sec link to Ripple investment, here:
https://www.sec.gov/Archives/edgar/data/1273931/000119312519174813/d766773d8k.htm
---
Chris Lahiji is Founder and President of LD Micro and an Equities contributor.