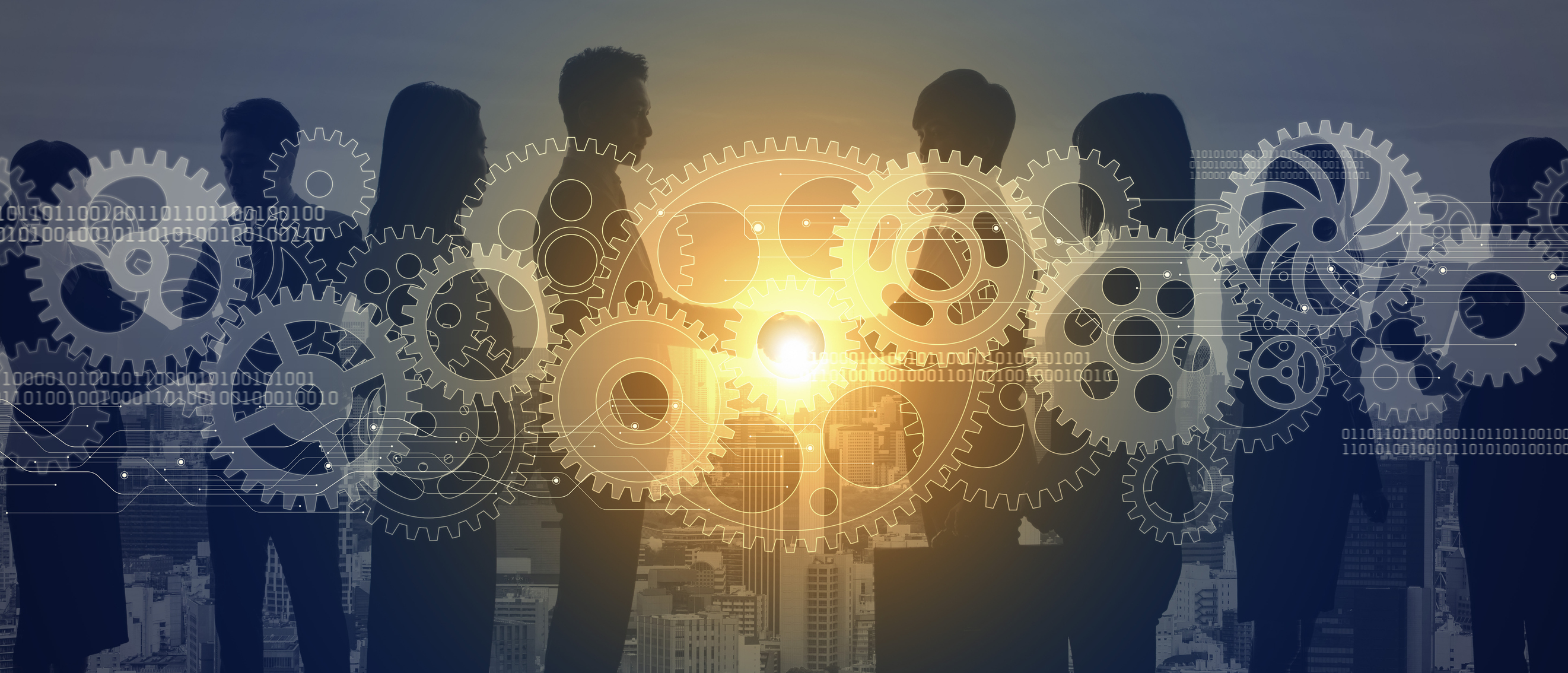 Image: iStock.com/metamorworks
It was a historic week for the world of micro-cap heading into the 4th of July. The LD Micro Index finished the quarter down 6.85%, while big brother Russ was up nearly 1%, eking out a small gain with some recent positive momentum.
YTD, LD is up 10%. Russ is up 17%.
The second quarter of the year felt slow on the mergers and acquisition side. Internally, we felt like the patent office at the turn of the last century. Everything important had already been invented, so why bother keeping the office open any longer.
Then Monday happened. Tuesday, Wednesday, and even a couple more announcements on Friday.
Let's recap.
On Monday morning, I woke up. Gained mental and physical consciousness, and questioned what the hell I am doing with my life. Everything is normal to this point. Cool. We can proceed.
Just before the opening bell, local name, and longtime LD conference participant, PCM PCMI announced that it was being acquired by Insight Enterprises NSIT for $35 per share, representing a 36% premium to its one-month closing share price. The companies expect run-rate synergies of $70 million in the next few years, with most of the cost savings being realized in the first year.
We have become close with management over the years, primarily with the CFO, Mr. Brandon LaVerne and CEO, Mr. Frank Khulusi. Frank was one of the original co-founders of the business and Brandon has been with the company since 1998. All their hard work over the years and the recent transformation paid off in a big way. We wish them nothing but the best moving forward.
While I was digesting this news, Del Frisco's Restaurant Group DFRG announced that it was going to be acquired by L Catterton, the largest consumer-focused private equity firm in the world. They have deployed $15 billion since 1989, and, looking briefly on their webpage, I see they own a little bit of everything.
Del Frisco announced its commitment to "strategic alternatives" back on December 19th, and the company announced the $8.00 per share all-cash offer nearly six months later.
A special "kudos" to Mr. Christian Galatti, from Phase4 Research. Christian's weekly segment "Impact" highlighted DFRG back on May 25th, in the weekend update titled "Everywhere", when the stock was up 46% for the week.
While we did not know management or have had the pleasure of going to one of their Del Frisco's Double Eagle steakhouses, we hope this transaction serves them well. The consolidation in the restaurant business is still buzzing. We are hoping that Del Taco TACO, El Pollo Loco LOCO, and Habit HABT all attend the Main Event in December. What is interesting about the three is that they are all under $500 million market cap, profitable, based in SoCal and have increased my body fat percentage over the years.
Continuing on "Merger Monday" tradition, US Ecology ECOL announced that it has entered into a definitive merger agreement with NRC Group NRCG, a leader in comprehensive environmental, compliance and waste management services to the marine and rail transportation, general industrial and energy industries, in an all-stock transaction with an enterprise value of $966 million.
Upon completion of the transaction, US Ecology stockholders shall own approximately 70% of the combined company, and NRCG will have the rest.
They will use the US Ecology name, and its shares will continue to be listed as ECOL. If you want a business with a wide moat, hazardous waste management services are a great place to start! Let me go get my Lakeland LAKE hazmat suit.
On Tuesday, Generex GNBT signed a letter of intent with Kiromic to merge. The LD Micro Index constituent believes that the all-stock deal will allow both companies to advance immunotherapy as the new standard of care for cancer treatment.
Nanometrics NANO, a leading provider of advanced process control metrology and software analytics, and Rudolph Technologies RTEC agreed to combine in an all-stock merger of equals transaction. The merged company will be a premier end-to-end metrology, inspection, process control software, and lithography equipment provider for the semiconductor industry and other advanced markets.
Under the terms of the agreement, which was unanimously approved by the Boards of Directors of both companies, Rudolph stockholders will receive 0.8042 shares of Nanometrics common stock for each Rudolph share. Upon completion of the merger, current Nanometrics stockholders will own approximately 50% and current Rudolph stockholders will own approximately 50% of the combined company. Even Steven.
Rudolph CEO Michael Plisinski will serve as Chief Executive Officer and Rudolph CFO Steven Roth will serve as Chief Financial Officer of the combined company, alongside a highly experienced leadership team comprised of executives from both companies. The BoD will be led by Nanometrics director Christopher Seams and will have 12 directors, consisting of six from each existing Board.
The combined company will be headquartered in Wilmington, Massachusetts and will maintain a strong presence at Nanometrics' headquarters in Milpitas, California, home of the best Malaysian restaurant in the state and the Newby Island landfill.
We have grown close to Michael over the years of seeing him during SEMICON, and wish him nothing but great health and success in the years ahead.
On Wednesday, two more local names in the tech space tied the knot. Extreme Networks EXTR and Aerohive Networks HIVE, entered into a definitive agreement under which Extreme will acquire all of the outstanding shares of common stock of Aerohive at a price of $4.45 per share in cash, or $272 million.
Accounting for Aerohive's net cash balance of $62 million at the end of March, the deal is equivalent to an enterprise value of $210 million.
With Aerohive, Extreme will offer customers and partners more choices for cloud and on-premises wired and wireless technology, and an industry-leading solution for cloud-based network management. Sounds good.
Extreme expects the acquisition to be accretive to non-GAAP EPS starting sometime next year.
Thursday brought us one of the biggest buyout premiums we have ever seen, and it came from a company that we've had the pleasure of hosting over the last couple of years, ASV Holdings ASV.
ASV, one of the leading provider of rubber-tracked compact track loaders (CTLs – think Bobcats, only better) announced that it has entered into a definitive merger agreement with an affiliate of Yanmar Holdings, a Japanese equipment juggernaut with over 20,000 employees.
Under the terms of the agreement, ASV stockholders will receive $7.05 in cash for each outstanding share of ASV common stock, for a total value of $70.7 million. The stock closed the day before at $1.63 per share. Not a misprint. Roughly $17 million market cap. Completely mispriced if anyone saw their first quarter.
Value always rises at the end, and Yanmar was the catalyst to do it.
We want to congratulate our friends, Mr. Andrew Rooke, and Ms. Melissa How for continuing to power "better work."
Seven down, two to go. Three to go if you count Caesars Entertainment CZR getting purchased by Eldorado Resorts ERI, a micro-cap stock just a few years ago.
Think about this for a second. Eldorado was a small, niche, micro-cap casino outfit in 2015, and is now the largest gambling company in the United States. Not bad for a few solid guys out of Reno!
On Friday, two more notable names were acquired.
Cummins CMI, an engine powerhouse ($27 billion dollar market cap) acquired fuel cell systems provider Hydrogenics Corporation HYGS for $15.00 per share in cash.
"We are excited that Cummins has reached an agreement with Hydrogenics to welcome the employees and innovations of one of the world's leading fuel cell and hydrogen generation equipment providers to our company," said Tom Linebarger, Chairman and CEO, Cummins Inc. "We look forward to partnering closely with Hydrogenics' team in the coming weeks as we work toward closing the transaction."
"It takes vision and an innovative spirit to take on next-generation technologies and provide the environment for them to grow," said Daryl Wilson, President and CEO, Hydrogenics.
"Hydrogenics has worked for 24 years to emerge as a global leader in fuel cell and hydrogen solutions in the power industry. We are deeply honored to now join with Cummins on the transformative journey of next-generation clean power solutions."
It took these guys nearly a quarter of a century to be noticed, but are now a part of one of the largest industrial product companies in the world. Daryl has been known as one of the hardest workers in the space over the years, has presented numerous times at LD, and is an all-around stand-up guy to those who met him, including us.
Finally, Highpower HPJ is going to a higher power. Seems like the executives of the company are taking this one out. A consortium featuring Mr. Dang Yu (George) Pan, the company's Chairman and Chief Executive Officer and a stockholder of the company, Mr. Wen Liang Li, a director and stockholder of the company, Mr. Wen Wei Ma, a stockholder of the company, and Essence International Capital Limited, a company incorporated in Hong Kong, will acquire Highpower through a merger.
Highpower stockholders will be entitled to receive $4.80 in cash for each share of Highpower common stock. The merger consideration represents a premium of approximately 67% over the Company's closing price of US$2.88 per share on June 1, 2018, the last trading day prior to the Company's announcement of its receipt of a "going-private" proposal.
I have had the pleasure of having dinner with George, at a very fancy Chinese restaurant many moons ago, and know the former CFO of the company, Mr. Henry Sun, very well. I'm pretty sure we were eating pigeon that night, but I'm quite happy someone told me it was chicken. Put my mind at ease.
Ten transactions this week. For full disclosure purposes, PCMI, GNBT, ASV, HYGS, and HPJ, have all compensated us over the years to present.
Two final notes.
The date for our SF and NYC events have been set. Please contact us this week if you are interested in presenting. Our spots are limited, and it is action packed.
Also, a super special "kudos" and shout out to Miss Laura Guerrant, co-host of the CEO Summit, a conference we have been attending in SF for years.
First off, I "like" putting together events, but LOVE attending them. 🙂
Not only does Laura and her team do a great job hosting semiconductor companies, but the format in which they do it, the camaraderie of the attendees, the seamless execution from the staff, and the best damn tortilla chips and salsa in the hospitality world make this a winner.
21 semiconductor companies shall be providing updates in small group meetings throughout the day. Every 30 minutes, you switch tables. If you want to do a "deeper dive" on a company, one can stay at the same table for an extra session or the entire day (not recommended).
The 11th annual CEO Summit shall be in San Francisco on Wednesday, July 10th, from 9:00 AM to 6:00 PM. If any investors or analysts are interested in attending, please ping me. It is worthy of your time, energy, and daily caloric intake.
After writing this, I'm officially hungry.
Wimbledon starts on Monday.
We shall discuss "value" next week.
Happy 4th.
CL
A few good reads:
This is the most impressive resume I've ever seen—based on my 20 years of hiring and interviewing
Revlon names its first female CEO in its 86-year history
---
Impact.
Highlighting Anomalies Amongst the Week's Biggest Gainers, Losers, & Volume Leaders.
by Christian Galatti (Phase 4 Research)
FingerMotion FNGR, up 57% for the week.
FingerMotion Aligns With Shareholders.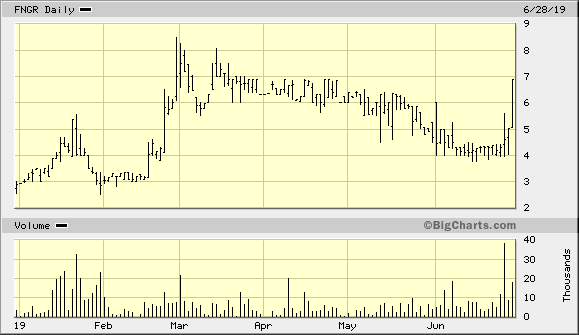 NEW YORK, June 05, 2019 (GLOBE NEWSWIRE) Martin Shen, CEO of FingerMotion, Inc.
"The interest in our platform is growing from top-tier e-commerce platforms. We are deeply focused on our business development and expect to have our next large e-commerce platform launched in the next several weeks, with more in our pipeline. We are very pleased with our quarter over quarter growth and expect it to accelerate. In addition, the SMS business is now operating at a very efficient level, and we are surpassing even our internal projections. It is our belief that we are moving quickly toward profitability, which makes us even more attractive to investors and partners."
Story.
FingerMotion (FNGR) was a reverse merge into Property Management Corporation of America in 2017 (8K.) Completely transforming into a Chinese video game company at first. They had plans for making more than three games. But, it was two years after Perfect World (PWRD) gave up as a public company, and the chinese video game market was becoming impossible to sell into the saturation. So after a year and a half, FNGR changed again. Completely abandoning games to pivot to become an e-commerce facilitator that offers big data analysis. Announcing a new CEO in December to a business that's starting to accelerate.
HONG KONG, Feb. 19, 2019 (GLOBE NEWSWIRE) — FingerMotion, Inc. (OTC Markets: FNGR) "We believe we are the best in breed in comparison to our other wholesale competitors since our platform is open, able to onboard any e-commerce platform, extremely reliable, and much faster. We are also forward-thinking, and have prepared our platform to be compatible with the 5G technology that is expected to be available later this year." (Link.)
It was a week later that FNGR announced that it had started adding value to China Unicom. A deal that may make FingerMotion an instant growth company (link.)
The primary thrust of the cooperation deal allows JiuGe to offer its mobile recharge and top up services directly to the end consumer or subscribers of China Unicom. China Unicom, the 2nd largest mobile telecom provider in China, had more than 385.5 million mobile subscribers in 2018.
In the past month of beta service, the FingerMotion team has focused on improving the user experience by optimising its backend platform and integrated response services. During this beta period, the Company transacted more than 20,000 orders every day, with a Gross Transaction Value (GTV) of more than 1 million RMB (USD $125,000) daily. This activity level will see an exponential increase when Finger Motion makes the platform available to all of the large e-commerce giant's registered users.
"Our monthly GTV is very strong with our current initiatives, but we believe this cooperation agreement with the large e-commerce giant could reshape our trajectory significantly higher over the coming months" said Martin J. Shen, CEO of FingerMotion. "We have been approached by top tier e-commerce platforms that understand our value added business model, and we believe that they will likely be watching our rollout with this large e-commerce giant with keen interest.
But, the real reason that FNGR went up over 50% this week is because it finally finished its 10K. Adding in crucial amendments that showed management was aligned directly with shareholders. For on May 29th the 10K wasn't even ready. Then, the Company filed their 10K without officer compensation. But, surprisingly, when it was finally all there the Company announced that none of the officers were taking salaries. And insiders owned half the stock. The only way for FNGR to work was for it to work for everybody. Information that the Market needed to send the stock straight up.
FingerMotion is the archetype of the modern microcap. No estimates, no volume, a complete unknown that may have found a way to become a much bigger company. When you go through the amended 10K it becomes obvious that this isn't just a black box from China. By aligning management with shareholders FNGR is trying its best to become legitimate right now.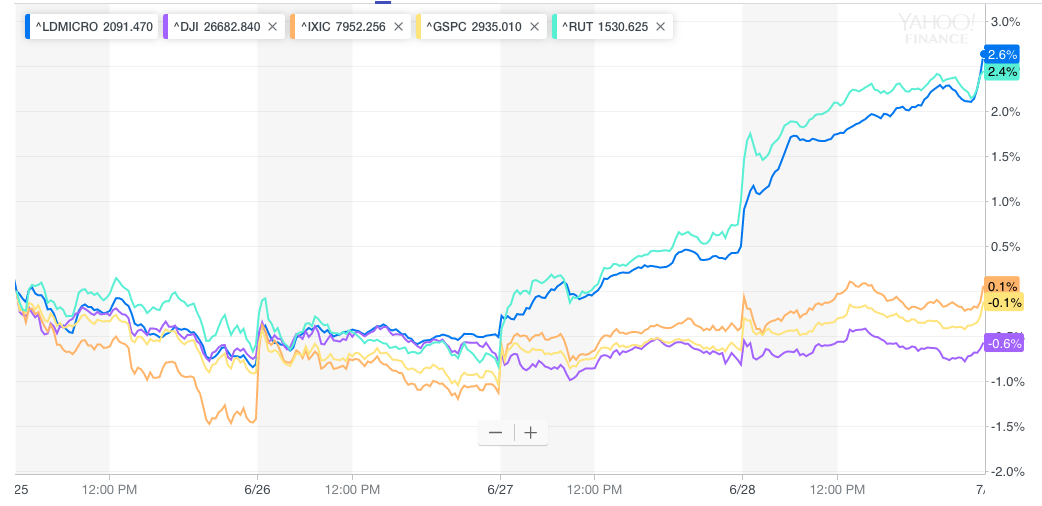 Micro-cap and small-cap had mini rip-your-face-off rallies this past week, while large-cap did nothing. Nothing at all.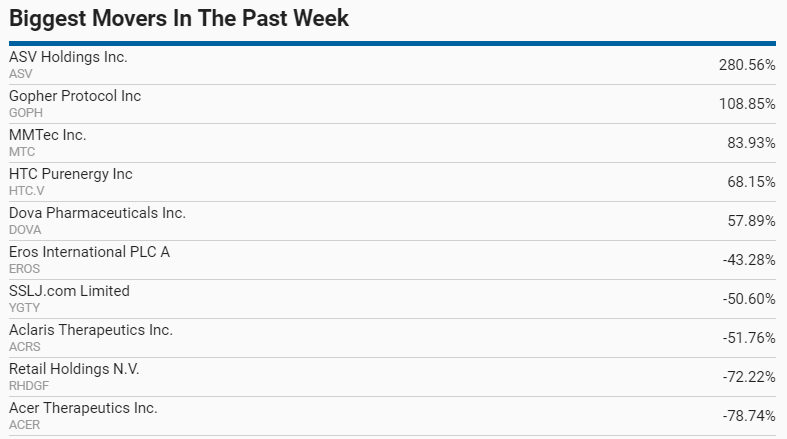 Equities Contributor: Chris Lahiji
Source: Equities News