The LD Micro Index has a rough week like most but made up some lost ground on Friday.
The LD Micro Index currently stands at 2,000.79
When we began four years ago, the opening number was 2,000.
Earnings were in full bloom.
Crescent Capital BDC and Alcentra Capital Corporation decided to tie the knot.
The consideration was $11.02 per share in a combination of cash and stock.
As of the close on Friday, the stock is currently trading at $8.84 per share.
Seems like the "street" doesn't know or care about the proposed deal.
I wonder what the stock would be trading at if it was an "all-cash" offer.
In 16 days, the 7th annual LD Micro Summit is going to take place in San Francisco.
The top local investors have always expressed tremendous interest in the format because it is fun and fast-paced.
Execs sit at the same table as the investors do, and questions can be asked at any time.
27 investors, 27 companies, one table.
On the company side, we have been picky and have been able to convince a couple of "high-flying, valuation-is-no-concern-everyone-here-owns-a-Model X" companies to join us.
Two spots remain open. I'm confident that we shall be full by the end of the week.
The smaller gatherings are always more fun for me because I present each company personally, and know the audience in attendance quite well.
Tuesday, September 3rd is the date for the SF Summit.
Monday, October 7th is the date of the NYC event.
I fought the law and the law won last year.
When the United Nations is in town, it is best to stay the hell away from Manhattan.
Ten years ago, they used to block a street every now and then. Today, entire quadrants are on lockdown.
No thanks.
During the week, I had the pleasure of spending time with one of my closest friends.
I can count them with one hand.
This person has seen me evolve since the age of 14. If my life was a stock chart, it would be this.
When it was my turn at the squat rack (I was trying to activate my glutes), he asked me a couple of questions that I was not ready for.
"Do you watch any movies anymore?"
Answer: "No"
"Do you ever commit to deep-dives in your research? The ones you were famous for eons ago.
Answer: "Not as much as I like."
I decided for the first time in my life not to procrastinate, and to show some initiative. Watch a movie, and do some "real" research.
For any person who is looking for a good movie to watch, "The Highwaymen" is a part of American history and fun to watch.
Kevin Costner and Woody Harrelson play Frank Hamer and Maney Gault, two former Texas Rangers whose mission it was to find Bonnie and Clyde and to permanently put an end to their murderous rampage.
The real story is a fascinating one and again reflects on the fact that Texans are not to be screwed with. https://truewestmagazine.com/maney-gault/
On the company side, I would suggest our community to look at one company in particular.
SoCal based.
It went public almost five years ago, at nearly a billion-dollar valuation.
The Company has been consistently profitable throughout most of its history.
It puts In-N-Out to shame and has a very loyal following of consumers, myself included.
The Habit Restaurants is a very interesting name indeed.
Most Americans today do not have time for freshly baked meals in the kitchen.
I don't even like sit-down restaurants that much anymore, and not many people know the real reason why (not because I am bad tipper).
The Habit plays in a very competitive space, where labor is hard to come by, ingredients are getting more expensive, and everyone's pocketbooks are feeling the pinch.
I look at it this way..
The Habit has 234 company-operated locations and 28 stores that are franchised.
Expecting to generate revenue between $462 million to $465 million for 2019.
2.5% and 3.5% sales growth at existing company-owned stores.
Geographic expansion both domestically and internationally are still in the early innings.
As of now, the current market cap is $232 million, and the stock is trading at near an all-time low.
Essentially, one is paying 0.5x sales on a business that has a great brand and loyal customer base.
Another thing to consider is that consolidation is alive and well in this sector.
Both from the bigger players involved as well as private equity.
At its IPO, yeah, It was expensive!
Currently, you're paying less than a million per store.
Let's see where the "fries" land.
For full disclosure purchases, I do not own any shares in the company and they have never attended any of our past events.
Have a great week.
CL
---
Impact.
Highlighting Anomalies Amongst the Week's Biggest Gainers, Losers, & Volume Leaders
by Christian Galatti (Phase 4 Research)
Infrastructure & Energy Alternatives, Part II…+40% For the Week.
IEA Makes the List Again: ARES & Oaktree Buy Into Wind.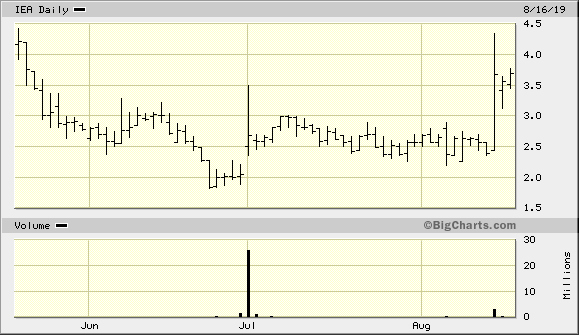 Story.
Over the last few months the leader boards have discovered microcaps that make over a billion in revenue. All trading at severe discounts because of a lack of profitability. With little to no coverage, these unheard of names have exponential potential if they execute a turnaround. It's understandable why IEA went under $2. Even though they guided to $1.2B in revenue, and double that in backlog. Their GAAP EBITDA is negative without adding back depreciation and interest expense, and their inability to build wind farms in bad weather gave investors no hope until summer began.
As soon as the weather got better, so too did IEA. First announcing commitment to their billion dollar guidance in July with a new $150M wind contract. An announcement that reversed the trajectory of the stock.
INDIANAPOLIS, July 01, 2019 (GLOBE NEWSWIRE) — Infrastructure and Energy Alternatives, Inc. (NASDAQ: IEA) ("IEA" or the "Company"), a leading infrastructure construction company with specialized energy and heavy civil expertise, today announced two new wind energy project awards valued at approximately $150 million.
One award is for construction of the Las Majadas Wind Farm in Willacy County, southern Texas. This is an approximate 272-megawatt project that is expected to provide enough energy to power up to 77,000 average Texas homes. This is equivalent to avoiding nearly 280,000 metric tons of carbon (CO2) emissions annually. The power generated by the project's planned 125 Vestas turbines will be delivered into the Texas electrical grid.
With the Company now able to execute into its favorable season IEA improved again. Adding another $491M in new contracts, which raised backlog to $2.6B (link.) Q2 was a pivotal quarter for the Company. It was not only able to add to revenue, it added huge investors. Securing over $50M in capital now, and the potential for another $110 from Ares and Oaktree.
On August 13, 2019, the Company entered into an Equity Commitment Agreement (the "Equity Commitment Agreement") among the Company, funds managed by the Private Equity Group of Ares Management Corporation (NYSE:ARES) ("Ares"), a leading global alternative asset manager, and funds managed by Oaktree Capital Management (solely for the limited purposes set forth therein) ("Oaktree"). Pursuant to the Equity Commitment Agreement, the Company agreed to issue and sell 50,000 shares of Series B Preferred Stock (with amended terms, as compared to the terms of the existing Series B Preferred Stock) and 900,000 warrants to purchase common stock ("Warrants") to Ares for an aggregate purchase price of $50.0 million (the "Tranche One Transaction").
IEA went up another 40% this week to achieve a market cap of $80M. For Ares and Oaktree are not looking at the short term negative GAAP earnings to make back their $50M. They looking at the long term cash flow, when the majority of the wind farms will be complete, and the maintenance and service continue for a decade. They are looking ahead to when the $2.6B in backlog is done, and the low margin business of making wind farms transitions to the high margin business of keeping them working.
Analyst Disclosures: None (no ownership or relationship with Company.)
---
ACQUISITION: Crescent Capital BDC, Inc. to Acquire Alcentra Capital Corporation ($ABDC)
Sienna Biopharmaceuticals ($SNNA) Engages Cowen to Explore Financial and Strategic Alternatives
Infrastructure and Energy Alternatives, Inc. ($IEA) Announces Second Quarter 2019 Results, Additional Equity Commitment and Other Potential Financing and Sale Transactions
Horizon Global ($HZN, +30%) Announces Definitive Agreement to Sell Asia-Pacific Business Segment
Galaxy Next Generation ($GAXY) Issues Statement Regarding Unauthorized Promotional Activity Involving its Common Stock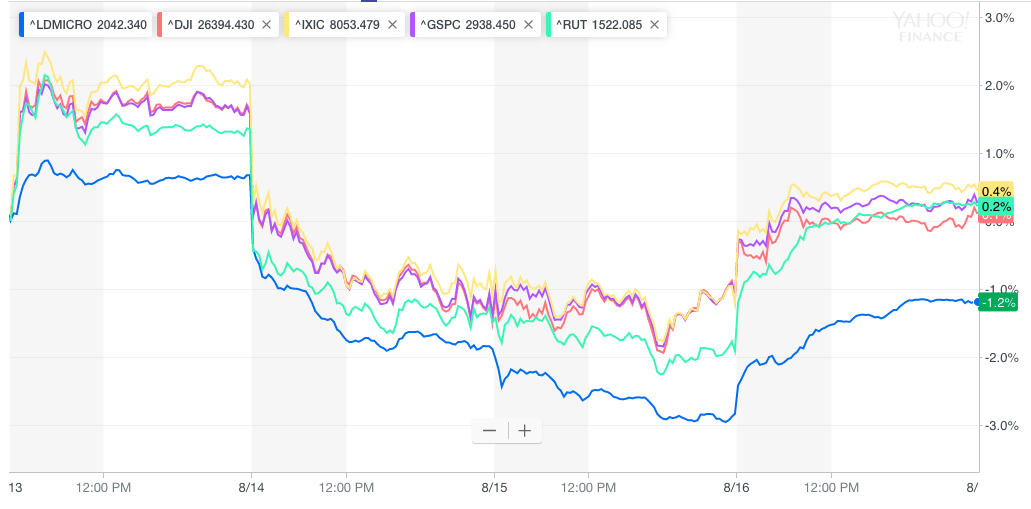 Micro-cap lagged its larger brethren by quite some distance last week, giving up a lot of ground early in the week.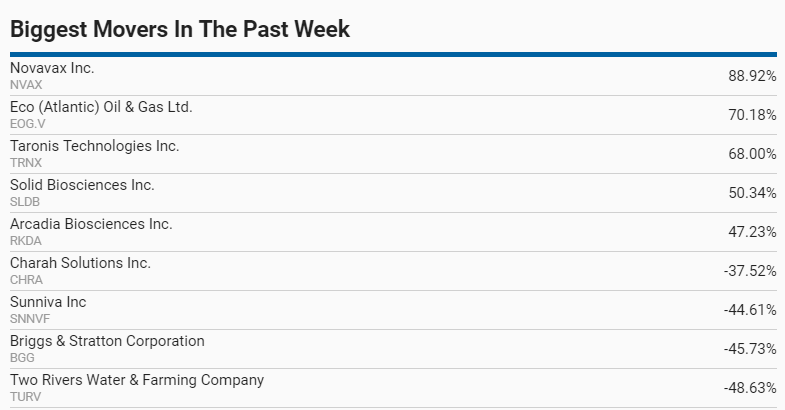 Equities Contributor: Chris Lahiji
Source: Equities News