LD Micro: A Week in Review and a Look Ahead in Microcap
Chris Lahiji Follow |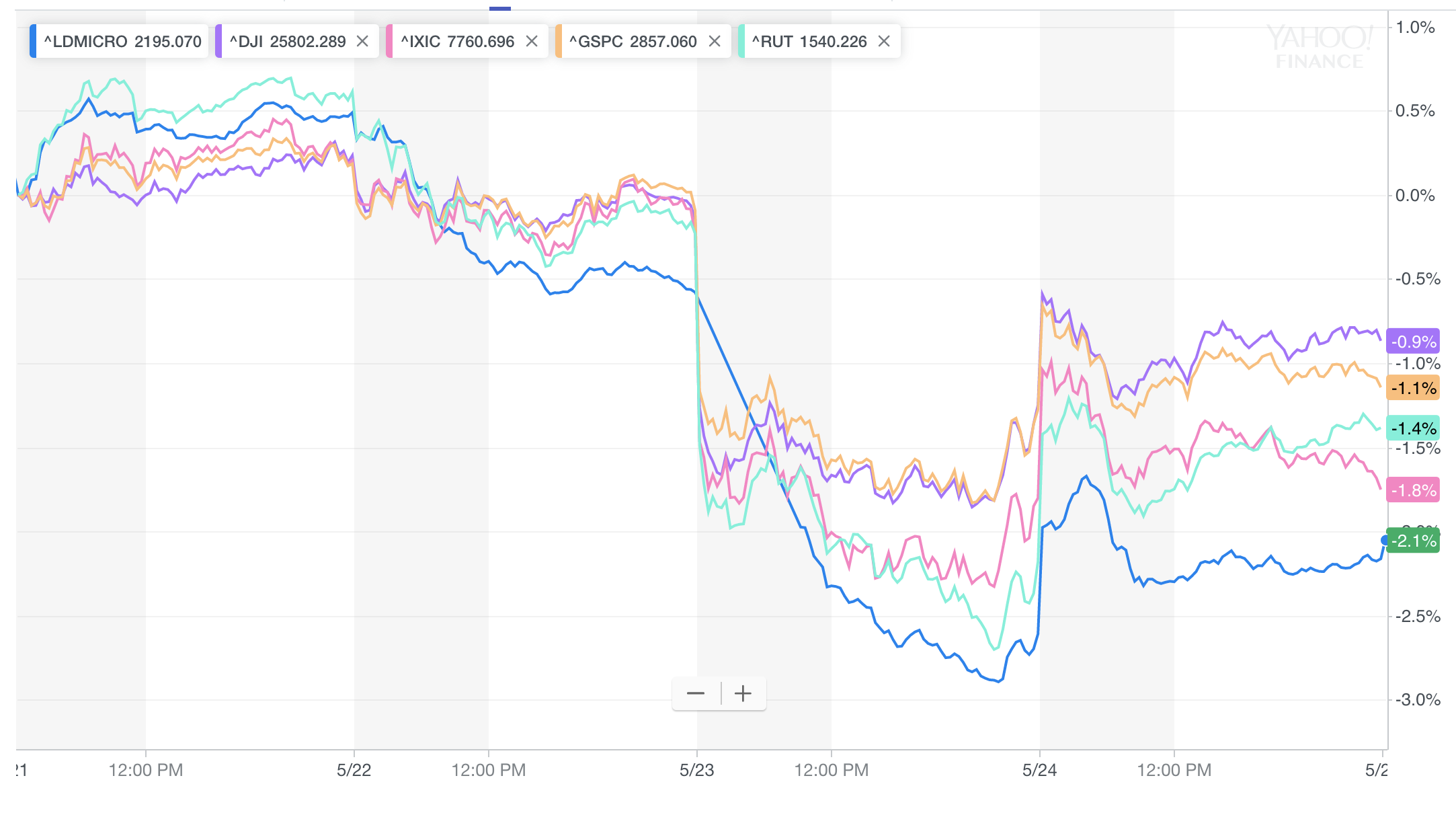 The LD Micro Index took it on the chin last week, nothing a 2.1% loss.
---
"You know that I'm proud and I can't get the words out." - Fleetwood Mac

The LD Micro Index fell this week, probably due to the ongoing trade talks between the United States and China.
Even though the Index is up 10% for the year, it is essentially flat if you go back six months. Our much older, wealthier "brother," Russell, is up just 1.42% during that time. CDs as an investment vehicle are often lampooned by bold micro-cap risk takers, as no one would invest in a product meant for retired octogenarians. Certain CDs have outperformed the asset class during this period.
Here is one more thing to consider. The Index was launched back in September of 2015. Eons ago. As a collective group, the companies in our universe are up a measly 5% since then. Russ is up 30%.
Russ should be careful around the house because his younger sibling is not happy.
This past week was filled with lots of activity. From earnings, new executives announcements, and conferences galore, it was hard to let your guard down.
We had several meetings in San Francisco at the start of the week, where I was reconnecting with some of our industry's finest investors. One of them is located in a building right next to the Punch Line, a comedy club that has stood the test of time for the past four decades.
Some of the most famous comedians have actively performed here over the years, and it has become a shrine to Mr. Dave Chappelle, whom in my eyes is the most influential comedian of this current generation. The man is also set to be awarded one of the most prestigious items you can think of, the Mark Twain Prize for American Humor.
Well, sure enough, the Punch Line has been in the news recently on something that is becoming all too common these days. It is scheduled to close.
The comedy club mentioned that the owner of the building (Morgan Stanley) and its new tenant (Google) did not wish to renew the lease.
As San Francisco becomes a wholly owned subsidiary of the tech industry, and prices everyone outside of its bubble out, things like this have become the norm. It is also the reason why we are going to the city less and less these days. You have more "culture" now in Oakland.
A Day in the Life

One investor asked me a question recently that I was not ready to answer. In fact, I was stumped.
"What is it that you do all day?"
It got me thinking.
My response: "What is it that I do all day? Hell, I don't know what it is I do for the entire week!"
Naturally, I started documenting things. One of my favorite sections of the Wall Street Journal magazine was they would devote a page to someone famous or influential and highlight some of the notables from the time they woke up. Please note that I typically get 5-6 hours of sleep, which is definitely not enough.
Here is a typical Monday:
6:00 AM: Wake up, question life. Think of all the investments I could have made which would allow me to rise later in the day.
6:15 AM: Turn on the computer, go to http://www.ldmicro.com and see if we own anything that is going to be down big at the market open.
7:00 AM: Call LD associates to blame them about my own inadequacies, do some breaking news, and start answering emails.
8:00 AM: Call with Mr. Ron Foy, one of the legends in our business. We discuss the Sacramento Bee.
9:00 AM: Call with Mr. Trent Paulson, the CEO of the Paulson Investment Company. He is always fun to chat with.
9:30 AM: Call with a prominent investor discussing Charles & Colvard (CTHR).
10:00 AM: Call with a media company that has expressed interest in writing about the small-cap universe. Answer questions about the state of our business and the recent Forbes article.
11:00 AM: First meeting of the day in San Jose, California with the management at Spectra7 (SEV:CA). The Company posted Q1 results recently.
12:00 PM: Trying to find parking for my lunch meeting with the management at Firsthand Technology Value Fund (SVVC).
12:17 PM: Lunch begins after finding something rarer than painite - a parking spot in downtown.
1:30 PM: Tennis at Santa Clara University.
3:30 PM: Lunch (usually in the car, listening to NPR).
4:00 PM: Emails until my thumbs hurt.
6:30 PM: Family time.
9:00 PM: Back to emails.
11:00 PM: Reading a book about Greg Giraldo, one of the few comedians that could make me laugh.
11:30 PM: Sleep
For full disclosure purposes, I own shares in both Spectra7 and Firsthand Technology Value, and the companies have paid us in the past to attend our events. Firsthand is scheduled to be taking private meetings at the Invitational in nine days.
Invitational is Imminent
In nine days, we will be hosting our 9th annual Invitational.
We have over 200 companies already locked in, and 50 more that are in the process of registering. The schedule shall be out shortly.
In the meantime, here is the agenda: https://www.ldmicro.com/events/agenda
As for some notables to watch out for this year:
On the night of the 3rd, all eyes will be on our esteemed speakers. Topics will range from ketogenic dieting, protecting your identity, investment ideas from our buy-side panel (unique theme yet to be announced), and the moment everyone has been anxiously awaiting for, Citrus Hawk's LD Micro debut and the unveiling of the autonomous scooter.
Two members of Citrus Hawk's management will be making a presentation using the new structure in place, 15-minute pitches, followed by some fast Q&A. All presentations slots at the conference will now be in 20-minute intervals.
Even one company in the cannabis space got extra creative with the new time slots. Vitalibis (VCBD) is scheduled to present on Tuesday, June 4th at 4:20 PM. :-)
This is the last opportunity to see anything until September. If you have not given it much thought till now, you still have time. Well, eight days.
Contact us for details.
Graduation Galore
I am not good at graduations. Neither accepting nor attending.
Missed my high school graduation because I did not want to sit out in the sun for three hours. It was overcast that day.
College graduation was non-existent, as I still have a few courses to take in order to get my degree.
The last graduation ceremony I attended was five years ago, and it was awesome because they had it inside with air conditioning to boot.
Graduation is meant to celebrate those who have worked hard towards a goal, over a long period of time. It is a beautiful thing to see.
I was too dumb to realize this until recently.
One member of our team is exemplary beyond measure. After serving several tours of duty in Iraq, he went back to get his undergraduate and graduate degrees from the University of Southern California. I joked with him many moons ago that if he ever got his Masters, I would join him for the ceremony. He knew where I stood on graduations and did not actually expect me to attend.
After 363 miles of travel, twenty minutes of going around in circles looking for parking, bribing the parking attendant to give me a spot for $50 bucks (worth it), finding section 222, and waiting patiently for Adam's name to be called, I started clapping like a mad man that was possessed.
I could not control my tears or my hands, because I thought about all the people in the world that wanted to make something of themselves, but never had the opportunity because of a medical condition, an accident, going to war, putting the family first, or an infinite amount of reasons that would prevent someone from reaching their goals in life.
Adam served his country valiantly, graduated with two degrees at one of the top schools in the world, and is now heading a Company that will one day revolutionize the paintball industry.
I would have driven to Mars if I could to see this man graduate.
We salute everyone in the military who died in order to keep our country safe.
CL
---
Impact.

Highlighting Anomalies Amongst the Week's Biggest Gainers, Losers, & Volume Leaders.
by Christian Galatti (Phase 4 Research)
Del Frisco's Restaurant Group (DFRG)...+46%.
Targeting Inflection Amongst the Misunderstood...DFRG, Is Their Corporate Remake About to Work?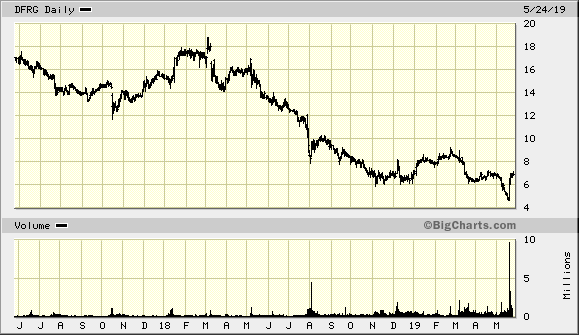 Story.
When Del Frisco bought the Barteca Restaurant Group last May it did so to make up for their Sullivan's segment that had gone stale. So they immediately hired Piper Jaffray to sell their underperformer so that they could change instantly change their corporate profile in order to turn around their stock. But the Market gave the Company no time. immediately placing pressure on the shares into the Secondary they were forced to do at $8 to finance the transaction. A month later Sullivan's would then be sold for only $32M, money that was earmarked to pay down debt, sending the Company down again, from $8 to $6. Only a declaration to maximize shareholder value rebounded the stock before it dropped again upon the release of their latest earnings.
Del Frisco's Restaurant Group Announces Review of Strategic Alternatives to Maximize Shareholder Value
DECEMBER 20, 2018
IRVING, Texas, Dec. 20, 2018 (GLOBE NEWSWIRE) -- Del Frisco's Restaurant Group, Inc. ("Del Frisco's" or the "Company") (NASDAQ: DFRG) today announced that its Board of Directors (the "Board") has commenced a comprehensive review of strategic alternatives. The Del Frisco's Board, in consultation with its financial and legal advisors, will review and consider a full range of options focused on maximizing shareholder value, including a possible sale of the Company or any of its dining concepts (link.)
But this week was different. It wasn't just the 46% move up off the bottom. It also traded the most volume in its corporate history. DFRG was initially misunderstood when it said that it had a plan to save on costs in its pivot to grow. A reduction in force was supposed to be a good thing to a Company that loses money. But, another full trading day went by at the absolute bottom until the math was done sending the stock up big. It's almost as if the entire Company was completely misunderstood until this week's inflection. (Sometimes the Market finds things for us).
IRVING, Texas, May 16, 2019 (GLOBE NEWSWIRE) -- Del Frisco's Restaurant Group, Inc. ("Del Frisco's") (NASDAQ: DFRG) today announced a reduction in force ("RIF") that is expected to generate significant pre-tax general and administrative cost savings of approximately $3.0 million in 2019 and $5 million on an annualized run-rate basis. This brings the total expected synergies from the Barteca acquisition and other cost savings to approximately $15 million.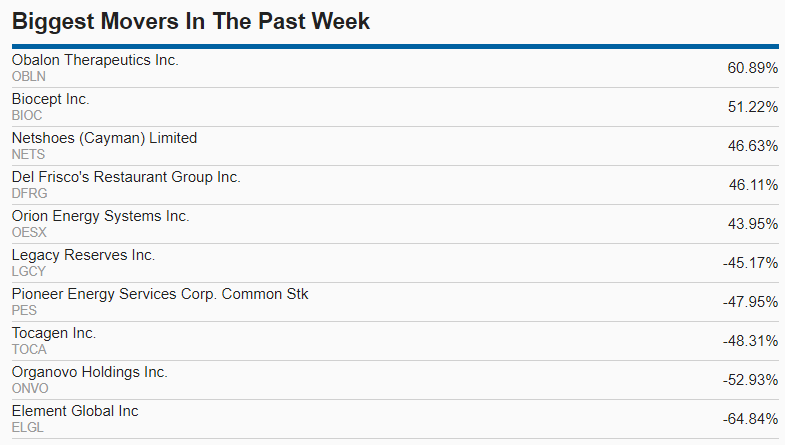 DISCLOSURE: I own shares in both Spectra7 and Firsthand Technology Value, and the companies have paid us in the past to attend our events. Firsthand is scheduled to be taking private meetings at the Invitational in nine days.

---
The views and opinions expressed in this article are those of the authors, and do not necessarily represent the views of equities.com. Readers should not consider statements made by the author as formal recommendations and should consult their financial advisor before making any investment decisions. To read our full disclosure, please go to: http://www.equities.com/disclaimer.
| Symbol | Last Price | Change | % Change |
| --- | --- | --- | --- |
| AAPL | | | |
| AMZN | | | |
| HD | | | |
| JPM | | | |
| IBM | | | |
| BA | | | |
| WMT | | | |
| DIS | | | |
| GOOG | | | |
| XOM | | | |
| BRK.A | | | |
| FB | | | |
| JNJ | | | |
| WFC | | | |
| T | | | |
| NFLX | | | |
| TSLA | | | |
| V | | | |
| UNH | | | |
| PG | | | |