LD Micro: A Macro Update on the Microcap World
Chris Lahiji Follow |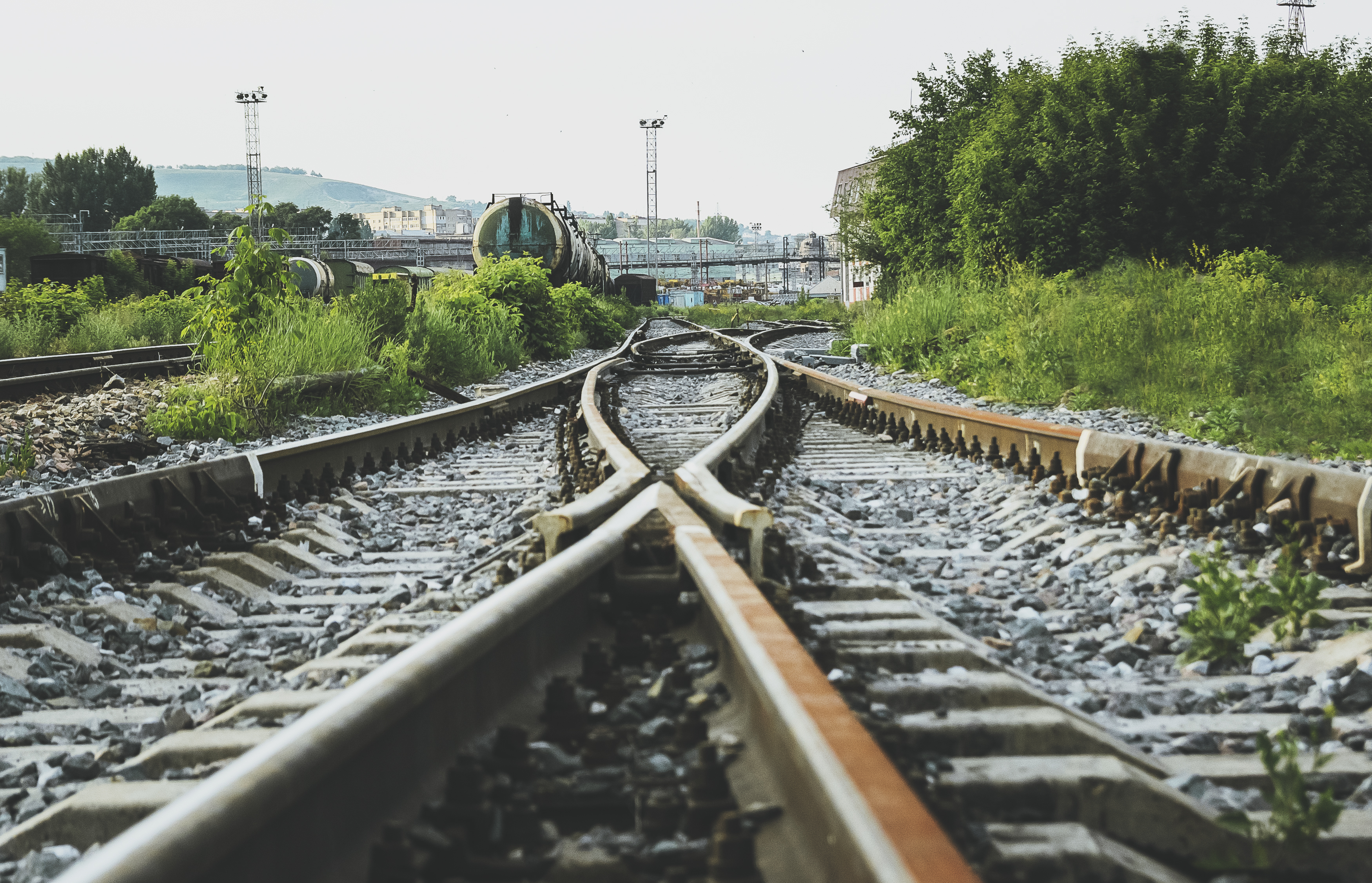 iStock.com/Natalya Vilman
Nothing brings me greater joy than writing for you. Over the past few years, our weekend updates have seen tremendous growth in readership, distribution, and my personal favorite: controversy.
For those of you short of time and long on White Claw, I'm going to formulate everything that is going on to be discussed in a press release format.
Thanks to our friends at Accesswire, this will also be released to the world on Monday.
Make sure to read it eventually, as this is pertinent to everyone in our "solar system."
LD Micro Announces Q3 Results, Raises Guidance for Full Year 2019, Announces Changes to the Main Event, President Reiterates Desire to Become Chairman of Taco Bell
San Ramon, CA, Sept. 08, 2019 -- "The happiest people don't have the best of everything, they just make the best of everything." - No idea who said this, but I like it.
___
As the Grand Poobah of LD, it is customary to start with the LD Micro Index. To put it simply, September is off to a good start.
M&A is still alive and well, as evidenced in the past fortnight.
Mateon Therapeutics recently announced its merger agreement with PointR Data to leverage its AI (Artificial Intelligence) technology.
DryShips also decided to tie the knot, merging with SPII Holdings for an all-cash offer of $5.25 per share. What is interesting about this deal is that SPII is controlled by the Chairman and CEO of Dryships, Mr. George Economou, who is simply buying the shares he does not already own.
If you wish to keep your breakfast or lunch intact, do not look at a ten-year chart of this oceanic cargo shipper. In the words of singer Tracy Chapman, "Any place is better."
VMWare [VMW] acquired both Carbon Black [CBLK] and Pivotal Software [PVTL] on the same day. They first announced Pivotal Software at 4:20 PM EST, and then, one minute later, mentioned that they also bought Carbon Black as well.
Trade Commission-FREE with Tradier Brokerage
I've done this before at the supermarket. At 4:20 PM EST, I once bought Mrs. Renfro's salsa, and then, a minute later acquired a bag of Tostitos tortilla chips. Bam!
Confidence, capital, cockiness, whatever you want to call it. VM is now a $60 billion market cap and can push a lot of weight around.
Candian giant, WSP Global [WSP:CA] is purchasing Ecology and Environment Inc. for US$65.1 million. WSP is the slightly bigger company out of the duo. Its current market cap is over $7.5 billion.
The last time a Canadian showed this much domination over an American was Saturday night's U.S. Open women's final.
Andreescu beat Serena and prevented her from reaching tennis immortality.
Pernod Richard [Euronext: RI] decided to open up the wallet and bought Castle Brands, a name we mentioned in our updates a few months back as a name to follow.
Out of the 44 meetings we had at the Roth Conference this year, Castle Brands was one of four names that piqued our interest.
The company was meant to present at our June Invitational, where they were going to serve drinks to select members of our community, only to run into a conflict that prevented them from joining us.
This upset me because I knew they were going to be well-received, and the stock was trading at $0.50 per share, which was inexpensive based on all the brands they owned.
Pernod offered $1.27 per share in cash, a 92% premium from where the stock previously closed.
The only thing I like more than free booze (Jefferson's and Goslings are tasty) are stocks that more than double in less than three months.
We wish Richard and Alfred the very best moving forward.
Two LD Micro presenters were also involved in big transactions.
MAM Software Group agreed to be acquired by Kerridge Commercial Systems for $12.12 per share in cash.
MAM was always flying under the radar screens of a lot of tech investors, but the company continually put up solid numbers and has a disciplined team at the top.
While the premium paid is a little weak (14% higher than Friday's close), I'm sure a lot of the investors will be happy.
For full disclosure purposes, my family owns shares and are neither happy or sad as a result of this transaction.
A big congrats go to Mr. Mike Jamieson (CEO) and especially Mr. Brian Callahan (CFO). I've known Brian for many years now, and this is now the second time he has made us money. Before MAM, he was the CFO of a small public company called Alteva, which had a successful exit as well.
Drinks on me, Mike. Oh wait, I don't have any.
Finally, OpGen and Curetis (Euronext: CURE) are coming together to create a transatlantic diagnostics company focused on finding solutions in molecular biology.
This is an all-stock deal.
OpGen more than doubled shortly after announcing this union, only to close the week at the same price in which it began.
Almost like me at the tables. I'll be up $5,000 in craps at the start of the evening, only to lose $4,900 in the last 30 minutes in Blackjack.
I should have hit on 14.
We have always enjoyed meeting the Chairman and CEO, Mr. Evan Jones, who was previously the Co-Founder, Chairman, and CEO of Digene. Digene was bought out back in 2007 by Dutch biotech giant, QIAGEN [QGEN] for $1.6 billion.
I would not bet against him regardless of the stakes.
For full disclosure, both MAM Software and OpGen have paid us to present at our events over the years.
SF Summit
We hosted our annual SF event this past week. It was perhaps the greatest turnout we have had for a regional event. Only one person did not show up, and it was because of a personal matter that came up early in the morning.
Typically, you confirm 60 analysts and investors, to have 40 show up initially, to have 25 that stay for the day.
Not last Tuesday in San Francisco.
27 unique names presented (two private), and LiveXLive Media hosted a wonderful dinner to cap it all off.
I want to thank all the executives that flew in, all the investors and analysts that spent the day bunkered down at a rectangular table, and our sponsors SEG and LiveXLive.
LD Big Apple
Monday, October 7th.
I want this to be as memorable as last week's event, and it will be. Our goal is to bring the most unique names in the space to the top brass in the city.
For the companies, nothing like this exists annually.
For the investors, your concentration has to be high the entire day.
In the end, you've seen 28 companies, and now I am serving. :-)
Boston, Fort Lee, Greenwich, what's up?
Check your inboxes and texts, as we have added chairs.
Unless you are a Patriots fan. Then please stay at home.
Main Event (December 10-12 - an additional day)
Before everyone who has already booked their hotel rooms, flights, and Laker/Clipper tickets go into panic mode, just relax.
All is well.
As of now, I will need to respond to 3,000+ emails already, and do not need to be aggravated with another 1,000 more.
The decision is one that I am personally making, without discussing it with anyone from the team. Note that 99% of our decisions are group-based.
So why am I adding another day?
First off, it is only 8 AM - 11 AM on Thursday, December 12th.
Several companies with whom we are close can only present on that morning and are coming from another big conference. No problem.
We got you.
However, the reason is far more significant.
I feel like LD is the "standard" when it comes to micro-cap events.
Domestically, internationally, cosmically, it does not matter.
In terms of energy, quality of companies, influential attendees, and above all, camaraderie, nothing compares.
For this reason, we get imitated a lot, and sadly the copies are nowhere near as good as the original.
Bad events hurt our industry, and we have too many of them.
Execs often get suckered into attending events that make all these false promises of interest and coverage, only to find themselves presenting to an empty room, having nothing but private meetings with service providers, and wasting not only their money but their time and reputation.
One really fast way to tell whether a conference is worth attending or not is asking two simple questions.
Two big takeaways. If the quality of the companies presenting is not good, you won't get the legit retail and institutional investors.
Second, if you don't see a lot of overlap between the current list of companies presenting, and the companies that have presented in the past, then you know that something fishy is up.
The meaning is that the conference was not worth attending a second time around. "One and done" is how I would describe their clientele, or my tennis career.
What happens often is that once a company has a bad experience, they seldom want to present at another conference ever again.
Look at Live Ventures.
I think the last time they went to an event was five years ago, and we still can't convince them to present to our community!
God only knows how many people read our weekend updates to use our insights and observations for their selfish reasons.
Well, below is an idea you can replicate, and we won't pass judgment.
On Thursday, December 12th, we are opening up our last spots to our favorite charities of choice. Instead of companies, it will be non-profits pitching on what they stand for, what they are looking to accomplish, and all the good they are already bringing to this world.
For every person that attends their presentations, LD Micro will cut the first check.
I have one other unique theme on the 12th that shall not be disclosed, but I think it can change company presentations forever.
No one has ever done it.
We are allocating for one hour. Eight companies.
30 minutes each.
Just like the good old days.
If we are to be emulated, then let it be for all the right reasons.
The last day will be called "Macro" because all of the themes are large-scale and extend well beyond making money in stocks (something I still can't do with consistency).
Ultimately, my goal in life is to make "everyone around me better."
Whether I know you or not, it does not matter as long as your intentions are good.
CL
Impact.
Highlighting Anomalies Amongst the Week's Biggest Gainers, Losers, & Volume Leaders.
by Christian Galatti (Phase 4 Research)
Hovnanian Enterprises...+54% For the Week.
Is Hovnanian About to Follow Owens & Minor's Exponential Path?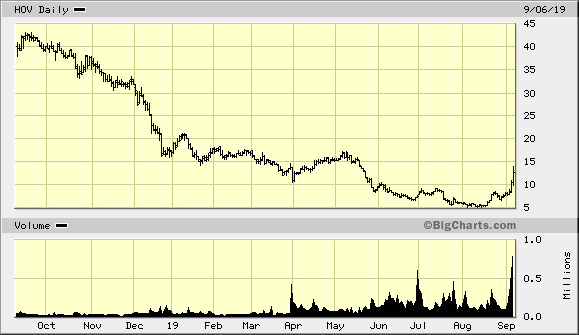 Story.
It's understandable why some of these large companies become microcaps. Most have debt issues that quantitatively make them targets, and when the demand drops that's all the story becomes. Price discovery in this context means how far will it fall. Where does the value lie. A pattern that can be broken only after years of pain. A few weeks ago, Owens & Minor broke that pattern. After Q2 was reported it looks like Hovnanian is about to follow Owens & Minor's path out.
Hovnanian Enterprises. A once-major homebuilder is still in the industry. If you take a look at their community locations in California (link) they are mostly in places that nobody wanted to live. Agrarian, formerly rural areas that are actually starting to grow. Income inequality has forced migration. A demographic that apparently helps Hovnanian.
The company burned through $100 million. With $89 million left the stock was forced into distressed valuation as nobody bought into the future growth story that was about to appear. For it was this quarter that the founder, who has always been there, gave guidance that they would be accelerating into the year, and would be profitable.
Hovnanian made the biggest gainer list this week with a 54% gain off the quarterly print, meaning that it's not a story. There's a chance that Hovnanian is the next Owens & Minor, and will keep going.
Analyst Note on Demographics (quote from Q2 explaining business turn): Some investors have expressed concerns about potential future write-downs on our mothballed lots. Turning to Slide 19, we show our mothballed lots broken out by geographic segment. In total, we have 2,590 mothballed lots within 14 communities as of April 30, 2019. The book value at the end of the second quarter for these remaining mothballed lots was only $14 million net of an impairment balance of $147 million. We are carrying these mothballed lots at about 9% of the original value and believe further write-downs on these lots are extremely unlikely.
A little more than 1,300 of the mothballed lots, or about half the total, are in a single community in Northern California that we are currently redesigning and re-entitling to maximize its value in today's market. This community is located in the Sacramento Valley, a market which continues to post solid performance for us, and we expect this community will also be very successful once we get it open. We hope to un-mothball and then begin developing this large community as early as next year.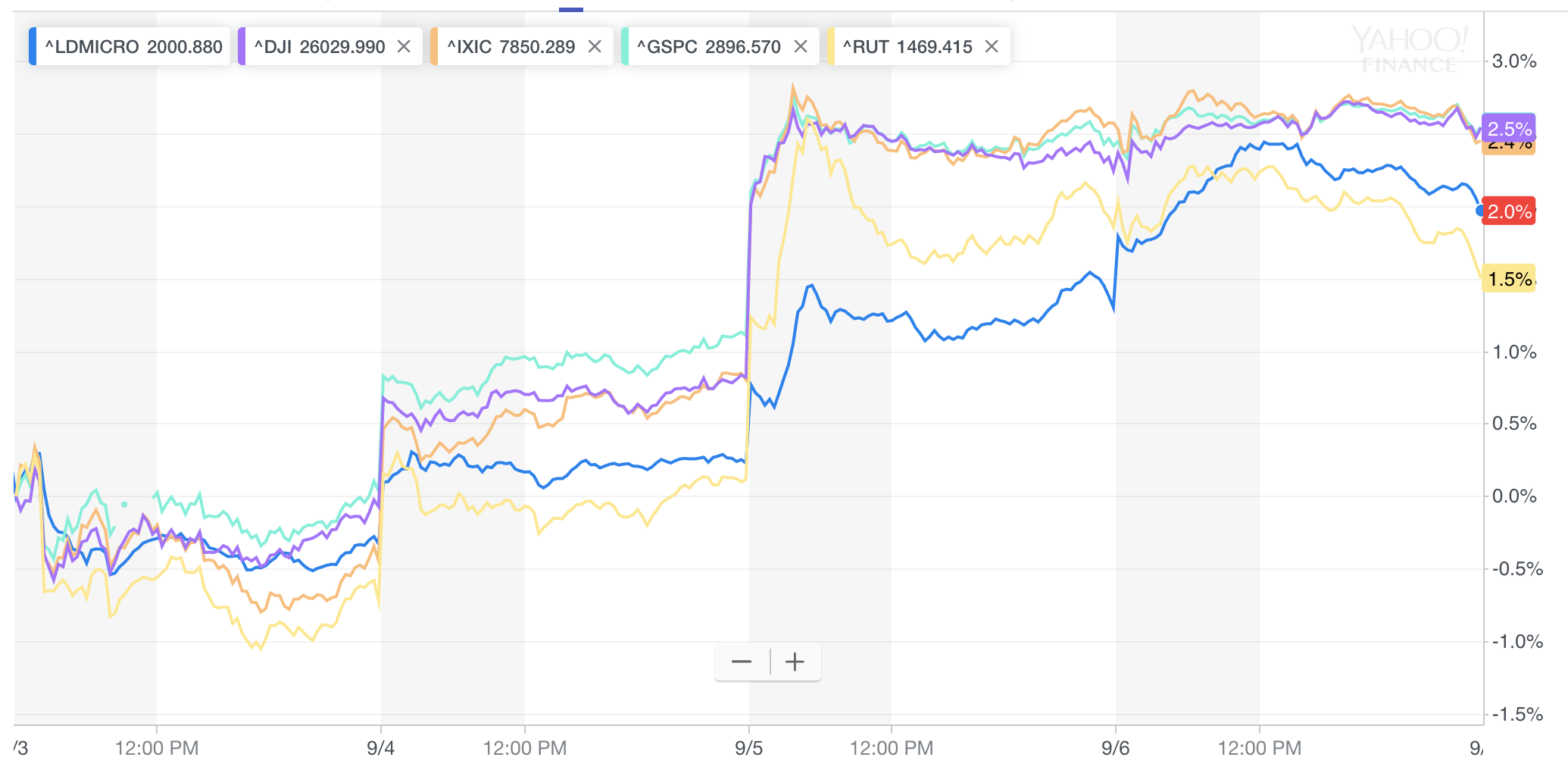 Indexes across the board were higher last week, all due to the chance of a resolution to the ongoing tariff situation.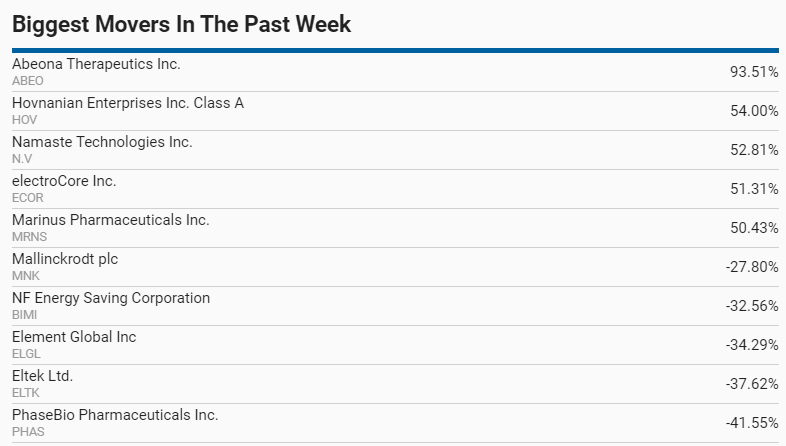 ___
Equities Contributor: Chris Lahiji
Source: Equities News
DISCLOSURE: The views and opinions expressed in this article are those of the authors, and do not necessarily represent the views of equities.com. Readers should not consider statements made by the author as formal recommendations and should consult their financial advisor before making any investment decisions. To read our full disclosure, please go to: http://www.equities.com/disclaimer.
Market Movers
Sponsored Financial Content