Lahiji Fishing Services
Chris Lahiji Follow |

For the first week in quite some time, the LD Micro Index outperformed the rest of the pack, being the only index to end the week with its head above break-even. The Dow Jones was the biggest loser, giving up more than 1% for the week.


Dear Patrons,

I hope everyone is well as we are heading towards summer ending, school starting, and certain financial services resuming.

It was the busiest summer we have ever recorded on the event side, information side, as well as the partnership side.

To cap off the summer, the LD Micro team went on a fishing excursion this past week, entering foreign waters and angling for some aquatic gains. The crew had an excellent time, although yours truly is more comfortable trolling Reddit.

The LD Micro Index was reconstituted at the onset of August, and we were excited to welcome a lot of news names to the roster.

What is interesting to note is that the Index is not doing too well at the moment.

The Russell 2000 (RUT) is up 8.64% YTD. We are down. Down 2.41% to be exact.

This is nearly a ten percentage point difference. This is the exact reason we have the index.

While we are taking a closer look at the numbers, one can only fathom what the reasons are for this discrepancy.

If you ask me, only a select few companies from certain sectors have ripped, while most have stayed relatively stagnant or slightly down for the year.

Our belief is that the market is showcasing some fatigue, and we would be cautious heading into Labor Day.

One name that recently came public that quietly presented at the Invitational was International Money Express (IMXI).

We met with management at the JMP conference earlier in the year at the recommendation of one of our longtime buddies.

This is a man that has rekindled my passion for tennis, minus the injuries, and the double faults.

IMXI is a leading money transfer company that is focused on Latin American countries, most notably Mexico.

Management has had several successful exits in the past, and they are looking to catch lightning in a bottle again.

They reported numbers on Thursday, and it looks like they are on their way.

As for our two events next month (SF and NYC in September), we could not be more excited for the way they are shaping up. These are two of our more intimate events, which is why we rarely mention them and do not list them on the website.

Enjoy the weekend.

Sincerely,

Chris Lahiji
---
Impact. Highlighting Anomalies Amongst the Biggest Gainers & Volume Leaders.
byChristian Galatti (Phase 4 Research)
EKSO +47%, The Robot/Bionic Theme Continues ( (EKSO)) - Validation Overcomes Another Miss.
When Ekso Bionics reported on the 7th, they missed again. Up to then Ekso was down for the year. A result of missing not just once, but the last four times. Their bionic tech out of Richmond (CA), has yet to be truly adopted. A stock trajectory that had been going down since 2014.
Over the last four quarters, the company has not been able to surpass consensus EPS estimates...Ekso Bionics shares have lost about 14.5% since the beginning of the year versus the S&P 500's gain of 6.6%. (Link)
But, instead of going down again Ekso skyrocketed 47% because Ford Motor (F) decided to deploy Ekso Bionics worldwide, allowing the company to raise money instead of possibly slipping under $1.
Ford Motor ($F) has rolled out a robotic exoskeleton vest from Ekso Bionics (EKSO) for its factory workers that promises to lessen the physical toll that building cars and trucks takes on their bodies. (Link)
Bionics is the other robot story (please see earlier work on Teradyne & Ossur) As robots permeate our lives, they will also transform our bodies. At first, limbs and power aids. Next, power ups, and enhancers. It's not just machine learning that investors can profit from. Ekso just got validated.
Company Description: Ekso Bionics® is a pioneer in the field of robotics. For over a decade we have been committed to developing the latest technology and engineering to commercialize wearable exoskeletons and robotic-assist devices in a variety of applications such as medical and industrial markets.
Carver Bancorp Does it Again +49% ( (CARV)) - The Second Monumental Move in 3mos.
Carver is the rare microcap that frequently skyrockets for no apparent reason. The last time it happened in May the company had to put out a press release.
Shares of Carver Bancorp Inc. surged more than 190% in late trade Thursday, on no apparent news. Volume of 5.3 million shares was sharply higher than the company's average daily turnover of about 7,200 shares. Gains accelerated around 1 p.m. Eastern time. The bank is the holding company for Carver Federal Savings Bank, which offers consumer and business banking products and services and has its roots in 1940s Harlem, New York. While the company said it did not normally comment on daily stock news, it said in a statement late Thursday it "has not taken any corporate action that would explain the trading activity and is not in possession of any material, non-public information that would prompt the trading activity," and that "to the company's knowledge, no insiders have sold or acquired any of the company's shares recently." Link.)
So when it happened again this week, there was no press release. Carver has an interesting history rooted in lending to minority groups. They made money in FY18 by selling a building (link.) But, outside of that, nothing. Nothing unusual, not even a buyout rumor would make sense of these gains. Gains that always disappeared; hundreds of percent gone every time. A true stock market mystery that just repeated.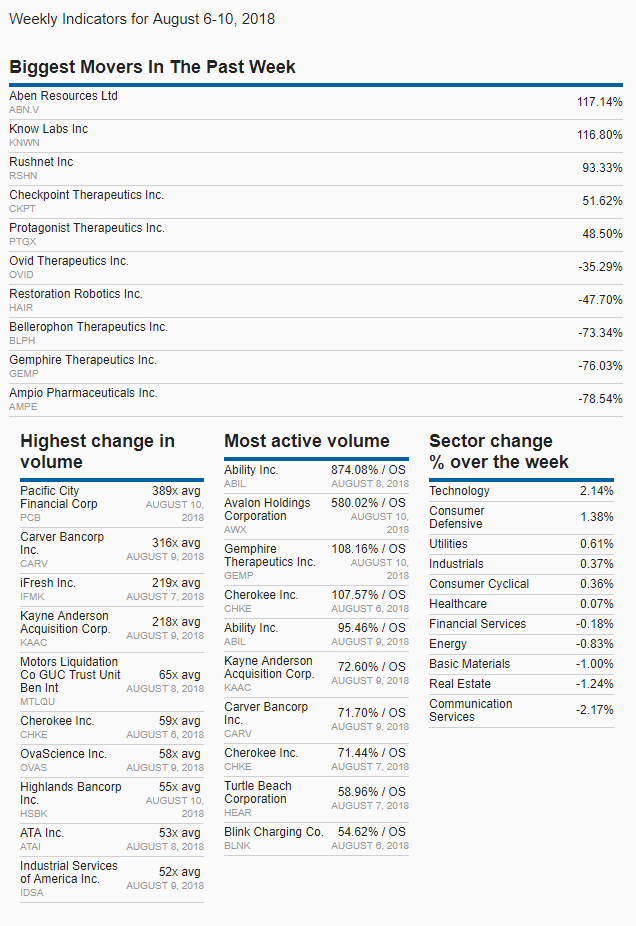 DISCLOSURE: The views and opinions expressed in this article are those of the authors, and do not necessarily represent the views of equities.com. Readers should not consider statements made by the author as formal recommendations and should consult their financial advisor before making any investment decisions. To read our full disclosure, please go to: http://www.equities.com/disclaimer.
| Symbol | Last Price | Change | % Change |
| --- | --- | --- | --- |
| AAPL | | | |
| AMZN | | | |
| HD | | | |
| JPM | | | |
| IBM | | | |
| BA | | | |
| WMT | | | |
| DIS | | | |
| GOOG | | | |
| XOM | | | |
| BRK.A | | | |
| FB | | | |
| JNJ | | | |
| WFC | | | |
| T | | | |
| NFLX | | | |
| TSLA | | | |
| V | | | |
| UNH | | | |
| PG | | | |