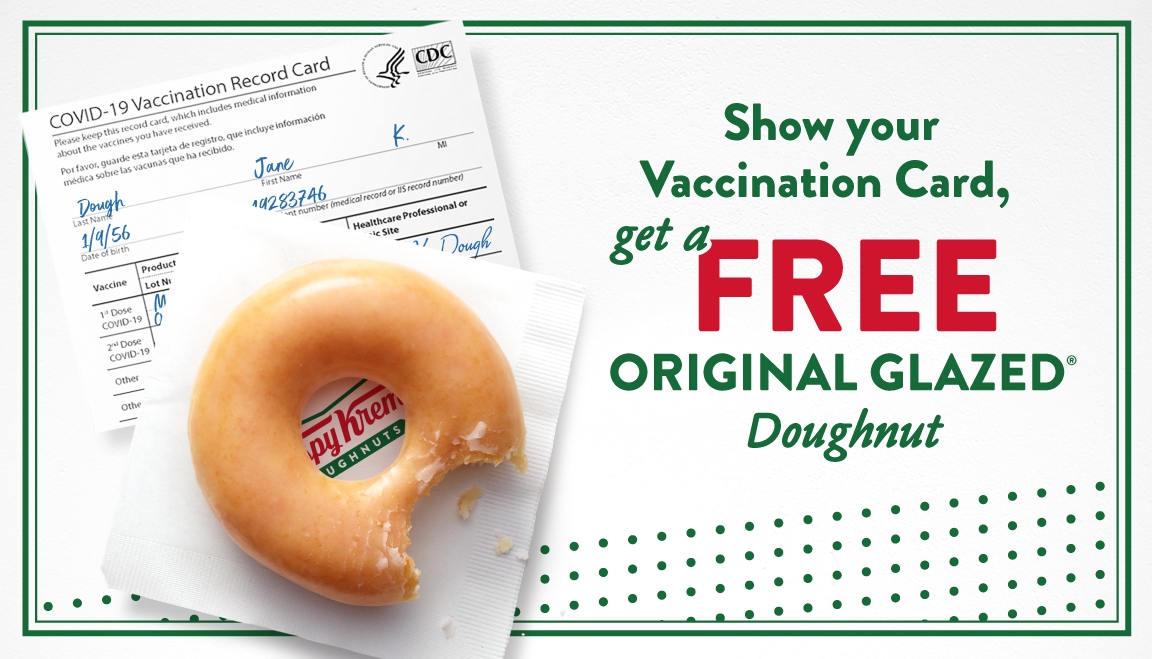 Image source: Krispy Kreme
Krispy Kreme Doughnut Corporation is offering Americans an extra incentive to get a COVID-19 vaccine by giving a free doughnut each day for the rest of the year to anyone who provides proof of vaccination.
Starting Monday, the North Carolina-based bakery chain said it will give a free Original Glazed doughnut to customers who present a COVID-19 vaccination record card from the US Centers for Disease Control and Prevention through Dec. 31, 2021.
According to Krispy Kreme, the card must show that the person has received at least one dose of the Moderna or Pfizer-BioNTech vaccine or the single-shot Johnson & Johnson vaccine.
Vaccine stickers do not qualify for the promotion, and the offer can only be redeemed in person at Krispy Kreme shops or drive-thru windows.
The company is also offering customers a free original glazed doughnut and medium brewed coffee at participating US locations every Monday from March 29 to May 24, something it hopes will help get people's "week off to a good start in these tough times."
"We all want to get COVID-19 behind us as fast as possible and we want to support everyone doing their part to make the country safe by getting vaccinated as soon as the vaccine is available to them," Dave Skena, Krispy Kreme's chief marketing officer, said.
As part of that effort, Krispy Kreme has been offering up to four hours of paid time off to employees to make it easier for them to get vaccinated.
Krispy Kreme also said it plans on sending free doughnuts to select vaccination sites across the US in coming weeks to "support health care workers and volunteers who are helping administer vaccines."
The company went public in 2000 and was a success story for a time, before stumbling in 2004 with its first quarterly loss. It was subsequently mired in accounting scandals for years before rebounding under new management, which led to a successful $1.35 billion buyout by JAB Beech in 2016.
Its doughnuts are sold in 12,000 grocery, convenience and mass merchant stores in the US, and the company has nearly 1,400 retail shops in 33 countries.
Nearly 45 million Americans have now been fully vaccinated, about 13.5% of the total US population. Over 82 million people, almost a quarter of the country, have receive at least one dose, according to the CDC.
_____
Source: Equities News