South Korea's Ministry of Trade, Industry and Energy announced its goal to grow the country's current 1.8% global healthcare market share to 4.0% by 2022 while creating 35,000 new jobs. The plan was outlined in a meeting last week between the ministry and leading healthcare companies and hospitals, including Daewoong Pharmaceuticals, Mediana, Samsung Seoul Hospital, Korea Biotechnology Industry Organization and other local organizations.
As a pilot step, the ministry will select six major hospitals within the first half of 2018 and collect genetic and biometric data of approximately 10 million people, creating a database to be used for the research and development of new pharmaceuticals, to predict major diseases and to detect unusual symptoms in the medically vulnerable clusters. Hospitals will conduct their own data analyses and deliver statistical results only to the Ministry while not divulging any personal identifying information.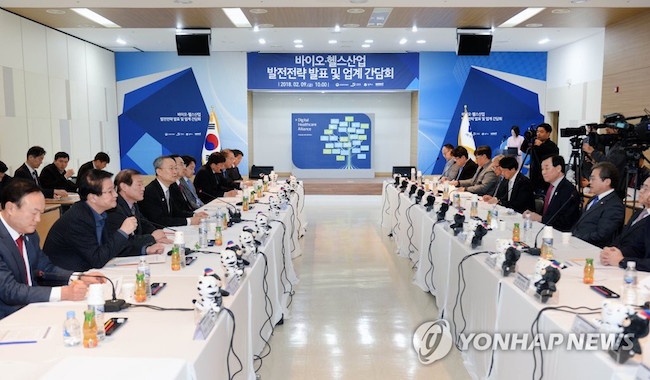 South Korea's Ministry of Trade, Industry and Energy meeting with biotechnology and healthcare companies and hospitals on Feb. 9, 2018 (Source: Yonhap News).
Our country retains a world-class level bio database, thanks to the vast digital medical system. Through further deregulation and a phased public fund program, we will help local pharmaceutical and medical device companies expand into the global market.
Baek Woon-gyu, South Korean Minister of Trade, Industry and Energy
The Ministry is also considering ways to connect healthcare data with other channels, such as cars, communications and cosmetics. For example, cars might come equipped with health status monitors that could trigger a call to emergency responders if unusual or problematic signs are detected. Additionally, a smart city pilot project is scheduled to launch in 2020 to provide citizens with a comprehensive healthcare management service based upon personal health information, weather and environmental factors.
Please email us at [email protected] to see our Case Studies and Testimonials.
Please click here if you would like information on our new trading platform.
Please click here if you would like to see our weekly newsletter.