Keeping It Cool
Chris Lahiji Follow |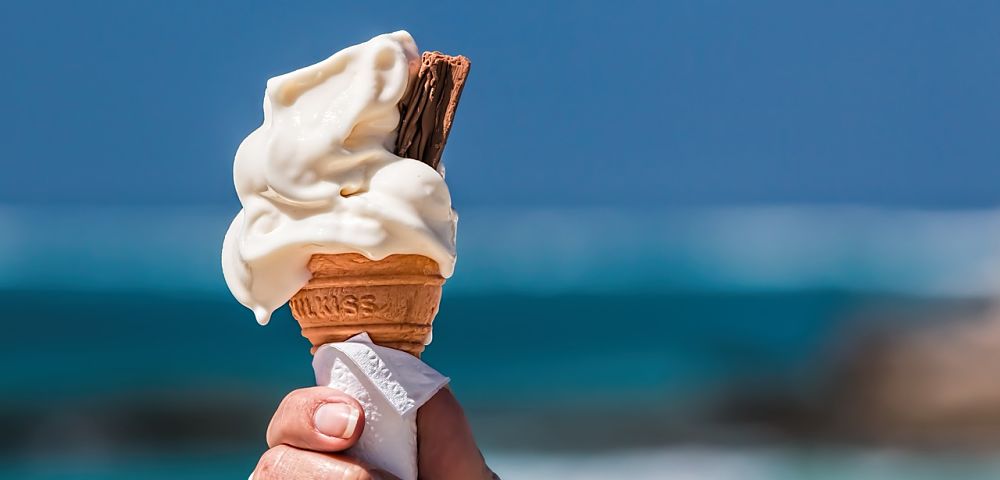 Dear Patrons,
We are hosting LD Micro's first-ever east coast event this week in NYC, and are buried in preparation. No matter how it may seem, it does not get much easier to put together events.
For now, please enjoy the insights below.
Sincerely,
Chris Lahiji
---
Impact.
Highlighting Anomalies Amongst the Biggest Gainers, Losers, & Volume Leaders.
by Christian Galatti (Phase 4 Research)
Cool Holdings ( (AWSM)), +266% For the Week...Information Imbalance, A 500% Winner Sitting in Plain Sight.
The paradox of micro-cap is that it takes the more research than larger caps to complete due diligence, yet the sector has the least information available, just adding to the risk/reward profile of the entire space. When Cool Holdings announced a new direction to get noticed, it went completely unnoticed. Cool Holdings even changed its name from InfoSonics (IFON) to make sure that investors knew they were shifting. Included was an investor relations program that would eventuate into such words as "leverage resources," "grow sales", and "increase profitability." Successive announcements promoting something new out of the Company went absolutely nowhere, until it went up 500% in a month; most of it this week.
"The name change to Cool Holdings represents a shift and diversification of our strategy," said Andy DeFrancesco, Chairman of the Board. "Effective today our focus is to continue the expansion of our strong partnership with Apple®, one of the world's largest and most iconic brands, and to exploit additional investment and acquisition opportunities of minority and majority interests in other premium retail brands to accelerate profitable growth."
When they changed their name they were in the threes. When they said they were really trying to enhance shareholder value the stock was at four dollars. A month later when they opened their first Apple Store, the stock had moved back into the threes.
MIAMI, Aug. 28, 2018 /PRNewswire/ -- Cool Holdings, Inc. (NASDAQ: (AWSM)) announces the grand opening of its new Apple® OneClick® retail store in the Orlando International Premium Outlet Mall. The 1,500 square foot location will be an Apple Premium Partner store and will offer the entire suite of Apple® products, as well as third party accessories complementing the customer experience. The store will provide service repairs to all product categories with a trained team of Apple-certified technicians.
But when the new AWSM (formerly IFON) announced that the true intention was to expand their third party Apple Stores the stock immediately doubled. And when the Company announced the intent to open 200 new locations, the stock went to $19. A 500% winner sitting in plain sight. An information imbalance that can only be found in micro-cap.
Our plan is to aggressively grow our store footprint from 17 stores today to approximately 200 stores by 2021, provided we can arrange the proper funding. Contemporaneously, we plan to grow sales at our Cooltech Distribution unit. Cooltech Distribution serves as both an internal supply partner to all our OneClick® stores, as well as a supplier to other Apple® and big box retailers. Cooltech maintains direct sourcing relationships with accessory manufacturers such as Bose, Belkin, Clik, EVE, JBL, Klipsch, Moshi, Sonos, Speck, Tech 21, Thule, Transcend and Zagg-Mophie, amongst others. Growing both our retail footprint and our distribution business will enable us to leverage our resources, grow sales and increase profitability." (Link.)

University Bancorp ( (UNIB)), 58X Volume...UNIB Finally Gets Found.
UNIB is the exact same story as Cool Holdings, just over a longer period of time. From $1 to $11 in six years without anybody knowing what it even is. A super profitable bank that is able to take full advantage of the shift to local banking in the Midwest. A shift that is accelerating away from Global, as partisan themes entrench. A company that has significantly grown its revenue...and has structured plans to make more.
Most importantly, the management team has 30 business development projects that it is pursuing, each of which can make a material positive impact on our profitability going forward. Our biggest challenge right now is handling the volume of excellent business opportunities, deciding the prioritization of our limited project management bandwidth, and expanding our project management capacity. For example:
The pipeline of interested mortgage subservicing prospects for our Midwest Loan Services division is the largest it's been in years. Also we are making changes to the software of our core subservicing system that will enable us to offer home equity line of credit subservicing starting no later than March 2019 and have identified three initial customers for that new line of business.
The turmoil in the mortgage banking industry is providing us with excellent recruitment opportunities of seasoned loan originators who fit our model. Our ULG retail lending business is seeing success in recruitment, especially Loan Officers focused on high margin Renovation & Construction to Permanent Lending and high margin FHA/VA/USDA lending programs.
Our faith based lending division is continuing to develop additional markets in states that it has recently expanded into and will be expanding its business further by year-end.
The Company even made a buyout valuation for itself, so that investors could follow the path to undervalued (link.) UNIB is the second example of the extreme information divergence in this space. Micro-cap continues to furnish extreme gains just because nobody knows. After a 900% gain UNIB finally got found.
---
After going from $100 to $300, and nearly back down to $100 in five trading days, Tilray ($TLRY) is the must read story of the week. The company's market cap was briefly above $25b, starting the week off closer to $10b.
Delta 9 ($NINE.V) CFO Passes Away; Colleagues Pay Tribute to a Great Friend and Colleague
ACQUISITION: Firmenich to Acquire Senomyx ($SNMX), Pioneer In Taste Innovation
ACQUISITION: Command Security Corporation ($MOC, +46%) Announces Signing of Definitive Acquisition Agreement With Prosegur for $2.85 Per Share
For Valentino Dixon, a wrong righted - With an investigation Golf Digest helped open, an Erie County court vacated Dixon's murder conviction after he had already served 27 years in jail
Biopharmaceutical Company, Executives ($CLVS) Charged With Misleading Investors About Cancer Drug
Adobe confirms it's buying Marketo for $4.75 billion
New Age Beverages Corporation ($NBEV, +286% for the week) Set to Debut Its CBD Product Portfolio at The North American Convenience Store Show on October 8, 2018
Cool Holdings, Inc. ($AWSM, +266% for the week) Highlights Its New OneClick Apple Premium Reseller ("APR") Store, The First Ever in The Dominican Republic
Federal Circuit Clears Finjan's ($FNJN, +4.8%) '408 Patent and Awards Costs - Court Affirms Two PTAB Inter Partes Findings Against Palo Alto Networks
KushCo Holdings, Inc. ($KSHB, +9.9%) Reports Preliminary Fiscal Year 2018 Revenue of Approximately $51M
Workhorse Group Inc. ($WKHS) Engages B. Riley FBR to Manage Formal Process to Sell SureFly eVTOL
Nuvo Pharmaceuticals ($NRI.TO) Announces Signing of Definitive Agreements to Acquire Commercial Products and Infrastructure from Aralez Pharmaceuticals ($ARLZQ) - Upon closing of the Proposed Transaction, Nuvo would pay Aralez US$110 million in cash
Elio Motors ($ELIO) Kicks Off Security Token Pre-Sale to Fund Production
AVITA Medical ($AVMXY) Announces FDA Approval of the RECELL® System for the Treatment of Severe Burns in the U.S.
The Dow perked up over 2% this week, while the LD Micro Index picked up 1.5%. The Russell 2000 was barely in the green, picking up 20 basis points.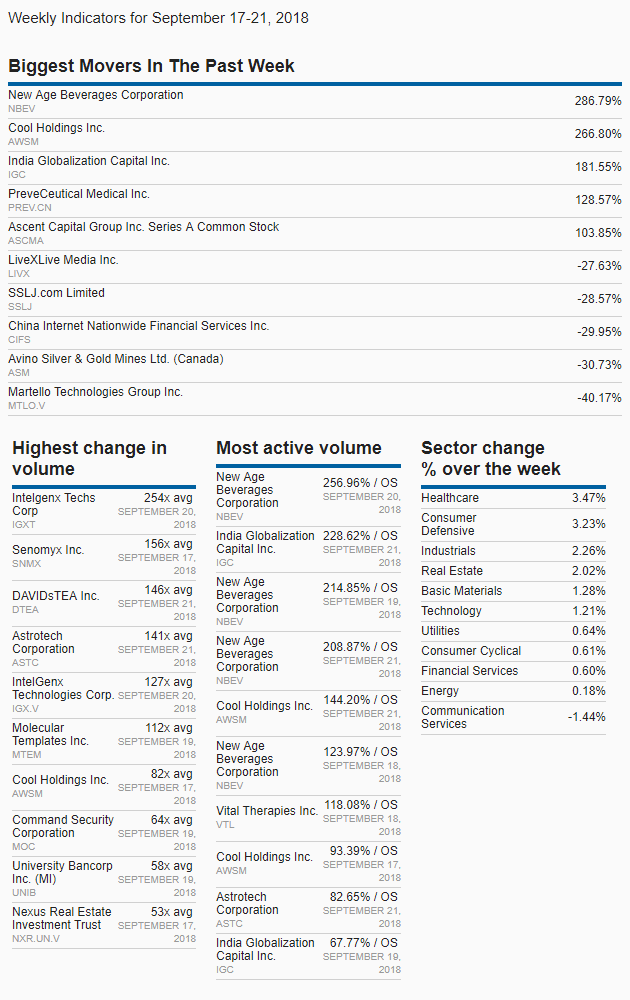 DISCLOSURE: The views and opinions expressed in this article are those of the authors, and do not represent the views of equities.com. Readers should not consider statements made by the author as formal recommendations and should consult their financial advisor before making any investment decisions. To read our full disclosure, please go to: http://www.equities.com/disclaimer
Companies