~ Interim data from first cohort shows no patients have developed severe or life-threatening GvHD ~
Graft versus host disease (GvHD) is a potentially serious complication occurring when a patient who receives a stem cell transplant from a donor (allogeneic stem cell transplantation) is attacked by the newly donated cells. The T-cells in the donated stem cells attack healthy tissues and organs in the new host as if they were foreign bodies. GvHD can be either acute or chronic, and a transplant recipient may experience either or both forms.
According to the Leukemia and Lymphoma Society, chronic GvHD can involve one or more organs, and can affect 20% to 50% of transplant recipients for years after the procedure or even a lifetime. Acute GvHD primarily affects the skin, the liver and the gastrointestinal tract, and affects between 30% and 70% of transplant recipients. Steroids are often given as first line therapy, but is only effective half of the time, with about half of steroid recipients developing steroid-refractory disease, which has a very poor prognosis.
Kalytera Therapeutics [TSX Venture: KALY; OTCQB: KALTF] is developing therapeutics based on cannabidiol (CBD), the non-psychoactive chemical derived from cannabis, with an initial focus on GvHD and acute and chronic pain. The company, with research and development based in Israel and corporate headquarters in San Rafael, California, announced positive interim data today from its ongoing Phase 2 trial of CBD for the prevention of acute GvHD following allogeneic stem cell transplant.

The interim data from the initial 12-patient cohort showed:
No patients receiving CBD at the lowest study dose of 75 mg twice daily have developed severe (grade III) or life-threatening (grade IV) acute GVHD
One patient developed moderate (grade II) acute GVHD after 91 days
CBD has shown good safety and tolerability
Kalytera's study will enroll a total of 36 patients, with each 12-patient cohort receiving a different dose of CBD. The middle dose will be 150mg, while the high dose will be 300mg. All patients will receive CBD treatment for seven days prior to their stem cell transplant procedure, and for 98 days following the procedure. Enrollment of the first cohort is complete, and the company anticipates that all of these patients will have completed the entire 105-day course of treatment by February 28, 2019.
We note that the company disclosed in its press release that two patients in this first cohort have died from causes unrelated to GvHD, and neither of these patients developed GvHD while in the study.
We are very pleased with these interim results to date, which show compelling safety, tolerability and PK data, as well as evidence of potential efficacy. The fact that these positive results were seen in patients in the lowest dose cohort is particularly encouraging. These clinical data confirm our expectation that CBD has potential to become the first pharmaceutical approved for prevention of acute GVHD following bone marrow transplantation.

– Robert Farrell, President and CEO, Kalytera Therapeutics.
Kalytera believes its CBD product formulation is protected against generic competition by two issued US patents covering the use of CBD in the prevention and treatment of GvHD, which provide market exclusivity through approximately 2034. The company has also applied for patents in the EU and other jurisdictions. Kalytera has been granted orphan drug designation by the FDA and the European Medicines Agency, and the company says that the FDA has recommended that Kalytera apply for both Breakthrough Therapy and Fast Track Designations for its CBD products for prevention and treatment of acute GvHD,
With no FDA approved therapy for the prevention of acute GVHD, there exists an important unmet medical need that we believe we can address. We are optimistic that our CBD product will address this unmet need, and will be demonstrated to be a safe and effective means to prevent the onset of acute GVHD. The complete Phase 2 data set should provide strong support for our planned Phase 3 study, which we expect to initiate in 2019.

– Robert Farrell, President and CEO, Kalytera Therapeutics.
The latest results are consistent with those previously announced from two Phase 2a studies. The results from the first of these previous studies were published in 2015 in Biology of Blood and Marrow Transplantation, the official publication of the American Society for Blood and Marrow Transplantation.
Investment issues to consider
Kalytera stock is traded on the TSX Venture Exchange and on the OTCQB. The company has been public since a 2016 reverse merger into Santa Maria Petroleum, and it acquired the relevant technology for its CBD product formulation through its acquisition of Talent Biotechs in February 2017 Dr. Moshe Yeshurun, Kalytera's current Chief Medical Officer, was the principal investigator for both of the previous Phase 2a studies, which were conducted in Israel at the Institute of Hematology, Davidoff Center, within the Rabin Medical Center. These studies were conducted by Dr. Yeshurun prior to the date he joined Kalytera.
The stock is trading at C$0.07 and is more active in Canada than in the US, with average daily volume over the past three months of about 2.4 million shares and 254,000 shares, respectively. Market capitalization is about C$19 million, or US$15 million. The company announced yesterday that it had raised C$605,430 in gross proceeds from a sale of 11,532,000 units, each consisting of one common share and one two-year warrant. While we anticipate that the company will continue to have short term capital needs as we approach 2019, it's essentially a call option on CBD at current valuation. We will be watching closely for continued clinical data that reinforces the encouraging results we've seen thus far in acute GvHD.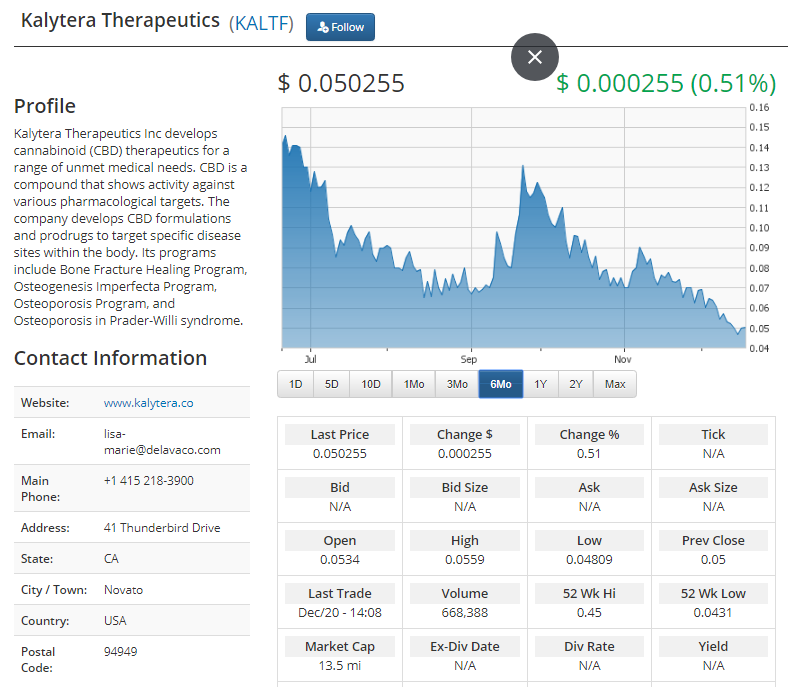 Please email us at [email protected] to see our Case Studies and Testimonials.
Please click here for information on our equity trading platform.
Please click here to receive our free daily newsletter.