The human microbiome is the collection of trillions of microorganisms that co-inhabit the human body and perform vital functions to the maintenance of human health. There are at least 10 times more bacteria in the human body than actual human cells. In an article about the NIH's five-year Human Microbiome Project in the The New York Times in November 2017, Jane E. Brody wrote that the human microbiome represents "what is perhaps the most promising yet challenging task of modern medicine: Determining the normal microscopic inhabitants of every organ and knowing how to restore the proper balance of organisms when it is disrupted."
We've been following Bedford, Massachusetts, based Kaleido Biosciences since the September 2017 announcement that it had operating in stealth mode for two years under the eye of Flagship Pioneering, the life sciences venture capital firm. Flagship disclosed that Kaleido had been capitalized with $65 million by that time to develop novel chemistries to drive the functional capabilities of the microbiome organ. According to Kaleido, previous microbiome therapeutic strategies had focused primarily on adding or subtracting bacteria to influence the microbes that make up the microbiome. In contrast, Kaleido seeks to influence those trillions of microbes that already reside in the human body.
Kaleido announced today that it had raised a $101 million Series C round of funding from new investors including a wholly-owned subsidiary of the Abu Dhabi Investment Authority, Fidelity, Invus, and Rock Springs Capital, along with Flagship and a number of undisclosed investors.
Source: Kaleido Biosciences
We believe Kaleido has the potential to break the mold of traditional therapeutic product development. In just three years Kaleido has conducted 10 human clinical studies, produced a robust pipeline and assembled a world-class leadership team.
– Noubar Afeyan, Founder and CEO, Flagship Pioneering.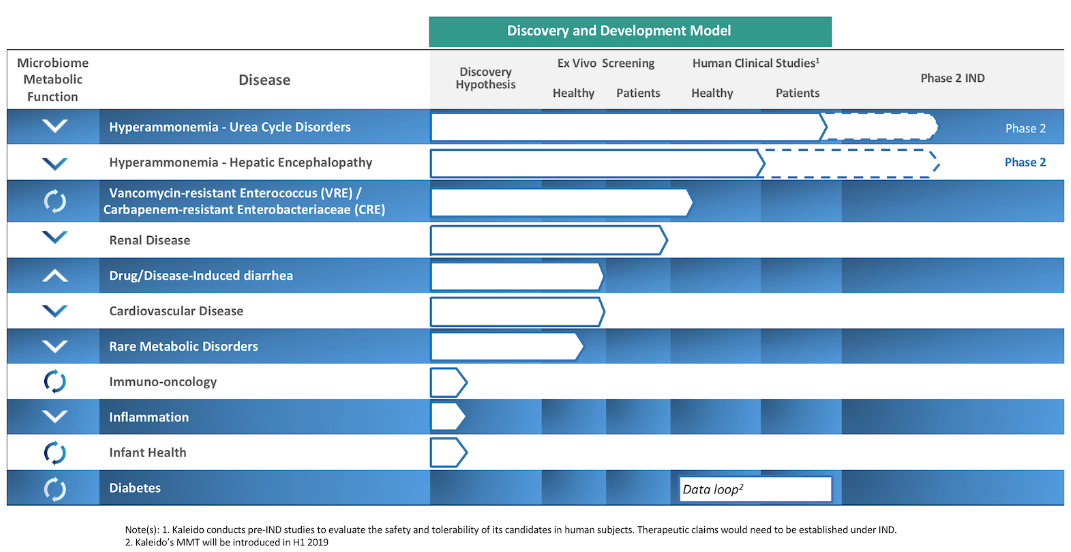 Kaleido CEO Mike Bonney was CEO of Cubist Pharmaceuticals, which was acquired by Merck MRK for $9.5 billion in 2015. Mr. Bonney oversaw the development and release of the antibiotic Cubicin at Cubist. Prior to Cubist, Mr. Bonney worked at Biogen, where he launched Avonex, a leading treatment for multiple sclerosis. He is Chairman of the board of Alnylam Pharmaceuticals ALNY and the Bates College Board of Trustees. He is also on the board of Celgene CELG and the Whitehead institute for Biomedical Research.
Flagship has funded more than 100 scientific ventures resulting in $20 billion in aggregate value, over 500 issued patents and over 50 clinical trials. Flagship is behind several leading microbiome companies, including Seres Therapeutics MCRB, Evelo Biosciences EVLO and Indigo Agriculture.
Please email us at [email protected] to see our Case Studies and Testimonials.
Please click here for information on our new trading platform.
Please click here to see our weekly newsletter.