Just the FACTS®
Trust Across America (TAA), which I co-founded with my wife Barbara in 2009, has been tracking the performance of America's most trustworthy public companies, and the results are nothing short of staggering. These companies have produced an 82.9% return (green line) vs. the S&P's 42.2% (blue line) since August 2012. These results are based upon a monthly re-balanced list of picks rather than an actual portfolio.
Every week, I will highlight another outstanding company that leads with trust as defined by our FACTS® Framework. Companies do not know they are being evaluated, nor do they participate in the analysis via surveys or interviews.
This week we focus on Manpower Inc. (MAN) who received the distinction of being named the Most Trustworthy Public Company 2013 by TAA. Manpower provides staffing and outsourcing solutions to the Americas, Southern Europe, Northern Europe, and the Asia Pacific Middle East regions.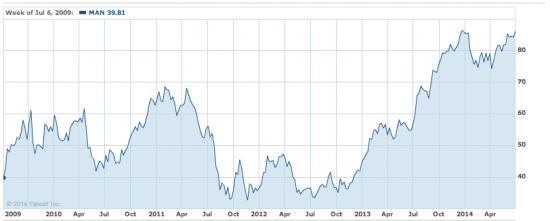 We're not the only ones who believe this company leads with trust. Their accolades and awards can be accessed here.
We hope you have enjoyed this first Just the FACTS® post. Come back next week as we profile another trustworthy company. Trust works!
By Jordan Kimmel, Chief Investment Officer at Investview, Inc. (INVU). Jordan can be reached jkimmel@investview.com or 732-380-7271
DISCLOSURE: The views and opinions expressed in this article are those of the authors, and do not represent the views of equities.com. Readers should not consider statements made by the author as formal recommendations and should consult their financial advisor before making any investment decisions. To read our full disclosure, please go to: http://www.equities.com/disclaimer