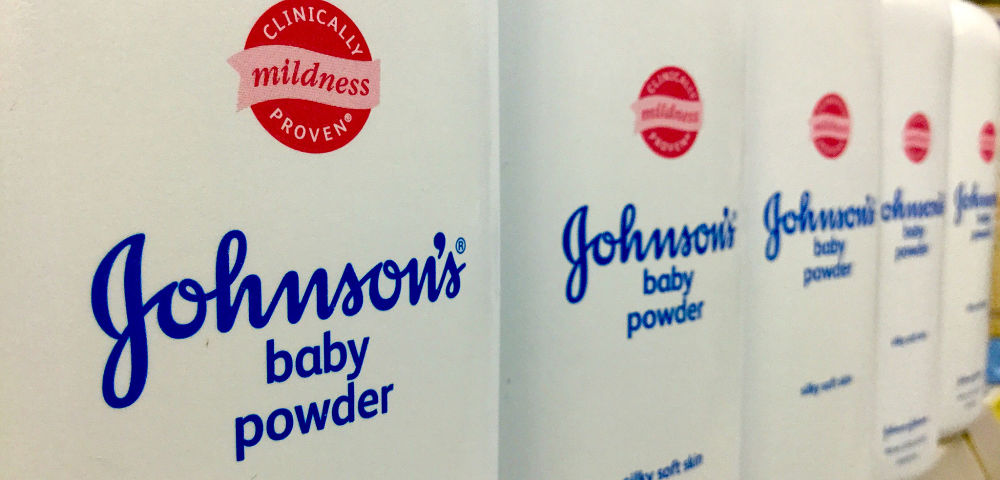 Image via Mike Mozart/Flick CC
Johnson & Johnson JNJ, after being hit with a devastating $4.7 billion jury verdict, is facing a new trial in New Jersey. Opening statements began on September 17, while a jury in California continued deliberations in another J&J trial.
In both cases, plaintiffs claim the company's talc powder contained asbestos and that exposure caused injury.
In the New Jersey case, which is being heard in Middlesex County, plaintiff Rosalind Henry claims Johnson & Johnson's Baby Powder caused her mesothelioma. In opening statements, her attorney said she used the power on her infant children nearly every day between 1967 and 1977, and would occasionally use the powder on herself until 1990. Ms. Henry was diagnosed with mesothelioma in 2016 at the age of 68 and claims her illness is the result of inhaling asbestos fibers in the talc powder. Mesothelioma can take 20-50 years to develop.
The trial comes after the company lost another case at the same court. A jury awarded $117 million to the plaintiff in the preceding case, including $80 million in punitive damages.
The current lawsuit initially included claims against the Colgate-Palmolive Company and J&J's talc supplier Imerys, but both companies settled out of court during jury selection. J&J is the sole defendant in the case.
As the trial begins in New Jersey, a jury in California is still in deliberation. Imerys was also named in the case, but they settled just before the jury began its deliberations.
These trials differ from others, mostly filed by women who claimed that J&J's talc powder products caused ovarian cancer. Most of the arguments have revolved around the talc itself being carcinogenic, but in July, a jury returned a $4.7 billion verdict in a trial that claimed asbestos in the talc powder caused ovarian cancer.
J&J is facing thousands of lawsuits, but the cases have done little to budge the company's stock. In fact, J&J's stock is trending upwards. Since March 27, 2018, the stock has risen from 127.21 to 142.88 on September 21.
J&J has outperformed the S&P 500 during the last two bear markets, and the company has 10 promising products in the pipeline. They also have a New Drug Application (NDA) for a new type of depression medication, known as esketamine. Esketamine takes a different approach to depression treatment by targeting the NMDA receptor.
The pending lawsuits are not likely to affect J&J's stock in the near future, but it's important for investors to keep an eye on eskteamine's trials and upcoming drugs in the pipeline.