Johnson & Johnson's JNJ 4th quarter earnings beat analysts' estimates yesterday, as the company reported adjusted EPS of $1.97, up 13.2% year over year, on revenue of $20.4 billion, up 1.0%. Consensus estimates were calling for $1.95 on $20.3 billion. J&J has beaten consensus earnings estimates 21 quarters in a row, according to CNBC, while beating revenue expectations in 14 of the past 21 quarters. For the full year 2018, J&J posted adjusted EPS of $8.18, up 12.1%, on revenue of $81.6 billion, up 6.7%. It's a notable performance, to be sure, but the reaction was muted by the company's lower than expected revenue guidance for 2019. J&J announced an EPS range for the full year ahead of $8.50 to $8.65 on revenue of $80.4 billion to $81.2 billion. While the earnings projection is in line with estimates, consensus revenue expectation was $82.7 billion, according to Barron's.
Strong performance from core portfolio…
The good news is that J&J remains a consumer and healthcare powerhouse, with 26 core platforms and products under the tent that generate over $1 billion each in annual revenue. 12 of these platforms and products produce over $2 billion in annual revenue apiece. The company is also seeing accelerated growth from its medical device franchise.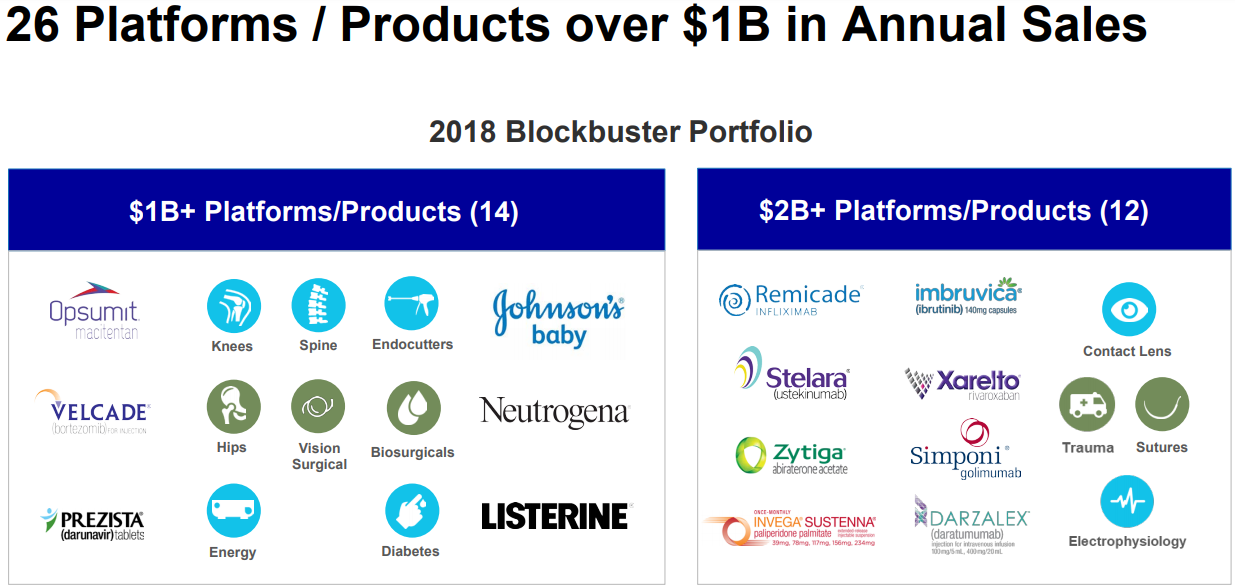 Source: Johnson & Johnson presentation, Jan 22 2019.
… But there are serious headwinds in 2019
The bad news, however, is that the company faces serious headwinds in 2019 and beyond. While J&J highlighted three of these considerations in its earnings presentation yesterday—competition from generics and biosimilars, pricing pressures and foreign exchange—we find it remarkable that the company didn't include a fourth bullet on this slide, i.e., the ongoing impact of product liability litigation.
Additionally, the Q4 2018 performance might be difficult to repeat, as it was aided by a lower than expected effective tax rate of 2.6% that was influenced by last year's tax cut. According to Barron's, Credit Suisse analyst Vamil Divan, who maintained his Outperform rating on the company, qualified the Q4 beating of estimates as "low quality" because of this.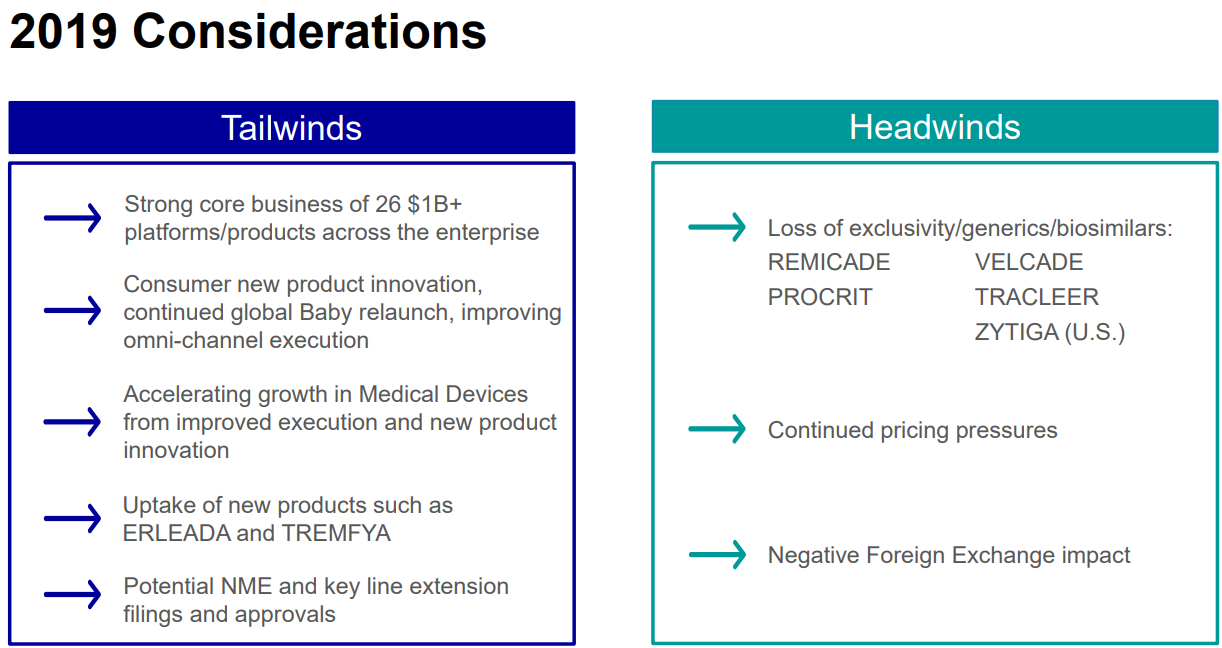 Source: Johnson & Johnson presentation, Jan 22 2019.
We remain focused on bringing innovative solutions to patients and consumers globally as well as driving strong growth while anticipating biosimilar and generic impact to some of our Pharmaceutical products in the near term, which we expect will impact sales by approximately $3 billion.

– Joseph Wolk, EVP and CFO, Johnson & Johnson, on Q4 earnings call, Jan. 22, 2019.
In addition to the significant pressure from generics and biosimilars, we think the ongoing product liability cases should be at least as large a concern for investors. In the 4th quarter, J&J set aside $1.288 billion for litigation expense, compared to only $645 million in the 4th quarter of 2017. For the full year 2018, the litigation expense was $1.991 billion, compared to $1.256 billion in 2017. We don't think it's likely that this line item will decrease in 2019.
J&J won't file its Form 10-K until February sometime, but we reviewed the Form 10-Q for the 3rd quarter 2018 and saw that the company disclosed there are 102,600 ongoing product liability cases. The cases related to the talc baby powder are perhaps the most infamous and were recently the focus of a thoroughly researched investigative piece by Lisa Girion at Reuters, who wrote in December 2018 that the company knew for decades that there was asbestos in its baby powder:
J&J has been compelled to share thousands of pages of company memos, internal reports and other confidential documents with lawyers for some of the 11,700 plaintiffs now claiming that the company's talc caused their cancers — including thousands of women with ovarian cancer.

A Reuters examination of many of those documents, as well as deposition and trial testimony, shows that from at least 1971 to the early 2000s, the company's raw talc and finished powders sometimes tested positive for small amounts of asbestos, and that company executives, mine managers, scientists, doctors and lawyers fretted over the problem and how to address it while failing to disclose it to regulators or the public.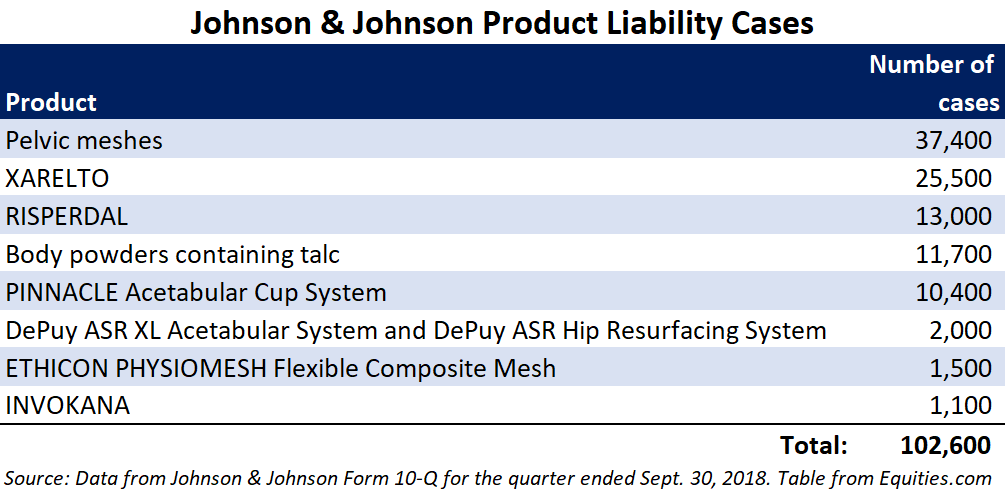 In July 2018, a St. Louis jury awarded $4.69 billion—$4.14 billion in punitive damages and $550 million in compensatory damages—to 22 women and their families who claimed asbestos in J&J's baby powder the products caused them to develop ovarian cancer. It was the sixth largest product liability verdict in US history, according to Bloomberg.
We note that J&J has appealed this and other decisions and has also won several recent cases. But that doesn't mean they're going away anytime soon. For example, the 13,000 cases involving J&J's antipsychotic drug RISPERDAL, are continuing to generate significant attention. In one trial expected to begin in Pennsylvania in February, the plaintiffs allege that J&J illegally marketed RISPERDAL to children and that the company knew that gynecomastia was a much more common side effect in adolescent boys than the 1 in 1,000 patient warning that was advertised. According to Law360, a Pennsylvania state judge is weighing whether or not J&J CEO Alex Gorsky should be compelled to give testimony.
We look forward to digging into the Form 10-K when it's released, and in the meantime continue to view J&J as a strong consumer and healthcare company that is clearly vulnerable to further headwinds from price and product competition in addition to the mounting product liability cases.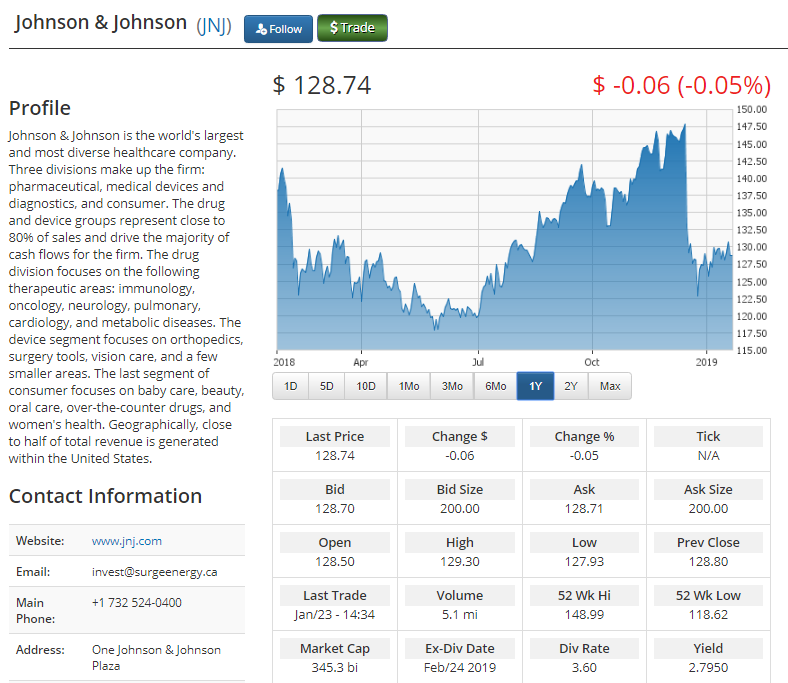 Please email us at [email protected] to see our Case Studies and Testimonials.
Please click here for information on our trading platform.
Please click here to see our daily newsletter.