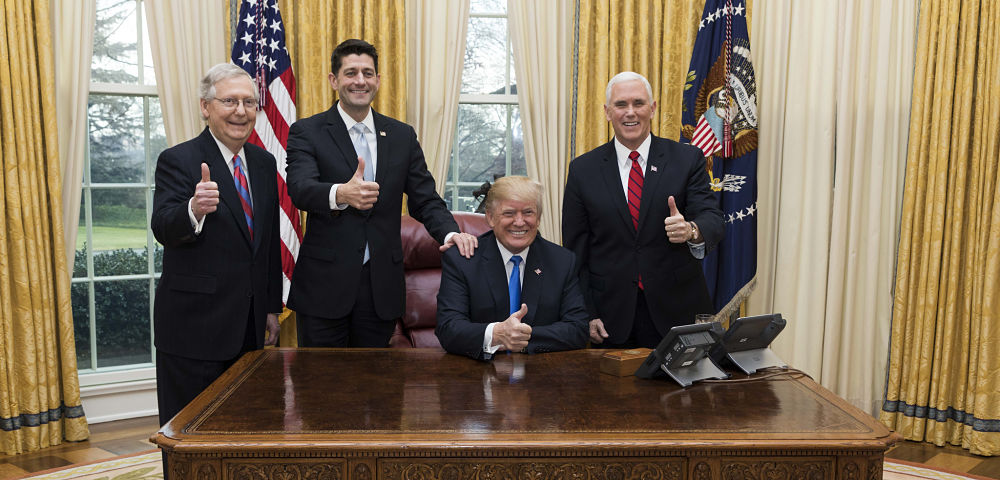 John Oliver took aim Donald Trump's recent tax reforms and how corporate tax rates for remain far too low for major US companies.
On his HBO show Last Week Tonight, the British comic called taxes "essentially the government's GoFundMe page" as the US edges closer to the deadline for tax returns.
He played footage from a recent speech where Trump claims that his reforms would benefit workers such as cops and pipe-fitters – people Trump said liked him the most.
"That is clearly nonsense, because if this bill were really helping the people that like Donald Trump best, it would exclusively benefit Eric Trump, Roseanne Barr and anyone who's ever looked both ways before whispering, 'It was the Jews,'" he joked.
The corporate tax rate was also lowered from 35 to 21%, although, as Oliver pointed out, most companies have been paying closer to 24% in recent years, even before the reform. Many of the country's biggest firms also continue to move assets overseas to avoid paying tax in the US.
"The good news is that Trump's tax bill actually forces companies to pay taxes on all the money they've stashed overseas," he said. "The hope is that they will then bring it home in something called repatriation. The bad news is that the tax they're being forced to pay, which may have once been 35%, has been slashed to as little as eight to 15%, which seems less like a punishment and more like actively rewarding companies for tax avoidance."
The Republicans claim that this will lead to more jobs, but Oliver isn't so sure. "Anything theoretically could lead to jobs," he said. "You could say 'I'm dipping this badger in fudge to create jobs' and I can't prove that you won't create any jobs by doing that. But I can argue that if creating jobs is your main goal, there are probably better ways to do it."
Instead, companies have been rewarding shareholders. Recently Trump claimed that Apple creating 20,000 new jobs was down to his reform, yet as Oliver said, this would have happened anyway and is consistent with their strategy.
"We just had a huge chance to reform our tax code and we absolutely blew it, because effective tax reform is not just about lowering rates, it's about closing loopholes," he said.
Oliver continued: "Our tax code is still full of loopholes, and however much Trump talked about how tax reform would benefit cops and pipe-fitters, it's worth mentioning that when Trump got behind closed doors, his message seemed to change."
Reports claimed that after the reform passed, Trump told guests at Mar-a-Lago that they would all be getting richer. "Rest assured that Donald Trump's tax reform continues to let companies engage in sophisticated tax avoidance schemes," he said.