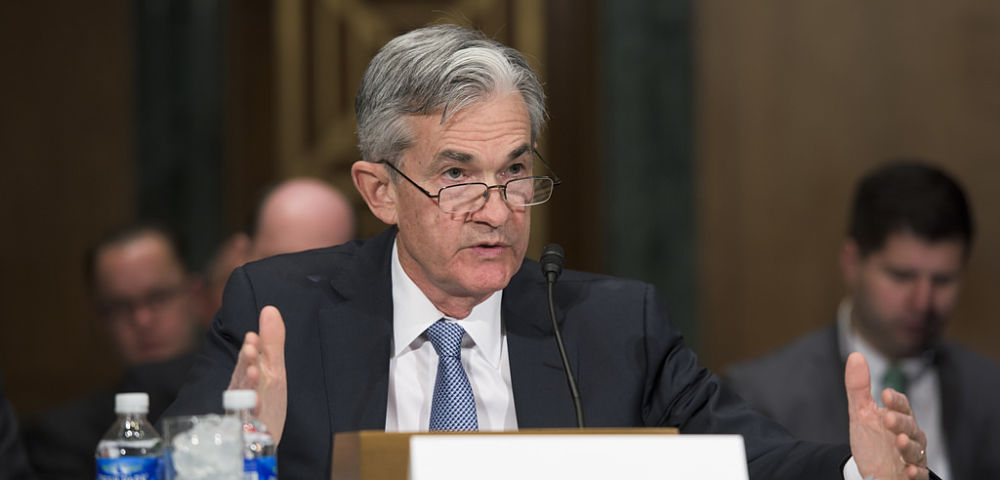 With interest rates continuing to creep up, there's a changing of the guard at the Federal Reserve. In my travels and during conferences, I've spoken with many fixed-income investors who wonder how they can best prepare for the uncertainty these changes might bring, notes Frank Holmes, CEO of US Global investors and editor of Frank Talk.
I'll share my favorite idea below, but first, a few words on the new head of the Fed, Jerome Powell. The U.S. Senate voted in January to confirm Powell as the next chair of the U.S. central bank, and I don't believe I'm alone in seeing his appointment as a political compromise.
Although he has vowed to stay the course with former chair Janet Yellen's cautious rate hikes—something President Donald Trump was in favor of—Powell is a skeptic of financial regulations.
To be clear, he's expressed approval for some of the Fed's oversight of the financial market, but he's also pointed to areas where he thinks regulation may have become too burdensome—especially to small regional and community banks. In his November confirmation hearing, he said he supported "tailoring" regulations to fit the institution.
A former lawyer, businessman and investment banker, Jerome Powell gained experience working in the public sector in President George H.W. Bush's Treasury Department. After Bush's presidency came to an end, he joined the private equity firm Carlyle Group, where he enjoyed a very lucrative career. The latest financial disclosure from June 2017 shows his net worth at between $19.7 million and $55 million, making him the wealthiest Fed chair since banker and economist Marriner Eccles, who held the position from 1934 to 1948.
Despite his vast wealth, Powell is known among friends and colleagues as being frugal and "annoyingly normal." A resident of Chevy Chase, Maryland, he regularly rides his bike the eight miles between home and work.
He also has a reputation for being bipartisan and unafraid to stand up to members of his own party. In 2011, when congressional Republicans were threatening to allow the government to default on its debts if their policy wish list was not met, Powell met with a number of GOP lawmakers, urging them to reconsider their strategy by pointing out the serious risks involved.
"In my experience, the best outcomes are reached when opposing viewpoints are clearly and strongly presented before decisions are made," Powell stated in a March 2017 speech at the West Virginia University College of Business of Economics.
Unlike his immediate predecessors—Yellen, Ben Bernanke and Alan Greenspan—Powell is a lawyer by training, not an economist. However, colleagues are reassured that his five years serving as a governor of the Federal Reserve Board have adequately prepared him for the top job.
In fact, his unique background might very well make him more flexible and less entrenched when it comes to economic theory. The Fed and its members tend to be highly academic in nature, and Powell's pragmatic, real-world style could prove to be a valuable asset.
With Powell set to carry out the Fed's process of raising short-term interest rates and gradually unwinding a $4.2 trillion portfolio of mortgage and Treasury securities, fixed-income investors are contending with big risks. Adding to these are the prospects for higher inflation as a result of faster economic growth.
So what are we doing at U.S. Global Investors to manage our funds in the face higher yields? Our Near-Term Tax Free Fund, which offers tax-free municipal income, appears to be well-positioned to minimize the impact of rising yields by keeping a short duration.
Traditionally, shorter duration funds have outperformed longer duration funds in periods of rising rates. Longer-term funds, conversely, have done better when rates were in decline.
Additionally, in an effort to mitigate the impact of Fed rate increases on the front end of the curve—where we are largely positioned—we are tactically employing a cash buffer as well as maintaining exposure to floating rate notes. This defensive positioning is designed to help safeguard investor's capital while still providing an attractive risk-adjusted yield income.
Frank Holmes is CEO of US Global Investors and editor of Frank Talk.

Subscribe to US Global Investor's Frank Talk here…

About MoneyShow.com: Founded in 1981, MoneyShow is a privately held financial media company headquartered in Sarasota, Florida. As a global network of investing and trading education, MoneyShow presents an extensive agenda of live and online events that attract over 75,000 investors, traders and financial advisors around the world.