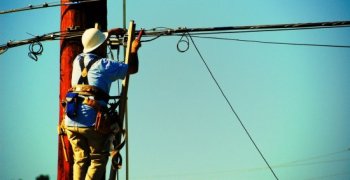 The wireless industry is transforming cable television and IPTV. Watching television on our smartphone or tablet devices over the wireless network is transforming and expanding the entire space with a new approach that offers TV anytime, anyplace, on any device. Two companies are driving this new trend early on: AT&T (T) with Uverse and DirecTV, and Verizon (VZ) with FiOS and Go90. They own and operate both wireless and wire line networks. So far, traditional cable television competitors like Comcast (CMCSA) , Time Warner Cable (TWC) , Charter Communications, Inc. (CHTR) and Cox are struggling to keep up.
Next Generation of Pay TV is Wireless
As an industry analyst, many competitors and investors have asked me about tomorrow. However, while all competitors want to know the direction of the industry, only AT&T and Verizon have actually gone about creating this new environment to date. Traditional cable television companies understand the challenges and opportunities, but they are having a much harder time transforming, since they do not own a wireless network.
Some competitors have a strong understanding of the direction of this industry. However, many do not.
We are still in the very early days of this transformation to the next generation of wireless television. While AT&T and Verizon are actively changing the industry, the competitive pressures they bring are forcing the sleepy cable television companies to wake up and update as well. Last week, Comcast notified Verizon Wireless that they intend to be a player in this space. They are ready to cash in on the promise Verizon made to them as part of the acquisition of the cable TV wireless spectrum several years ago. If Comcast is taking this step, could Time Warner Cable, Charter and Cox be far behind?
Creation of New Industry Sector
Watching a new service and in fact a new industry sector be created from merging two completely different industries is very exciting for investors and customers. In fact, if you pull the camera back, it is exciting for the entire pay TV industry, as we are seeing change and growth. However, the other side of this same coin is the threat and risk associated with this transformation. Not every competitor will thrive going forward.
There are also challenges like limited wireless spectrum, which is the on ramp to this information service. So a real challenge for investors and customers is trying to determine who the leaders will be going forward? Remember when AOL and Prodigy were leaders in the Internet back in the 1990's? Now, leaders in that space are telephone companies and cable television companies. Could we be seeing the same kind of transformation beginning as we blend wireless and pay TV?
Wireless and IPTV Taking Cable TV by Surprise
The entire cable television industry is moving toward IPTV and wireless. Can Cable TV companies hang on while strong and innovative competitors are moving in and taking share? The Pay TV space is suddenly changing so quickly it's taken the entire cable TV side by surprise.
The transformation started a decade ago when AT&T, Verizon and CenturyLink, Inc. (CTL) started to offer their IPTV services called Uverse, FiOS and Prism. IPTV is not cable television, it's television over the Internet. Today, only AT&T and Verizon are in a leadership position in this new space combining IPTV and wireless on their own networks.
Competitors Ask Me Important Questions
Several competitors on both sides of this battle have asked me: What the direction of the changing industry? They are either looking for new ways to expand, or, if they are losing, how to slow and reverse their losses. After a conversation, the result is still the same. The basics of the pay TV industry are changing, and either you change with it, or you will be in trouble.
In addition, every competitor needs to focus on two areas: the actual technology, and updating and expanding their brand in the customer's mind. You've got to win at both in order to be a player going forward. Performing in only one of these areas won't cut it.
Expanding and Updating the Brand
Over the last few years, we have seen IPTV take market share from the traditional cable TV space. In fact, we are now starting to see traditional cable television companies make similar moves into IPTV like Comcast with Xfinity. Only now are cable television competitors thinking wireless as the next step.
While this is important, players must also change, update and expand their brand identity as well or the actual technology changes won't matter. What does the customer think and feel about you? Are you an innovator or are you stuck in yesterday's technology? You must be seen as an innovator in order to continue to grow.
Every company and every product category travels the growth wave. It increases, crests then decreases. If a company is to continue to grow and lead going forward, they must create new growth waves rather than just ride the one they are on today rise, crest and fall with nothing coming next.
Competition is Changing
Yesterday, competition in the television space was limited to television. However, as the wireless industry continues to get faster and better it can handle video streaming. So, suddenly we see customers watching television on their wireless devices over the wireless network. This transformation is radically and rapidly changing the space, as we blend wireless and pay TV. Moves to 5G will only accelerate this level of change.
Satellite TV providers like DirecTV and DISH Network were television only. That is why they both started to lose market share in recent years. AT&T recently acquired DirecTV and I expect this duo to show rapid growth going forward since they offer TV and wireless together.
Dish on the other hand is still on their own with no wireless service for customers to watch TV. I think it will be interesting to watch whatever moves they eventually make going forward. They must do something soon. Is there an acquisition or partnership in the future for this company? I hope so.
Traditional cable TV companies are also at a disadvantage. Most only offer traditional television. Major providers like Comcast have a simple relationship with Verizon Wireless to date. While that was good, as innovation continues they need more. We'll have to wait and see what they do next.
With innovation from AT&T and Verizon, we will likely see competitors like Comcast, Time Warner Cable, Charter and Cox move into this new area. There are plenty of large and small cable television companies. I believe some will transform and others will not. The only question is, which will do well, and which won't?
Since cable TV companies sold their wireless stake to Verizon Wireless several years ago, they are out in the cold right now. They must work more closely with the wireless industry in order to continue to be competitive.
All Competitors Must Update Brand and Technology
The wireless and television industry have begun a major and rapid transformation. It's so important to get started yesterday. There's no time to waste.
The investor has the challenge of choosing the winning companies. The customer has the challenge of choosing the right vendor that will give them what they want as this opportunity unfolds. These are the days when we are shaping this new and combined industry for future growth.
Lead, Follow or Get Out of the Way
There will be leaders, followers and the rest should just get out of the way. Which companies will fall into which category is the challenge whether you are a customer or an investor. The entire industry is in the very early stages of a great transformation. We are watching a new star being born in the universe.
Each player must update their technology and their brand. Without doing both, I believe they won't succeed. We don't yet know whom the winners and losers will be, but things will continue to change going forward. Right now, providers of television, combined with wireless like AT&T and Verizon seem to be the winners, and in the driver's seat of this changing industry.
Equities.com columnist Jeff Kagan is a Wireless Analyst, Telecom Analyst, Industry Analyst and consultant. He shares thoughts on the changing industry, which he's been following for 25 years. He follows what's hot, what's not, why and what's coming next. Email him at jeff@jeffKAGAN.com.
DISCLOSURE: The views and opinions expressed in this article are those of the authors, and do not represent the views of equities.com. Readers should not consider statements made by the author as formal recommendations and should consult their financial advisor before making any investment decisions. To read our full disclosure, please go to: http://www.equities.com/disclaimer