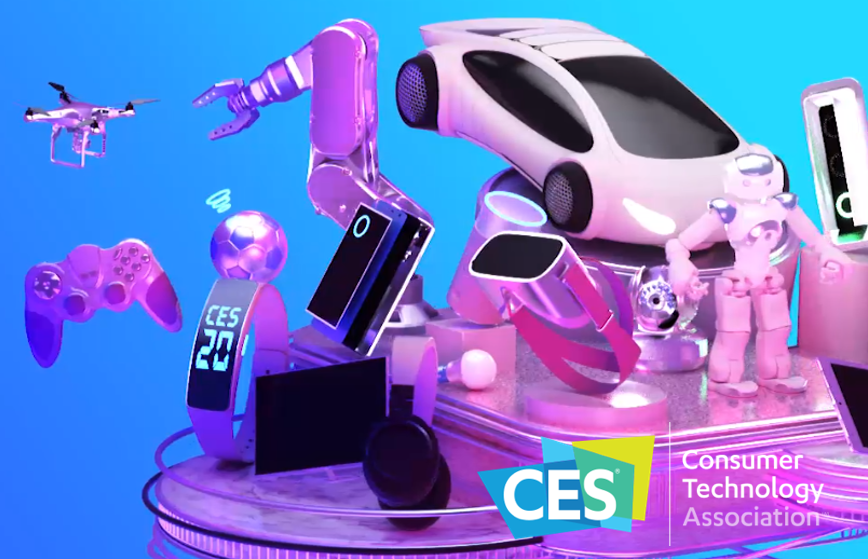 It's that time of year again. The Consumer Electronics Show, or CES 2020, will be in Las Vegas in early January. This is the largest and perhaps the most difficult expo to navigate, but if you can get to all the places, see all the things and meet all the people you want to, it's an incredible show. Let's take a look at what we can expect to see at CES 2020.
First, the Consumer Electronic Show is not for one industry like wireless or telecom or IoT or AI or the Internet or cloud. In fact, the CES is huge and showcases all sorts of new technology from every company in every sector and every industry. Technology for homes, for businesses with B2B and society in general.
Companies must break through all the noise at CES 2020
Companies need to figure out how they will break through all the noise and be noticed at this show. Otherwise, they fade into the clatter and that is not what any executive wants. That's why they schedule briefings with those who can help them tell their story like industry analysts, media, social media influencers and more.
Attendees typically find all the companies they are interested in and follow at the show. As they walk around, it's incredibly educational, preparing you for what is coming not only from that company, but from the industry as a whole—enabling you to make an early assessment of the macro impact on society as well.
Industry analyst, influencer, media briefings at CES 2020
As a key industry analyst, wireless analyst, columnist, influencer and more who talks to the media and on social media, I love to share my opinion on what's new and what's coming. Some companies do a great job of conveying their message. Others fade into the loud chatter of the show.
As you can imagine, in recent weeks I have been getting countless invitations from companies who want to brief me on what they are up to and what's coming next.
What they really want is for me to like them, to get excited and to talk about and write about them. It has been this way for decades.
The choice is simple, either do something to stand above the crowd and the noise, or disappear amid all the ruckus at the show.
Companies need to punch through all the noise at CES 2020
In a perfect world, I would like to say yes to everyone. This is not a perfect world, however, and it would simply be impossible to say yes to every request. That's too bad.
With that said, I do accept invitations from a few companies who really want to meet with me and have me see what they are up to now and what's coming. There are always many more requests than are possible for me to satisfy.
While there are plenty of companies and announcements which really are no big deal, there are also plenty of announcements and companies which are earthshaking and could transform industries and plenty in between.
These are some of the really interesting stories. These are what I try to find. Some are from larger companies and others from upstarts.
Only some CES 2020 products and services will transform industries
In the end, of all these companies with interesting stories, only a few will actually matter as an end result. It takes more than just an amazing idea. Which ones will succeed long-term depends not only on the technology, product or service, but also on how it is priced, along with the marketing, public relations, advertising and more.
There have been many announcements which looked great and generated lots of early excitement, but which never made it to the big time. The ones that did make it involved a great technology, product or service combined with great marketing. They rose to the top.
The lesson here is there are countless incredible ideas on display at CES 2020. Even among just these incredible ideas, however, only a very few will actually make it to the big-time, long-term.
Marketing, PR, media relations, analyst relations, influencer relations are all keys to success
So, it depends on the people driving the company and whether they have great marketing talent and ideas. You need to have an incredible product and the know-how to market it to the top. It doesn't happen by itself.
In today's marketplace, marketing, public relations, media relations, analyst relations, social media relations, influencer relations and more are all key to success, both short-term and long-term.
That's the kind of world we live in. Either rise above the crowd or disappear into all the noise.
I look forward to this year's Consumer Electronics Show and all the amazing technology that will be on display. I want to see how many new technologies blow me away.
Then we wait to see how they roll these products and services out during the year, and how they manage growth. Only a very few will actually succeed long-term and grow.
Finally, at the end of the year, we'll see which ones have captured the marketplace and are succeeding, and which ones are struggling. It's always interesting to watch this consumer electronics process play itself out over time. And like always, there will be plenty of both at this year's show.
CES is enormous, exhausting and numbing, but in the end, it is also the most amazing show and very worthwhile.
Jeff Kagan is an Equities.com columnist. Kagan is a Wireless Analyst, Telecom Analyst, IoT Analyst, Industry Analyst, Influencer, speaker and consultant. He follows wireless, wire line, telecom, Internet, pay TV, cable TV, IPTV, Cloud, Mobile Pay and communications technology. Email him at [email protected]. His web site is www.jeffKAGAN.com. Follow him on Twitter @jeffkagan.
_____
Equities Contributor: Jeff Kagan
Source: Equities News