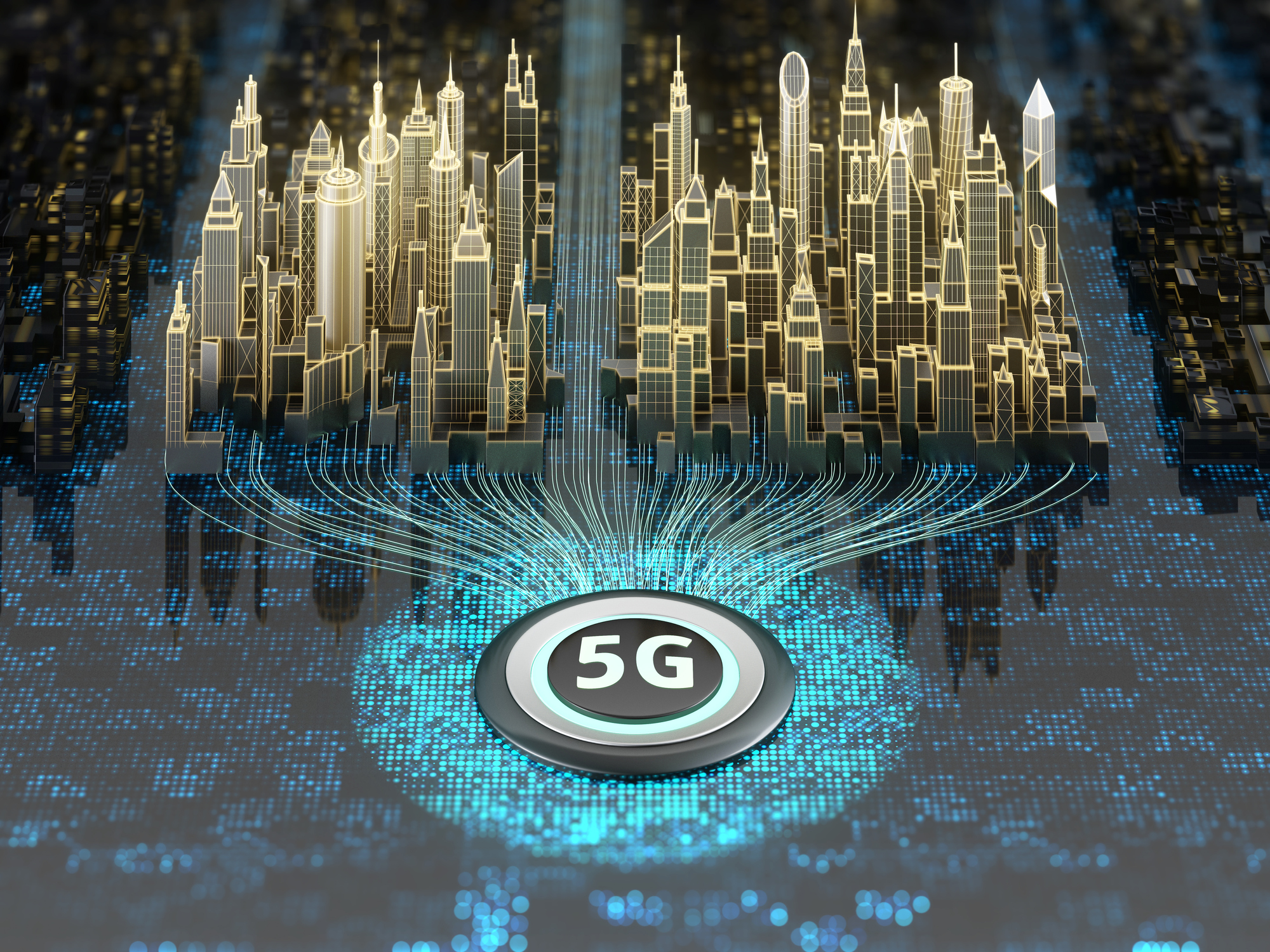 iStockphoto, Laremenko
2020 will be the biggest growth leap in 5G to date. There are enormous opportunities for a wide range of companies like network builders, networks, smartphone makers, tablet makers and other companies who will use 5G to transform their industries. Let's take a closer look at which companies will be players in this growing wireless world.
AT&T just announced their 5G rollout to the consumer marketplace. In fact, AT&T Mobility was the first to start rolling out 5G to the commercial market a year ago. During 2019, AT&T, Verizon Wireless, T-Mobile and Sprint have all started expanding their networks to 5G.
We are still very early in this new 5G wireless game. This means American consumers and business customers in a growing number of cities nationwide will increasingly have access to 5G services, smartphones and tablets.
AT&T, Verizon, T-Mobile and Sprint rapidly upgrading to 5G
5G has begun to roll out across America, and it will increasingly be available for all business customers and consumers from AT&T Mobility, Verizon Wireless, T-Mobile and Sprint. Some smaller carriers like US Cellular and C-Spire Wireless will also be players in their markets.
Then it will continue to expand to other wireless providers as well, who resell these network services. That means players like Cricket Mobile, MetroPCS, Xfinity Mobile, Spectrum Mobile, Altice Mobile, TracFone, Straight Talk and more.
US Cellular, C-Spire Wireless, Xfinity Mobile, Spectrum Mobile, Altice Mobile
There has been quite a bit of chatter about 5G in the last few years. The last year has been especially confusing with all the claims and counter claims from all the competitors.
Bottom line, the excitement is that the 5G race has begun and will run for years to come on both the network and smartphone side. Plus, this time it will also include other companies in other industries like automotive, self-driving cars, healthcare and more.
This is great news for network builders and handset technology companies like Qualcomm, Huawei, Ericsson and others both in the United States and in fact, globally. These leaders will continue to see rapid growth as everything wireless moves to 5G globally in the coming years.
Qualcomm, Huawei, Ericsson and other 5G network and handset makers
Qualcomm and Huawei are the top two key players globally who help networks upgrade to 5G and handset makers with the chips and technology that makes it all work.
Remember, 5G is more than just handsets like smartphones and tablets. It's also the networks which need to be updated. And it's other industries using 5G to transform what they do as well.
In fact, wireless is only wireless from the handset you are holding to the nearest antenna. After that the call is carried over wire line networks.
We are about to see 5G explode with growth for all these companies and industry sectors starting in 2020. And this growth wave will last for many years.
Synchronoss Technologies helps wireless carriers unleash new products and revenue
Synchronoss is a company that helps wireless carriers become more competitive in the race to 5G. They create new profit centers at carriers with new service offerings for their users, both business customers and individual consumers. They help networks better understand how to leverage the power of their new technology to create a competitive advantage.
In this world, it seems every wireless carrier wants to be first in the 5G parade. This is important for early adopters in the consumer market and business market. Business users and consumers who will be first to the 5G marketplace.
However, competitors don't have to be first to be successful. Think of all the other upgrades from 2G to 3G to 4G. There are always those who are first, but all competitors are real players.
Over the next several years, every carrier and handset maker will expand their offerings, making the service and products available to more and more of their networks.
Upgrading to 5G wireless takes time
Upgrades like from 4G to 5G takes time. It starts in the center of a metro area and expands from there. Think of it like planting a seed in a garden and watching it grow into a large plant. Ultimately, it will cover the entire landscape. That's sort of how wireless expands as well.
That means every wireless network should be busy planting their 5G seeds in order to be competitive going forward.
So, as you can see, this is an amazing growth opportunity for every company in the massive 5G wireless industry. That means network technology, smartphone technology, networks, smartphones, tablets and more.
5G wireless will take this same path. It started during this past year and there has been lots of activity among the wireless carriers and handset makers. I expect this growth wave to explode to massive levels starting in 2020.
Expect 5G wireless growth wave to explode in 2020
This means companies like Verizon Wireless, AT&T Mobility, T-Mobile US, Sprint, Apple iPhone, Google Android, Samsung Galaxy, Qualcomm, Huawei and countless others are continually busy with the transition from 3G to 4G, and now to 5G.
5G will start with faster wireless service and very low latency. That means it will not only be a wireless story, but it will be an innovation and reinvention story for many other industries like automotive with self-driving cars, healthcare with remote surgery, retail and so much more.
In fact, it will involve many other industries where latency is an important factor.
5G means faster wireless service and low latency
As an example, let's look at cable TV. 5G will present new growth opportunities for existing cable TV and pay TV competitors. This means new competition for companies like Comcast Xfinity, Charter Spectrum, Altice USA, Cox and many other companies.
Some of these companies don't seem to be taking this competitive threat seriously, yet. It will be interesting to see which will thrive and which will stumble.
Wireless pay TV will present new services which will liberate consumers, allowing them to watch pay TV anywhere and anytime. That means from their TV at home or their smartphone or tablet anywhere in the country.
This is both a threat and a growth opportunity for existing cable TV and the new pay TV. It will be interesting to watch this develop over the next few years.
5G wireless pay TV is game changer for Comcast, Charter, Altice, Cox
This will be a game changer and I believe will both positively and negatively impact many different players.
5G wireless is a major change point in the development of the pay TV industry.
Traditional pay TV or cable TV won't disappear, but it will be challenged, and it will have to share the marketplace with new 5G wireless pay TV, streaming TV services and whatever is coming next.
We've seen this kind of transformation in industry after industry in recent decades. Companies that get it, thrive. Companies that don't, struggle.
5G wireless and streaming services will challenge cable TV
Wireless pay TV will transform the industry. In fact, new streaming services will also transform the industry with brands like Disney+, HBO Max, Apple TV+, Peacock and more.
That means this next generation of 5G wireless has the potential not only to show rapid growth, but also substantial transformation among all wireless companies and other companies in other industries.
This is both a threat and a growth opportunity.
Which companies will lead with 5G wireless?
The next decade will be explosive with growth for some competitors. We all want to know who will lead this growth wave. We wall want to know who we should invest in, work for and buy from?
However, today we are still at the very early stages of this next 5G revolution. So, while it's difficult to say what the marketplace will look like in the future, we can depend on several current leaders to continue to transform themselves and grow.
So, buckle up because 5G is coming on fast and strong for both networks and handset makers, the commercial and consumer marketplace as well as other industries. 2020 is the year all this gets put into high gear and the real exciting times begin.
Jeff Kagan is an Equities.com columnist. Kagan is a Wireless Analyst, Telecom Analyst, IoT Analyst, Industry Analyst, Influencer, speaker and consultant. He follows wireless, wire line, telecom, Internet, pay TV, cable TV, IPTV, Cloud, Mobile Pay and communications technology. Email him at [email protected] His web site is www.jeffKAGAN.com. Follow him on Twitter @jeffkagan.
_____
Equities Contributor: Jeff Kagan
Source: Equities News