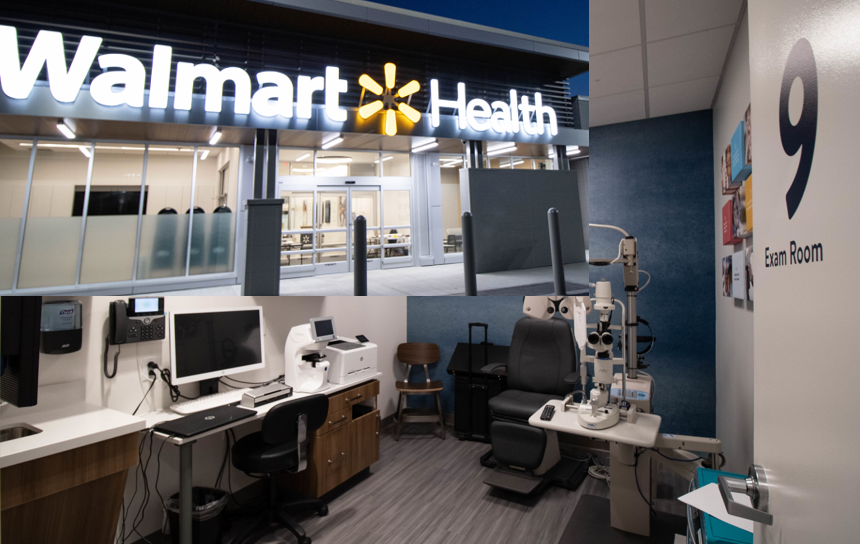 Image: Walmart
Today, no one has heard of Walmart Health, but that could start to change pretty quickly. Healthcare is a broken industry. While it is true that health care companies have seen strong growth, and medical care in the USA is state of the art, the problem is that continually escalating costs and reduced insurance coverage make healthcare unreachable by too many.
This is the world where companies like Walmart [WMT] and Amazon [AMZN] see an enormous growth opportunity. If they play their cards right, this could be just that. It could be a winner for everyone.
However, these are not healthcare companies, so how likely will it be that they are successful? Walmart has tried the grocery business with mixed results. Will healthcare be any more successful?
We have seen new ideas spring up like getting basic healthcare when you visit your pharmacy like Walgreens [WBA] or CVS [CVS]. They have separate health care providers with offices in their pharmacy. So far, these have been good for growth and popular for patients with basic ailments.
Difference between emergency care and chronic healthcare
Remember, there are different types of medicine. This does not take the place of having a regular doctor who gets to know you over time and takes better care of your ongoing or chronic conditions.
However, for those who go to a doctor only when something is wrong, these places seem to fit the bill. So do doctors by phone or video conferencing over the computer.
In communities around the country, local hospitals often have these kinds of satellite offices to take care of the community when they need a few stitches, break their arm or get the flu.
In fact, there are all sorts of new ideas springing up and changing the way healthcare is provided which can make it more convenient and lower the cost.
So, over the next few years, we will see this area continue to expand. Now, non-healthcare brand names we are familiar with like Walmart are entering.
Walmart Health could be for Emergency Room and ongoing medical care
These will be great for the emergency room type visits. What would also be great is a low-cost option to help patients with ongoing treatment of medical conditions.
If a patient could go to a Walmart Health type of doctor's office for lower cost ongoing healthcare options, that would be a popular alternative to the traditional higher cost options that are available today.
Think of this like the way Kaiser Permanente operates. Kaiser is a national provider of healthcare services. You can have a regular doctor see you each time, or you can see a different provider each time. It's your choice.
With Kaiser, you can only use Kaiser doctors. If you have your own doctor and don't want to switch, this is not for you.
So, as new ideas enter the marketplace, it gives consumers new choices. It will be interesting to see the level and type of service Walmart Health provides as time goes by.
Will it be more for emergencies or will it be for ongoing care? Will it be a personal relationship with your own Walmart Health doctor, or will it be different each time you visit like Kaiser?
There is definitely a need for more healthcare options and lower cost opportunities. We are seeing an explosion of new choices, and that is a good thing. This is an exciting time in the healthcare industry whether you are an investor, a patient or a provider with new ideas.
Perhaps this is a great fit for Walmart. Let's hope so. If it works, it will be good news for everyone.
Jeff Kagan is an Equities.com columnist. Kagan is a Wireless Analyst, Telecom Analyst, IoT Analyst, Industry Analyst, Influencer, speaker and consultant. He follows wireless, wire line, telecom, Internet, pay TV, cable TV, IPTV, Cloud, Mobile Pay and communications technology. Email him at [email protected] His web site is www.jeffKAGAN.com. Follow him on Twitter @jeffkagan.
___
Equities Contributor: Jeff Kagan
Source: Equities News