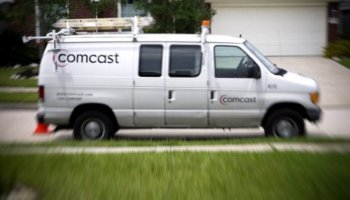 The two mergers between AT&T Inc. (T) and DirecTV (DTV) , Dish Network Corp (DISH) and T-Mobile US (TMUS) could transform and blend the satellite television and wireless space. Why? The reason is simple. Television is going wireless. The television industry is changing, so let's take a look at what it will look like going forward.
The television industry has been changing for years. First there was cable TV. Then satellite TV. Then IPTV from the phone companies. Then a variety of new competitors like Netflix, Inc. (NFLX) , Amazon.com, Inc. (AMZN), Hulu and more will come.
The next big wave of change is television going wireless. What that means is you will be able to watch television on your smartphone and tablet, from any place, the same as you do on your home TV set. You can watch plenty on your wireless devices now, already. The signal is delivered wirelessly or through Wi-Fi. This is brand new, and will transform the television industry over the next few years. It will also transform part of the wireless industry. In fact, it has already begun, and this transformation, while necessary for the TV industry, is another growth story for the wireless industry.
This is big news for television viewers, television service providers, wireless carriers, partners and investors of course. It will also be the path to innovation - new services that we can't even think of today.
Pull the Camera Back
Let's pull the camera back and take a wider view of the changes that are transforming this industry. Cable TV has been growing for decades. They have not treated the customer well, and if there was competition, they would have not done well. However, since there was no competition, they grew.
Now, as competition grows in the television space, companies like Comcast Corporation (CMCSA) , Time Warner Cable Inc. (TWC) , Charter Communications Inc. (CHTR) , Cox, Cablevision Systems Corporation (CVC) and others are losing customers. Their market share is shrinking.
---
---
Customers are going to new players like IPTV from the phone companies. AT&T Uverse, Verizon FiOS (VZ) , CenturyLink Prism (CTL) are three players really winning the competitive battle with the cable industry. And companies like AT&T with Uverse have been winning quality and service awards.
That is one wave of change that is transforming the television industry. A second wave of change is providing new services like letting the customer get their television signal over the wireless network on their smartphone and tablet. This is new and will continue to grow. There will be other waves of change as well, but first things first.
Pay TV Reinventing Itself
Pay TV is an industry that is reshaping itself. Yesterday, we used to come home at a certain time, sit on our couch and watch TV in our living room. However, television is changing. Increasingly we can watch whatever we want, whenever we want, wherever we want, and on whatever device we want.
Traditional television is not going away, but this additional way of watching television is rapidly growing. Today, we can't watch everything over the wireless networks yet, but we are getting there. AT&T Uverse and Verizon FiOS, are cable television competitors using IPTV, which offers wireless connectivity as well. This means they can deliver television signal over the Internet or over their AT&T Mobility or Verizon Wireless network. CenturyLink does not operate a wireless network.
Traditional cable television companies like Comcast and Time Warner Cable partner with Verizon Wireless as their wireless network. That's how they can deliver their wireless television. Perhaps if Charter successfully mergers with Time Warner Cable, their next step will be wireless for the same reasons. I would say that should be tops on the list of things to do. So, one way or another, every television provider must have a wireless play going forward.
The Wireless Television Race is On
However, the satellite television industry doesn't have a wireless network from which to carry their television signal. That's why the two satellite television companies need to merge with companies who can give them that wireless access.
The AT&T and DirecTV merger was announced last year and should be approved relatively soon. Once that is approved, I think chances are good the new Dish Network and T-Mobile will likely also be approved as well. Dish and T-Mobile have not been officially announced yet. This merger would allow AT&T to offer television service nationwide. Currently, they offer Uverse in-region only. This would also help DirecTV start to grow rapidly once again by having a necessary wireless option.
I think DirecTV and Dish Networks need these mergers more than AT&T and T-Mobile. This is an enormous growth opportunity for AT&T and T-Mobile, but it is a matter of survival and growth for DirecTV and Dish Network.
A New Growth Wave is Forming
TV is going wireless. We can soon expect new thinking, ideas and innovation to continue to transform this industry, which is exciting for everyone. That means the companies, the customers and the investors. However, not every company will be successful. Some ideas will be a hit while others will miss. But remember, we are on the young, growth side of this new wave. Now is the time to jump on and start your engines. Some companies are jumping in. Others are taking a slower path. Some will be leaders, while others will be followers. We will have to watch who jumps in over the next few quarters. That will tell the real story of what this industry will look like going forward. One way or another, television and wireless are merging, and this could be the start of some very exciting growth times to come.
Equities.com columnist Jeff Kagan is a Wireless Analyst, Telecom Analyst, Industry Analyst and consultant. He shares thoughts on the changing industry, which he's been following for 25 years. He follows what's hot, what's not, why and what's coming next. Email him at jeff@jeffKAGAN.com
DISCLOSURE: The views and opinions expressed in this article are those of the authors, and do not represent the views of equities.com. Readers should not consider statements made by the author as formal recommendations and should consult their financial advisor before making any investment decisions. To read our full disclosure, please go to: http://www.equities.com/disclaimer