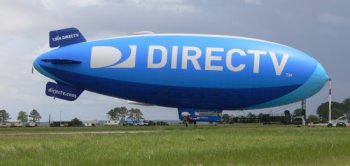 Why is Comcast Corporation (CMCSA) trying to downplay what is occurring at DirecTV? The reason may be that DirecTV is now on steroids, and it's a much stronger competitor. Increasingly, reporters, investors and customers are asking why Comcast is saying in their advertising that there is nothing new, and it's just the same old thing at DirecTV. The fact is nothing could be further from the truth. DirecTV can now deliver television over the AT&T (T) Mobility wireless network over smartphones and tablets. That changes everything.
So why is Comcast doing this? I would say the reason is likley that they are worried about losing customers. I think they must be saying this to confuse the customer at a time when the entire industry is going through a major innovative transformation. Comcast must think that the longer the customer remains confused, the longer they stay put.
Let's take a closer look at the new DirecTV, pull the camera back and take a longer-term look at the larger television space and how all the changes with wireless and broadband are affecting all the players.
Traditional Television is Changing
Bottom line, the television experience is changing. It is moving toward TV anywhere, anytime, on any device. We used to have to come home and sit in our couch with our remote control in hand in order to watch TV.
However, that experience is increasingly changing and expanding. We can now also watch television over the wireless network anywhere in the United States, on our smartphone, tablet or smartwatch. Or over any Internet connection like at the coffee shop, airport or hotel.
This changes everything. It's a huge leap forward in technology and customer expectation and the variety of services companies can deliver. However, only a few competitors actually do this so far, and that seems to be a growing problem.
Rather than everyone jumping into this new area, many competitors are trying to slow the transformation down to give them a chance to catch-up. Is that what Comcast is doing with their television advertising campaign?
It All Started with IPTV like Uverse, FiOS and Prism
It all started a decade ago when AT&T Uverse, Verizon (VZ) FiOS and CenturyLink (CTL) Prism got into the IPTV business and started competing with the traditional cable television industry. Then it expanded and now AT&T Uverse and Verizon FiOS let customers watch TV at home or out and about on their smartphones over the wireless network.
This put intense competitive pressure on traditional cable TV companies like Comcast, Time Warner Cable (TWC) , Charter (CHTR) and Cox. They dabbled in wireless several years ago when they acquired spectrum. Unfortunately, that was a disaster.
Next, they sold their spectrum to Verizon Wireless and have been using them as their wireless carrier to try and keep up with the phone company television offering.
DirecTV Is Immediate Threat to Comcast
Now AT&T acquired DirecTV and that changes everything. In addition Verizon rolled out their Go90 TV service as well. That means there is plenty of new thinking and new ideas in the industry that are changing everything.
However, according to the Comcast advertising, apparently AT&T DirecTV is the most immediate threat. Why? Because AT&T just acquired DirecTV and now also let's their customers watch television over the AT&T Mobility wireless network on smartphones and tablets. This supercharges DirecTV and let's AT&T compete on a national scale in television.
DirecTV on Steroids Changes Everything
So the big threat to Comcast is now AT&T, and DirecTV can compete with them on a national scale and not be limited to just within their region of the USA. This, combined with their wireless delivery of television over smartphones and tablets have given DirecTV a competitive advantage.
Until AT&T's acquisition of DirecTV, the satellite television providers had their back up against the wall. DirecTV and DISH Network only delivered television to the home. However, the television marketplace is growing and changing, and that was no longer enough.
Now, DirecTV is back in the game using the AT&T Mobility network, and DISH Network is the only satellite service without a wireless offering. I think this must be fixed for DISH to grow.
Comcast Two-Pronged Approach
Now that AT&T DirecTV is posing such a threat to the cable television industry, it is interesting to see how they are reacting. Comcast seems to be threatened. They seem to be worried this will cost them more market share.
So Comcast is taking a two-pronged approach to battle AT&T DirecTV. One, they have notified Verizon Wireless that they intend to work with them and come up with a competitive offering. Two, in order to slow customer loss during this period, they seem to be confusing the customer with their television advertising hoping a confused mind stays put.
Comcast Looks to Confuse TV Consumers
So as you can see, Comcast saying there isn't anything new, and DirecTV is just the same old thing is simply not true, since DirecTV now offers television over the wireless network to be watched over smartphones and tablets. However, the average customer may not understand the changes that are occurring in the television space with cable TV, IPTV, wireless TV, web TV and more. The average customer doesn't follow the changes in the space that closely yet. And that's part of the problem.
So from a pure marketing perspective, Comcast is doing what it should be doing by confusing the marketplace in order to protect it's business from loss to DirecTV. Comcast investors won't have a problem with this.
However, from the customer's perspective, Comcast is creating confusion where there is none. They are keeping customers from enjoying new technology and innovation...and that's wrong.
When the customer catches on to what Comcast is doing, I fear they will not be so forgiving. So let the customer have the facts, and let them decide. That's the American way.
Equities.com columnist Jeff Kagan is a Wireless Analyst, Telecom Analyst, Industry Analyst and consultant. He shares thoughts on the changing industry, which he's been following for 25 years. He follows what's hot, what's not, why and what's coming next. Email him at jeff@jeffKAGAN.com.
DISCLOSURE: The views and opinions expressed in this article are those of the authors, and do not represent the views of equities.com. Readers should not consider statements made by the author as formal recommendations and should consult their financial advisor before making any investment decisions. To read our full disclosure, please go to: http://www.equities.com/disclaimer