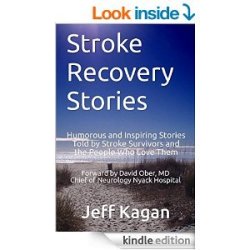 May is National Stroke Awareness Month. Let me tell you a secret. I am a stroke survivor. It's been more than 10 years since my life changed in the blink of an eye. My recovery took years. However, I consider myself fortunate because I fought my way back. Now I want to help others with their stroke recovery. That's why I wrote and published the book, Stroke Recovery Stories.
The full title is, Stroke Recovery Stories: Humorous and Inspiring Stories Told By Stroke Survivors and the People Who Love Them. As you can see, this book was not entirely written by me. Other stroke survivors and a neurologist also write chapters in a very unique and inspiring book.
David Ober, MD, Chief of Neurology at Nyack Hospital wrote the Special Introduction. He tells the reader what everyone involved with stroke needs to know from a medical point of view. You will have a much better understanding of stroke and recovery after reading this chapter.
Next, each chapter is written by a different stroke survivor. Some chapters are written by survivors telling their story while others are written by family and caretakers. Each has it's own unique flavor, lessons and inspiration.
The purpose of this book is to have the reader learn from others. Think of this book like a support session where everyone sit's in a room and gets a chance to tell their story and the lessons they learned in order to help others.
I am very impressed with each chapter and each survivor's story. Some made me laugh and others made me cry, but each taught me something new. This is important whether you are a stroke survivor, caretaker, family or friend.
Visit the American Stroke Association or the National Stroke Association for more information on stroke.
Stroke Recovery Stories is brand new and was just published last week. It is available on Amazon.com at the Kindle store.
I have learned that Amazon.com Kindle (AMZN) , Barnes & Noble Nook (BKS) , Apple iPad (AAPL) and others, are a remarkable technology. They give the reader the ability to carry tons of books in a little device. They let the reader buy new books or just browse wherever they are.
They give the author the ability to write, to add and update the material in the eBook on an ongoing basis until they are ready to stop. And when the book is updated, previous customers get the updated material.
You can add pictures and links to the text taking the reader to different places on the web to enhance the experience. Ebooks are an incredible next step in book publishing. While the eBook does not have the same feel as a real book in your hands, you can do so much more that this is truly an amazing technology.
Ever since my book went on sale last week, I have received emails from other stroke survivors who want to tell their story as well. This is an incredible opportunity for any author. I will either add these stories to this book on Kindle, or write a follow up eBook and create a series. And readers who buy at anytime will get the updates as well.
A hard cover edition is also easy and can be created using CreateSpace, an Amazon.com company. CreateSpace helps you create a hard copy book using print on demand technology or POD. There are many POD companies to choose from today.
POD prints a single, real, book at a time and ships it to the reader within days. That means no investment in large quantities of books. That means the author can update the material just like with the eBook.
The world of publishing is completely changing over the last five to 10 years. There is still the traditional book publishing industry, but now there are other slices of the pie as well.
There are many eBook publishers to help you create your book. There are many stores online at places like Amazon.com Kindle, Barnes & Noble Nook, Apple, Google (GOOG) , Microsoft (MFST) and more. If you want to be an author, the tools are there for you to get started today.
So remember, May is National Stroke Awareness Month. Stroke is something that happens to 750,000 American's every year. As large a number as that represents, it's actually much larger than that. If you include the family and friends of each survivor, you can see how millions of Americans are affected every year.
Plus since stroke recovery takes many years, there are tens of millions of Americans who are dealing with it today. And there are many more worldwide. Understanding stroke is important. It impacts so many. And there is still little in the way of real helpful information.
However the good news is stroke survivors can and do recover. They get back to work or change what they do going forward. It can be easier for a young stroke survivor to recover more fully.
The brain is really a miraculous blessing. Like a computer with a bad section on the hard drive, the brain can often re-write it's software to work around the dead spot. It just takes time and effort.
I lived through it. It's terrible, but it's also truly amazing to watch the body and the brain heal. Stroke was an incredible ride. Don't get me wrong, I have been on this ride once and that's enough. However what I have learned has changed me, for the better I hope!
So take a look at the free preview on Amazon.com. Remember, stroke can happen to anyone at any time. And when it happens, it instantly changes your life. Don't believe me? I didn't believe it myself, until it happened to me that is.
Equities.com columnist Jeff Kagan is a Wireless Analyst, Telecom Analyst, Industry Analyst and consultant. He shares thoughts on the changing industry, which he's been following for 25 years. He follows what's hot, what's not, why and what's coming next. Email him at jeff@jeffKAGAN.com.
DISCLOSURE: The views and opinions expressed in this article are those of the authors, and do not represent the views of equities.com. Readers should not consider statements made by the author as formal recommendations and should consult their financial advisor before making any investment decisions. To read our full disclosure, please go to: http://www.equities.com/disclaimer