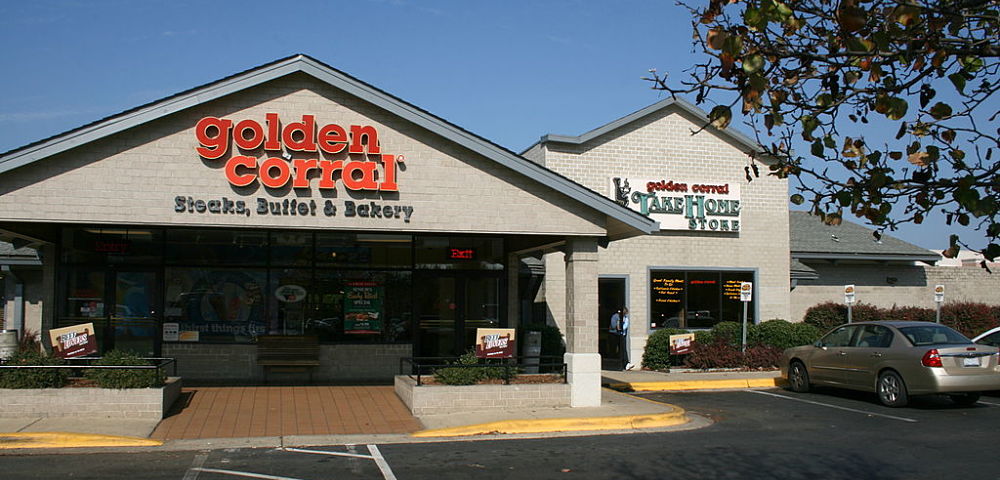 Image via Ildar Sagdejev/Wikimedia
We can learn valuable lessons from the mistakes companies make. Golden Corral, the buffet restaurant chain made a mistake with what could have been a good idea. A mistake that may cost them in customer satisfaction. This was a good idea that got lost in long lines and upset customers. A mistake that could have and should have been avoided. Let me explain the idea, where they screwed up, and what lessons you can learn from this disaster.
Golden Corral is a buffet restaurant. Generally, it's a step above fast food. Customers generally get what they pay for. No one ever walks out saying this was the best meal they ever had, but they are generally happy and come back. So, they have done a good job with customer satisfaction.
They try different things from time to time. Some new ideas work. Others don't. They just came up with what could eventually be a great idea. An idea that has been proven to be successful at countless buffet restaurants all over the USA. An idea that could be successful for them if they handle it correctly.
However, Golden Corral dropped the ball.
I saw a television commercial that Golden Corral now offered all the crab legs you can eat, after 3pm every Wednesday, for about $22. This is a good price, so I thought it depends on how well they handle both the crab legs and the crowds. So, I went to a local Golden Corral to watch the process.
The idea of a crab leg buffet is not new. Countless restaurants offer it from coast to coast and customers are generally happy. In fact, if you travel to Myrtle Beach, Las Vegas, Virginia Beach and other towns, you can find plenty of competition in this space. These companies have been doing this for a long time and do it right.
The Golden Corral Crab Legs Problem Was Long Lines and Unhappy Customers

The problem with Golden Corral is they had one station and a line of customers that wrapped around their buffet table. As I sat there and watched, it took customers at least 20 minutes waiting in line to get 2 or 3 crab legs. That's it. No kidding. Customers were hungry and cranky and not happy.
I spent about an hour in the restaurant, just watching. Customers spent more time in line then at their table enjoying their food. The longer the line got, the more frustrated the customer became. Customers had no enjoyment or satisfaction for the money they spent. And that's the rub.
By the way the manager looked, I think this was their first try. I don't think they knew what to expect. I think they were as shocked as everyone in line. I don't think they had any idea what to do. The manager didn't.
He was on his smartphone trying to figure out a solution. I pulled him aside and suggested they open a second station to keep the line flowing faster and keep the customer satisfied. He thought that was a good idea and did it. It helped but didn't solve the problem. Now there were two long lines.
The manager was very nice, but he just had no clue what to do next. That told me Golden Corral did not prepare him for this potential problem. He was on his own. In fact, I don't think the restaurant was prepared for this large wave of customers at all.
The restaurant typically does not have this problem. I put the blame completely on the restaurant chain for this mistake. No back up plan.
Golden Corral Should Have Tested Their Crab Leg Offer Before Rolling It Out

Long lines are a good problem, but it is still a problem that needs to be solved immediately. On one hand, Golden Corral must love that fact they have hit the hot spot with their customers. However, they must hate the fact that this caused a traffic jam in line waiting for dinner.
What they should have done was test this idea in a restaurant or two. No advertising. Don't announce to the world until you are sure you are ready. Once you work out the problems, then you can advertise in those test markets and see if you can handle the load.
Only if all works well, then and only then should you roll this new idea out nationwide. And you should also have a back-up plan. Be ready to open a second station when necessary. Something they clearly didn't have.
That would have helped cushion the blow they took to their brand with their customers in their stores.
Golden Corral Had No Back-Up Plan for This Crab Leg Disaster

The risk was in upsetting the satisfied customer relationship they have built over years of serving. That was the real damage.
I don't know the reports from other restaurants, but it was clear there was no testing to make sure they were ready. And they paid the price.
Customers feel they wasted their money. One said to me he felt ripped off. Customers left unhappy and unsatisfied. This was a big mistake from a company that normally does a good job of meeting customer expectations.
This Is a Costly Mistake Golden Corral Made and a Lesson We Should All Learn

This caused damage to their brand relationship with the customers who were affected. I'm sure they will solve this problem at some point, but at what cost?
I believe the cost will be high because so many customers feel they got short-changed. Many regularly satisfied customers will now wonder whether they want to take another chance on getting burned again when there are so many other options in the restaurant world.
So, what's the lesson we can all learn is this?
One, test on a very limited basis. No advertising. Make sure everything works.
Two, advertise to see if you can meet the increased demand.
Three, you will likely have to make some adjustments along the way to make sure things work well.
Four, when everything is humming along, then roll it out nationwide. Rolling it out in stages would be best. Make sure you stay on top of any potential problems.
This step-by-step approach only has to take several weeks and is the best way to manage any customer inconveniences that could damage your brand relationship with them.
This is the best way to protect the long-term brand relationship you have built with your customers over years.
Remember, a brand relationship can take years to build, but can be destroyed in an instant. So, make sure you know in advance what will happen, before you roll out a new idea nationwide. That's the best way to make sure customers are happy and you can continue grow your business without this kind of brand damage.
This crab leg disaster won't sink Golden Corral, but it is an expensive lesson. We can all learn from their mistake. Lesson learned.
Jeff Kagan is an Equities.com columnist. Kagan is a Wireless Analyst, Telecom Analyst, Industry Analyst, speaker and consultant. He follows wireless, wire line, telecom, Internet, cable TV, IPTV, Cloud, Mobile Pay, FinTech and communications technology. Email him at [email protected]. His web site is www.jeffKAGAN.com. Follow him on Twitter @jeffkagan.