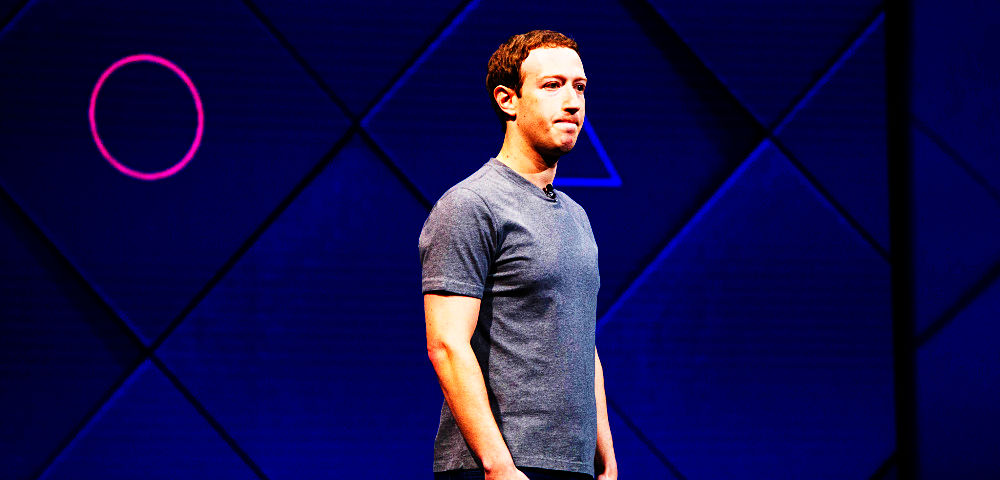 Image via Anthony Quintano/Flickr CC
Thank you to both Mark Zuckerberg and Sheryl Sandberg, leaders of Facebook (FB) for not deflecting responsibility. It is refreshing to see them both standing up and taking the blame. However, even though they are sorry, that does not alleviate the pain we will all go through now that our personal and private information is out there. This is a violation to every one of us and the responsibility is theirs.
I have been warning about this privacy issue for years. Maybe now that everyone is burned, something will be done about the problem. Facebook caused this problem themselves. They weren't paying enough attention to all the information they were sitting on, and all the bad guys out there who want that data on each and every one of us.
There are two points in play right now. One, Facebook has damaged us all. How do we fix that? Two, what are their plans for the future to protect us going forward? What will Facebook do, and will the US Government be part of the solution?
Either Facebook needs to protect users, or they need to give the ability to protect ourselves by opting-out of this information nightmare. Today there is no, single, opt-out button anywhere on the Facebook site. So, Facebook could create an opt-out button and put it right up on the front page.
Users need to be educated on the good that Facebook creates and the risk every one of us face. Let the user decide. Give the user an option. Even if that means let the user pay for privacy. That seems like a natural next step, even though it is not part of the Facebook business model yet.
If Users Opt-Out of Tracking, How Will Facebook Earn?

Of course, opting-out is not what Facebook wants. The reason is they have built their entire business model on selling advertising with precision. However, changing their business model could make enormous sense and solve the problem.
To make up for the lost advertising income from using this data, they could charge an opt-out fee to users. A monthly fee which users can pay to use Facebook, yet not be exposed to this privacy threat. Then users would still face a threat from hackers, but at least not as part of the business model.
Leaders Like Facebook Take the Arrows

Facebook has an enormous responsibility. They created this responsibility themselves. They created this entirely new business model. That means they are the sector leader. And leaders must take the arrows. If they create the problem, they must solve the problem.
If they do this, they can quickly solve the problem for their users and for themselves going forward. With that said, I don't believe most users will pay the fee. They will then be risking exposure. But at least it would be there choice.
Of course, there is no real choice today. Facebook has no real competition. With a car, if you don't like your Chevy you can choose a Ford (F) or Toyota (TM). But with social networks, if you don't like Facebook, you have no other place to go. That's the real problem. There is no real choice. There is no Facebook competitor.
Is Facebook a Monopoly

That raises another interesting question. Is Facebook a monopoly? With this privacy disaster playing itself out, the next question is, will the US Government step in and regulate the company? It's happened in the past many times. One of the most recent was Microsoft (MSFT) in the 1990's?
And Facebook is not alone. This is the same problem many other information-based Silicon Valley firms are also facing now that the Facebook spotlight is piercing the darkness, exposing them all for the same weak user protection issues.
During interviews, comparisons are made to television network advertising. It is true that Facebook is free to use, and they earn income from advertising. However, it is also a weak comparison because TV networks don't have access to the same personal and private information that Facebook users willingly uploaded to their account.
What I mean is TV watchers are not exposed like Facebook users are.
Facebook Is Not Like Television Advertising

This is the rub. Facebook has access to user information never before available to any television network or advertiser. Users trusted Facebook with their personal information. That was the mistake 2 billion people worldwide have made.
The lesson learned is this. Even when a company is trustworthy, it can always be broken into and your personal information lost. It has happened countless times already in recent years. So, users must protect themselves. Of course, that means every company needs to offer users the easy ability to protect themselves. Facebook and others don't.
Going forward every user should be given the right to protect their privacy. And the simple, single switch should be on the front page, easy to find. Today, the protections users have are hidden among menus in many different placers. Most users don't know how to protect themselves. Even those that do, don't know if they know where all the switches are. This is crazy how complicated it really is.
And I imagine it's that way for a reason. The more complicated, the more likely users will not bother. And if users don't bother, Facebook has more information to sell advertising with.
2018 NAB Show Will Discuss this Facebook Privacy Disaster

This week at the 2018 NAB Show in Las Vegas, you can bet this Facebook disaster will be talked about. This is a topic every company in this similar industry must be very careful of. Especially now that the story has broken.
Executives in the television industry must also think ahead to protect users in this new world where technology is growing faster than our ability to control it.
I also expect other companies will fall into the same self-created trap before this Facebook story ends. That will continue to through gasoline on the fire and keep the discussion alive for a long while.
Yes, the entire world is ticked at Facebook for invading their privacy and sharing it. Who knows where the private and personal information of countless users will end up. This is a devastating position for users and for Facebook. However, Facebook put themselves there with their weak user protection. Facebook is not a victim. They hurt themselves.
Jeff Kagan is an Equities.com columnist. Kagan is a Wireless Analyst, Telecom Analyst, Industry Analyst, speaker and consultant. He follows wireless, wire line, telecom, Internet, cable TV, IPTV, Cloud, Mobile Pay, FinTech and communications technology. Email him at [email protected]. His web site is www.jeffKAGAN.com. Follow him on Twitter @jeffkagan