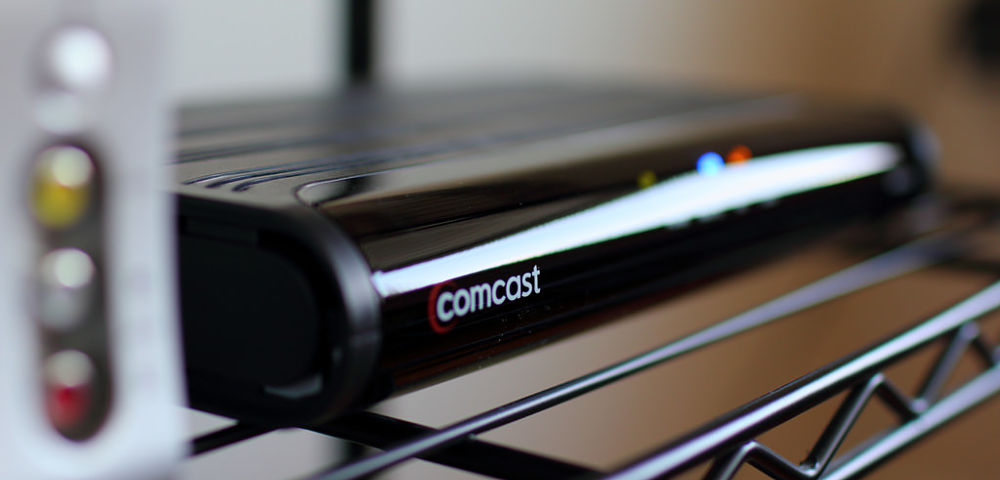 Image via Mr.TinDC/Flickr CC
The broadband wars are heating up. It looks like Comcast CMCSA is now the largest provider of gigabit speed Internet to consumers and business sides of the market. They say that they reach nearly all of the 58 million homes and businesses in their service area and that this is the fastest deployment to the most locations in the country.
While this is exciting, remember that broadband is just one slice of the pie. Wi-Fi is another important slice. Comcast is also a major player in this Wi-Fi space. Their Xfinity xFi device provides Internet to customers, but also lets you use it when you are out and about.
They say they just had their best second quarter results for broadband in a decade. They have added 1.1 million HSD customers in the past 12 months. Pretty impressive.
They have increased the speeds of their network 17 times in 17 years. They have doubled the capacity of their broadband network every 18-24 months. Xfinity Gigabit Internet for the consumer marketplace and Comcast Business Gigabit for the business marketplace are the two sides of the service they offer.
Cable Xfinity Pay TV is Growing and Changing
Yesterday, Comcast used to be a cable television company. Over the last decade, that has been changing and expanding. In fact, if we pull the camera back, the entire industry is expanding. Every competitor is changing. There are new competitors like AT&T T DirecTV NOW, Verizon VZ FiOS, Hulu, Netflix NFLX and many others.
And new competitors are continuing to enter the pay TV space. The move to 5G wireless will open the gates to more pay TV competitors. Expect to see wireless TV or mobile TV competition from AT&T, Verizon, T-Mobile TMUS and many other competitors using these wireless networks.
Cable TV is an industry that has been growing and changing for decades and that will continue. Over the last decade, new competition and new technology has changed everything. And that is not stopping. New competitors are continuing to enter the space.
That's why it's very important for pay TV leaders of today to make these kinds of fundamental changes to maintain their position.
Comcast Xfinity Mobile Continues to Grow and Expand
Comcast Xfinity has done a great job of transforming and expanding their company over the last decade to do just that. They acquired NBC Universal, they moved into wireless with Xfinity Mobile, they are expanding their pay TV footprint with Xfinity and their high-speed Internet with Xfinity xFi and so much more.
This is a great example of how a leader of yesterday can continue to transform and expand and remain a leader going forward.
This is the kind of example that should help other cable television competitors move ahead and succeed as well. I'm talking about companies like Charter Spectrum CHTR, Altice ATUS, Cox and others. They face the same challenges of competition and technology in the changing industry.
Comcast Xfinity continues to lead the cable TV pack. If we pull the camera back, they seem to be setting the right example for success in the changing pay TV space. Every cable television competitor should be following the lead of this competitor.
New competitors and new technology will continue to change this industry. The pay TV industry we use today is much different from the cable TV industry we've used over recent decades. Comcast is one of the players who will continue to lead this transformation and expansion of the industry.
Jeff Kagan is an Equities.com columnist. Kagan is a Wireless Analyst, Telecom Analyst, Industry Analyst, speaker and consultant. He follows wireless, wire line, telecom, Internet, cable TV, IPTV, Cloud, Mobile Pay, FinTech and communications technology. Email him at [email protected]. His web site is www.jeffKAGAN.com. Follow him on Twitter @jeffkagan.